Film Session: Elston's night
Derek Elston returned to the court for the Hoosiers on Wednesday night and saw seven minutes of action. While Elston did pick up four quick fouls, he showed an awareness on both ends of the floor that just might prove handy in a frontcourt reserve role as Indiana enters the thick of the Big Ten season and beyond starting tomorrow evening against the Wolverines.
A look at some slices of his on-court work against Purdue in the latest edition of Film Session:
I. PICK AND ROLL
We see some weave handoff action on the right wing between Jordan Hulls and Victor Oladipo as Elston begins to curl up: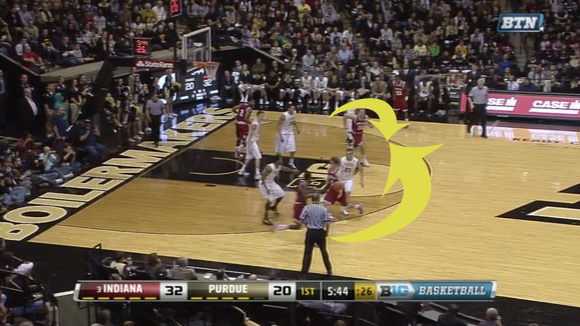 As Oladipo comes around to the top of the key, Elston sets a ball screen for him: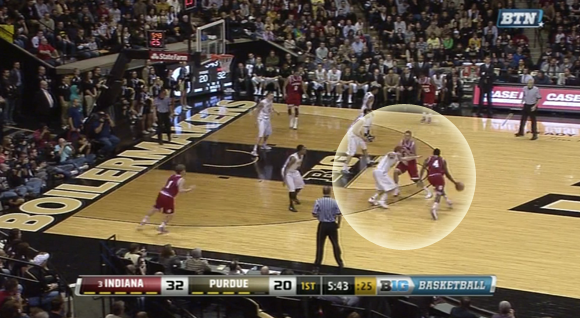 With A.J. Hammons staying put at the left elbow — perhaps to guard against an Oladipo drive; perhaps because he was just out of proper position — Elston cuts hard into the paint and with him open, Oladipo knifes a pass in: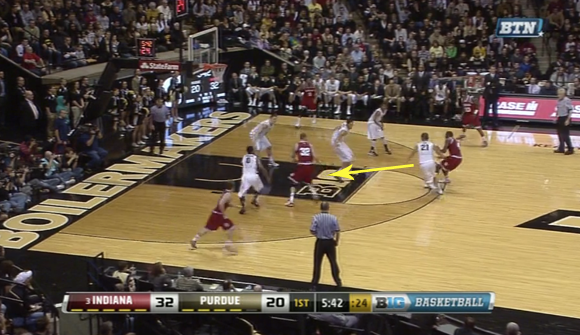 Elston goes hard to the rim without hesitation, draws the foul and hits both free throws: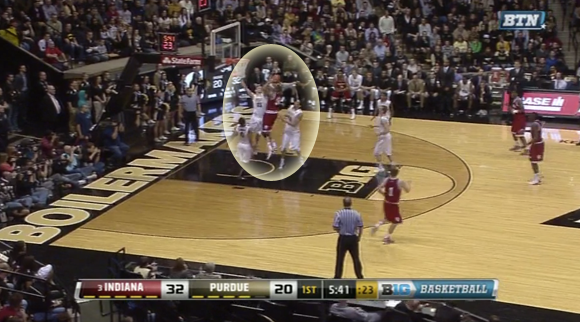 Jim Jackson on the call: "I was talking to Derek before the game and I said 'What's happening, man? When you playing?' And he said: 'I'm back.' And this is the type of person, the glue guy that you need. He's been through the wars, Dave. He gives you energy. He gives you effort. He's not gonna complain. He plays defense hard-nosed. And you need that type of player when you're trying to make that run to win a Big Ten Championship and ultimately a National Championship."
Video:
II. THE NEAR CHARGE
Anthony Johnson starts to make a move on Will Sheehey towards the rim as Elston is sealed off by Sandi Marcius: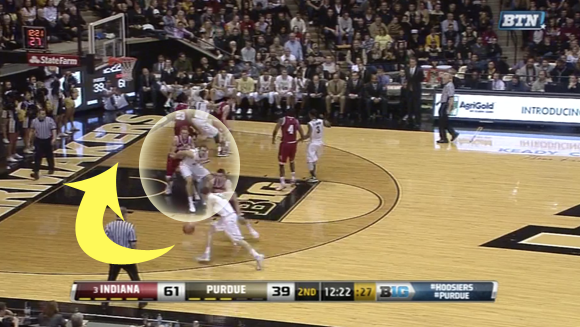 But Elston is able to play some sound team defense here; moving down to the block and cutting off the lane as Sheehey stays with Johnson. Johnson looses the handle on the ball and Sheehey ends up trying to save the ball from going out of bounds and throws it back up top: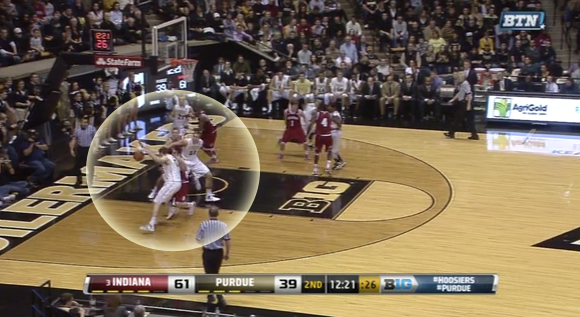 Purdue is able to maintain possession and Marcius sets a screen for Johnson in the paint as Ronnie Johnson makes a move on Oladipo: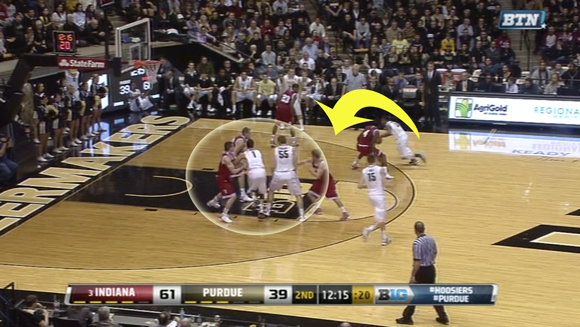 Elston sees it unfolding and again gets down to the block to get a body in front of the ball. He gets there in enough time to set up for the charge and take it. But with him leaning back ever so slightly — really this could have went either way — he's called for the blocking foul: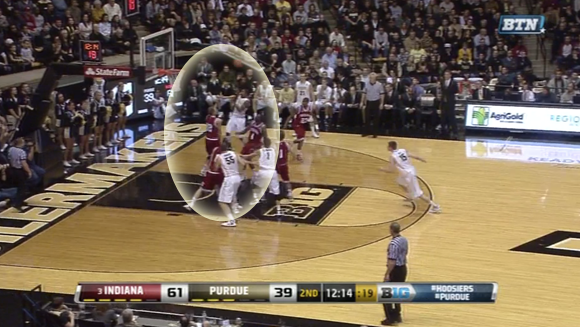 Strong, heady help defense from Elston on this possession.
Video:
III. THE RECOVERY FOUL
We see Johnson throwing a pass to D.J. Byrd on the right wing here as Elston has Hammons marked on the left block: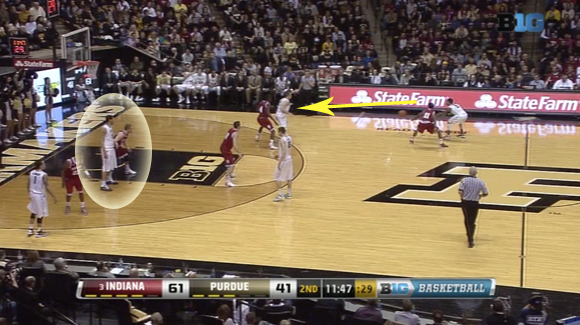 With what looks to be Johnson setting a pick for Hammons, Elston starts to anticipate fighting through it, which has him leaning and looking away from Hammons as Byrd throws a lob: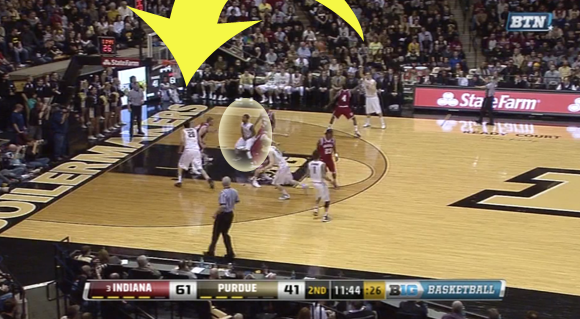 But Elston is able to see this unfold before it's too late, and give Hammons a hard enough shove that he's unable to convert and heads to the line for two free throws instead: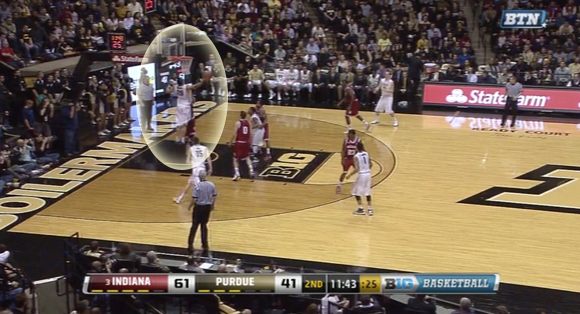 If you're going to foul a guy when you've been beat, foul him hard enough that he's not going to convert the bucket. Hammons would only make one of his two free throws at the line after this foul.
Video:
IV. THE THREE
Like the first play highlighted above, Indiana is running more of this perimeter weave action in the final minutes of the game, as Remy Abell hands the ball off to Maurice Creek on the right wing. Elston is setting up the on the left block as this happens: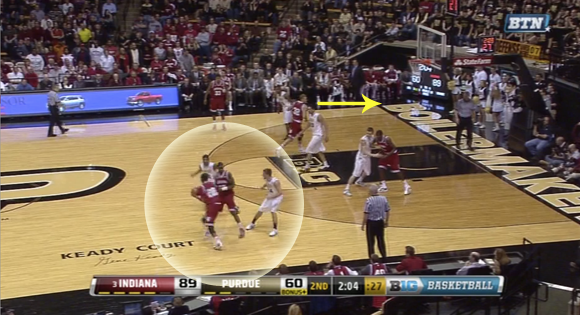 So this time it's Jeremy Hollowell curling off the right wing after he gets a handoff from Creek and Hanner Mosquera-Perea setting the ball screen for him: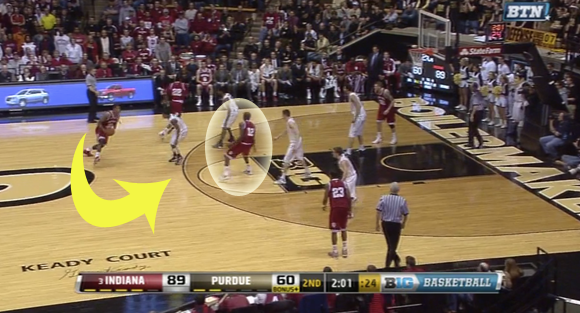 As he uses the ball screen, Elston sprints out to fill space at the top of the key: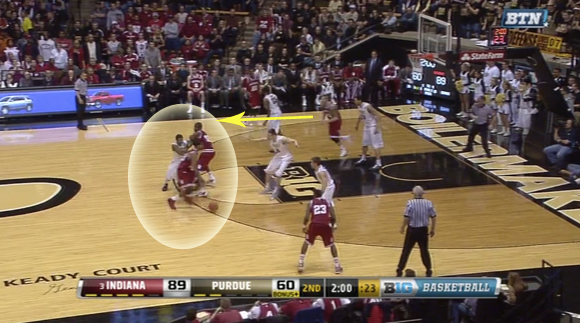 Hammons doesn't follow fast enough: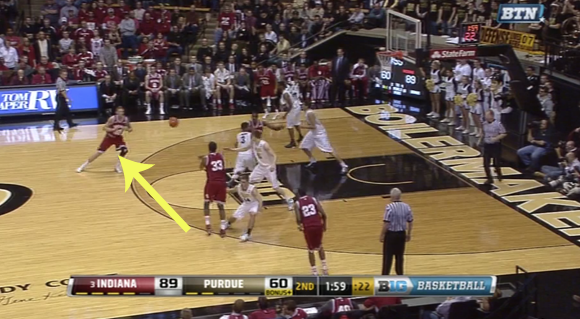 And Elston gets a good look that he hits: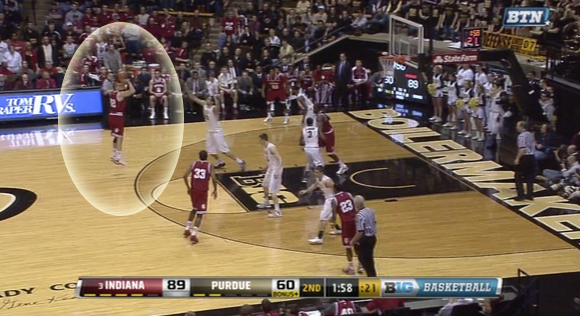 Elston has the ability to hit the 3-ball and longer twos, acting as a stretch-4 and drawing frontcourt players — rim protectors like Hammons, who had five blocks on the night — out of the lane.
Video:
Filed to: Derek Elston, Purdue Boilermakers