Five takeaways from Indiana's win at Purdue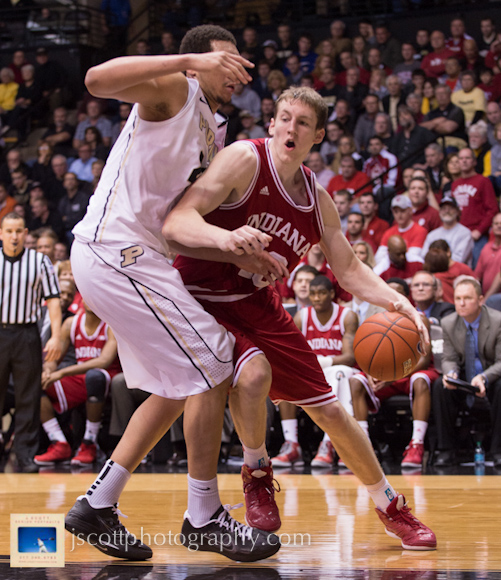 WEST LAFAYETTE, Ind. — Indiana put together its best 40-minute performance of the season on Wednesday night as the Hoosiers crushed Purdue 97-60 at Mackey Arena. The win was the fourth straight overall for Indiana and kept the Hoosiers even with Michigan on top of the Big Ten standings at 7-1.
Here's a look at five takeaways from Wednesday's win over the Boilermakers:
· This was IU's most complete performance of the season: As suggested in the lede (and in Justin's column), Indiana played its most complete game this season to-date Wednesday night. The Hoosiers were clicking on both ends of the floor as they scored 1.4 points per possession and limited Purdue to just 0.83 points per trip. All five starters scored in double figures, spearheaded by 19 points from Cody Zeller. When Indiana is playing its best, the ball is moving and the assist totals Wednesday were indicative of that. The Hoosiers had assists on 21 of 33 field goals, including a career-high seven from Will Sheehey. On defense, the Hoosiers allowed A.J. Hammons to erupt for 30 points, but the rest of Purdue's team went a combined 12-of-41. Terone Johnson, Purdue's leading scorer, was handcuffed for most of the night and managed just four points (on 2-of-6 shooting) and committed four turnovers. "I thought [Victor] Oladipo was great," Purdue coach Matt Painter said. "He did an unbelievable job of getting into us and not letting our guys do what they want to do."
· Cody Zeller played like a national player of the year candidate: Hammons turned in a career-best effort with 30 points, but Zeller's ability to draw fouls early in the game on the freshman limited him to 10 first-half minutes. Indiana's strategy early on was clear: Feed the post relentlessly and go right at Hammons. It was effective as Hammons had three fouls by halftime and couldn't play as aggressively on defense as Purdue would have liked. Zeller finished with 19 points and 11 rebounds. Seven of those rebounds were offensive and Zeller, who has struggled at times this season from the foul line, hit all seven of his attempts.

· Indiana punished Purdue on the offensive glass: The Boilermakers entered the game allowing opponents to rebound just 29.4 percent of their misses on the offensive glass. Indiana corralled 53.6 percent of its misses, a season-high for an opponent versus Purdue. In total, Indiana amassed 18 offensive rebounds and had 24 second-chance points. "They were quicker to the ball," Painter admitted postgame. One of the overlooked areas of improvement for IU is on the offensive glass. The Hoosiers ranked 59th in the country a season ago in offensive rebounding percentage and through 21 games this season, they're 6th nationally.
· Another solid performance from IU's bench: After some skepticism on just how much of a strength IU's bench was early in the Big Ten season, Wednesday night yielded another solid performance. In total, the reserves accounted for 23 points, 10 rebounds, 11 assists, three blocks and two steals. The standouts were Sheehey, Remy Abell (six points and five rebounds) and Jeremy Hollowell, who Tom Crean pointed to as a huge key moving forward for his team. "We need him in there," Crean said. "But he's gotta be ready all of the time. I think if we're going to continue to get better as a team going into the month of February, we're going to look back at it and he's going to have been a big part of it if we did." Hollowell finished two points, two blocks, a rebound and an assist in 12 minutes. Derek Elston also returned and scored five points in seven minutes.
· Hoosiers finding success on the road: Mackey Arena was at a fever pitch in the minutes leading up to tip and for a good part of the first half. At times last season, the Hoosiers failed to overcome early adversity on the road. That was a big reason they finished with just a 3-6 road record in Big Ten play. It's been a different story this season as IU is now 4-0 on the road and is showing signs of maturity with its approach away from Assembly Hall. "I think it's huge coming in with the mentality of knowing what we have to do to win," Victor Oladipo said. "We went through that stretch last year where it was tough, but I feel like this year we really know what we have to do to win on the road and we just got to keep continuing doing that throughout the season."
Filed to: Cody Zeller, Purdue Boilermakers