After what upperclassmen have been through, there's no such thing as overlooking Purdue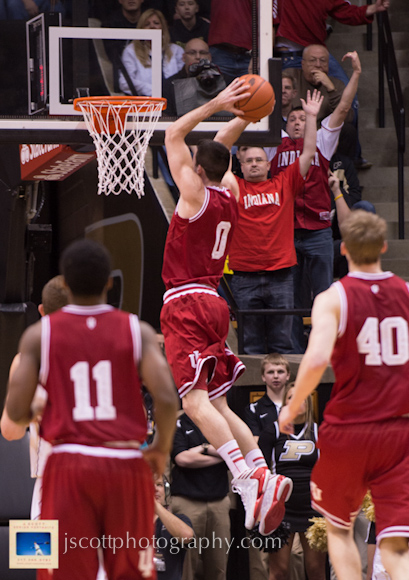 WEST LAFAYETTE, Ind. — Now that was a performance.
Indiana has played better in a half this season (See: Minnesota), but the Hoosiers had yet to put together a complete game like they did Wednesday night at Mackey Arena.
Some Indiana fans have acted spoiled at times this year, nit-picking small details from games the Hoosiers have won. It's going to be hard to find much fault from them in this one.
No. 3 Indiana, who some had predicted would be looking ahead to Saturday's showdown with No. 1 Michigan, completely dismantled rival Purdue on its home court. The Hoosiers played workmanlike half-court defense, they got out in transition, they hit shots, and they had the Purdue crowd leaving with more than eight minutes still to play in the game.
Indiana 97, Purdue 60. The worst loss ever for the Boilermakers at Mackey Arena.
"I was just excited we were able to play a full 40-minute game," senior guard Jordan Hulls said. "We're gonna need to do that to win in the games that we want to. Every game is a big game for us. It was great to see everybody play great team defense and watch that flow into our offense."
Hulls and his fellow seniors were around in 2010 when the Hoosiers lost 74-55 in West Lafayette. They were 0-4 in their first four games against the school's biggest rival, losing three of the games by double figures.
Even though the team's younger players weren't around to experience such embarrassment, there was little chance Indiana's upperclassmen were going to let them take the Boilermakers lightly. This is Indiana-Purdue, after all, and the Hoosiers clearly own this rivalry again.
"We've had enough of a viewpoint of some of the great teams in this league, like Matt [Painter's] have been when you had guys like JaJuan Johnson, E'Twaun Moore, Robbie Hummel," Indiana coach Tom Crean said. "When you see enough of that over a period of time, you either become that or you keep getting it done to you. And our guys have really learned to become that type of team."
This was a perfect example of how good this team can be when it plays up to its capability. The Hoosiers (19-2, 7-1) got production from their bench like they will need to win a Big Ten title. Jeremy Hollowell's performance was especially encouraging, even though it only resulted in two points. Derek Elston got back on the floor, and Will Sheehey continues to play well.
Sheehey dished out seven assists to go along with his seven points, and he fired up the Purdue student section near the end of the game before Crean grabbed him and settled him down.
"Will's got a great edge to him," Crean said. "He's not the player that he is without that edge and that energy. It's no accident we're playing better because he's playing so well right now."
And the starters, well, they didn't play too badly themselves. All five scored in double figures, and they set the tone for this game from the beginning. Christian Watford, normally something of a ball stopper, moved the ball along with the rest of his teammates to find better shots. It was pretty special — and somewhat scary — to watch.
"When we live on the first side, we're not very good," Crean said. "And when the ball is moving and is going on the second and third side, that increases our rebounding, increases our offensive rebounding, gives us a chance at second-chance points."
After the game, the Purdue players sat with blank stares on their faces as they addressed the media. It wasn't only that they were disappointed by the 37-point home loss. They looked stunned by what they had just seen.
"They have a lot of weapons," Travis Carroll said. "Really, it's just going to take all five guys on Purdue to contain them. There's no person who we have to look at."
There's no place to start right now when you're game planning against Indiana. Earlier in the season, coaches gladly let Yogi Ferrell and Victor Oladipo shoot 3s. They doubled Cody Zeller often. They played Will Sheehey only for the mid-range jumper.
You can't do any of those things anymore. The saying goes, pick your poison. Well, all the poisons are lethal right now for Indiana.
If the Hoosiers continue to play like they did Wednesday night, this team will be dancing late into March.
Filed to: Jordan Hulls, Purdue Boilermakers, Victor Oladipo, Will Sheehey