Film Session: Tuesday night defense
By limiting its turnovers and making a concerted effort to get back on defense, Wisconsin did much to negate what's become the staple of Indiana's offense in its 2012-2013 campaign: Quick, easy buckets ahead of the defense. The Hoosiers only scored three fast-break points and just seven off of turnovers.
Yet, the Hoosiers also strung together some impressive defense during a stretch in the second half, as the Badgers failed to hit a field goal for over seven minutes. It allowed Indiana to close the gap on its largest deficit of the season (10 points all the way down to one after a Yogi Ferrell 3-pointer at the 4:42 mark) before the Badgers scored on back-t0-back possessions to punch the lead back out to five, a gap the Hoosiers were unable to close.
A look at two Wisconsin defensive stands as well as two by the Hoosiers in the latest edition of Film Session:
I. Off a Wisconsin made 3-pointer, Indiana quickly gets the ball in and Yogi Ferrell flies down the court: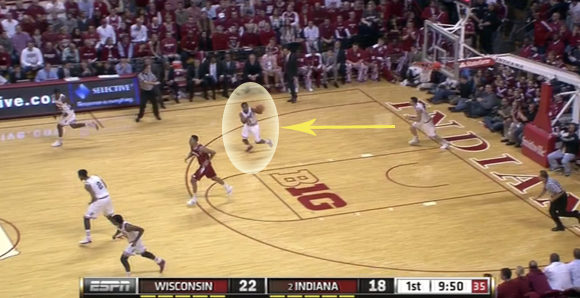 But Wisconsin has everyone back and packed in the paint as Ferrell looks to get inside the arc. He retreats and Indiana now must make a go of it in the halfcourt. The lineup here also puts Indiana at an offensive disadvantage, at least on this night. It features the bench — Remy Abell, Will Sheehey, Jeremy Hollowell (who already scored the group's only points of the night) — and Christian Watford. Cody Zeller had been dominating the first half, but he's not in during this stretch: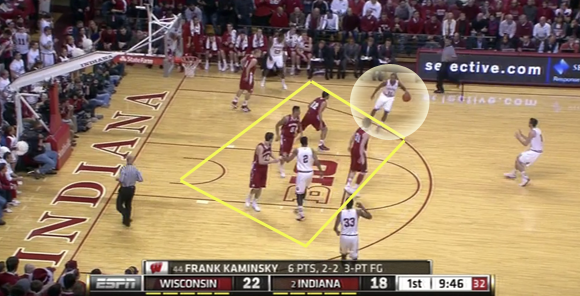 Watford sets a ball screen for Ferrell:
He hands it off to Abell who curls back up top: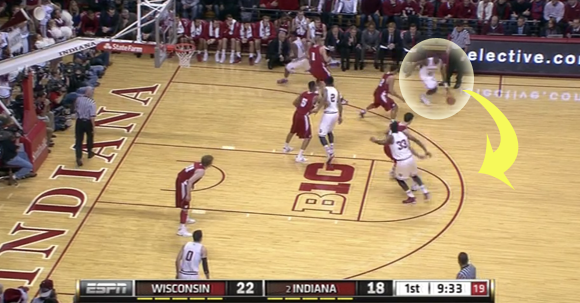 Ferrell again gets a ball screen from Watford. Ben Brust goes under the screen to meet Ferrell at the free throw line: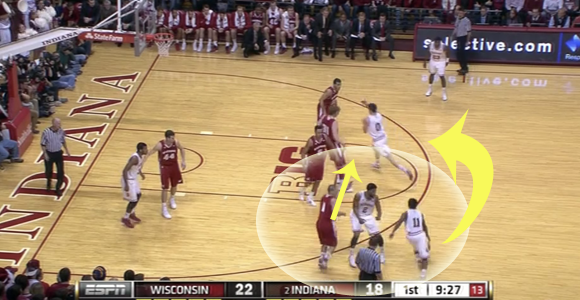 And Ferrell must again retreat: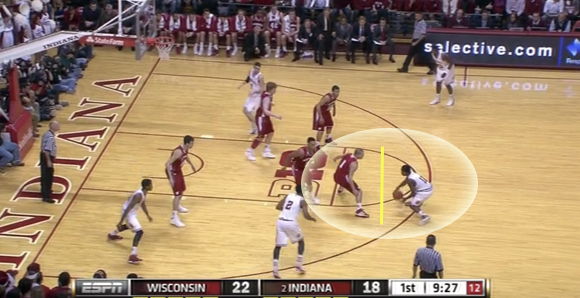 Brust doesn't come play Ferrell tight, a strategy the Badgers employed for much of the evening. They dared Yogi to shoot. He does with 11 seconds remaining on the shot clock. It misses: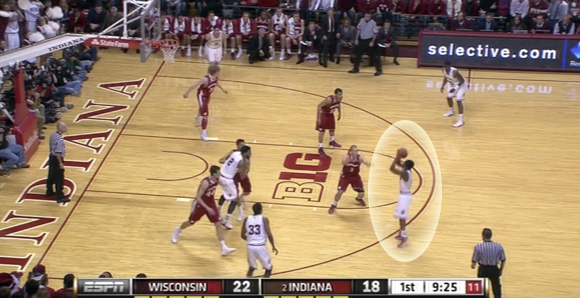 Not the sexiest of plays from either end, but by not allowing Indiana a quick score and getting back, Wisconsin's halfcourt defense was able to get Indiana into a shot it didn't mind the team taking.
Video:
II. After a Wisconsin bucket to open the second half, we again see Indiana try and speed up the court. Victor Oladipo is barely all the way out of bounds before he passes into Ferrell: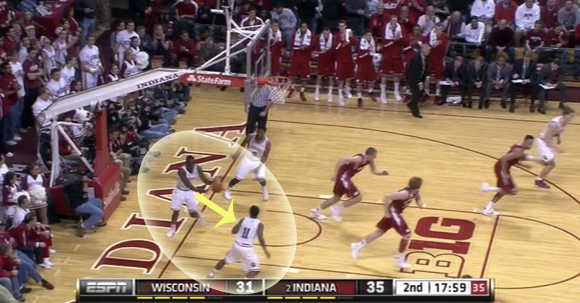 But as Ferrell brings it up, only two other Hoosiers are in the picture: Zeller and Jordan Hulls. Wisconsin, meanwhile, has all five defenders back: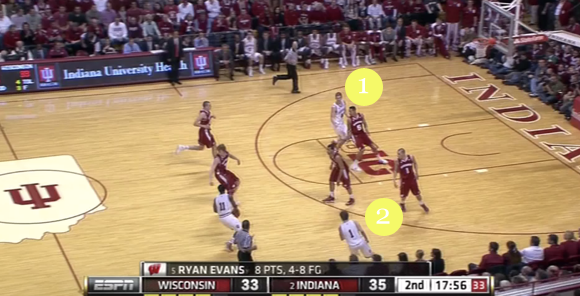 Yet, Indiana is still is able to get a quick look here. Watford fills the left wing and gets a pass from Ferrell. Ryan Evans jumps out on him: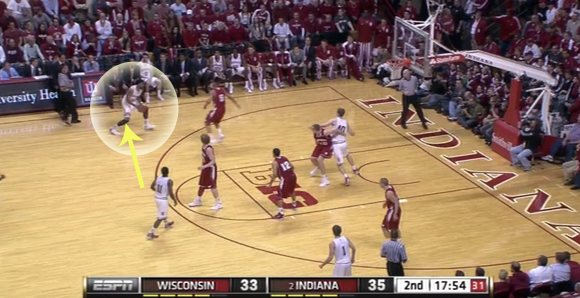 And by closing and playing the 3-pointer, Watford gains an advantage by driving on him. Traevon Jackson — who earlier in the game forced Oladipo into a turnover on a fast break — sees Watford coming to the rim and moves down to the left block: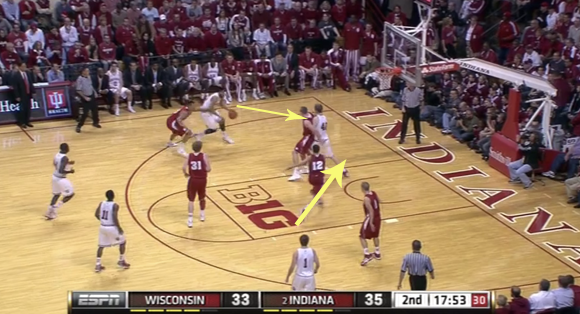 Jackson does a great job here. He gets outside the arc and plays Watford straight up: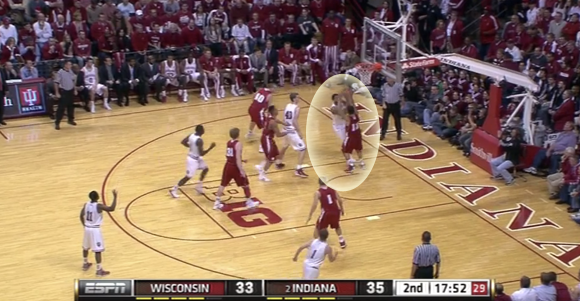 The Birmingham native — who's struggles at the rim are no secret by now; remember he also hit the side of the backboard late in this one — decides to do a 180 in the air, instead of jumpstopping, spinning or otherwise. It leads to a missed bucket and opportunity for IU: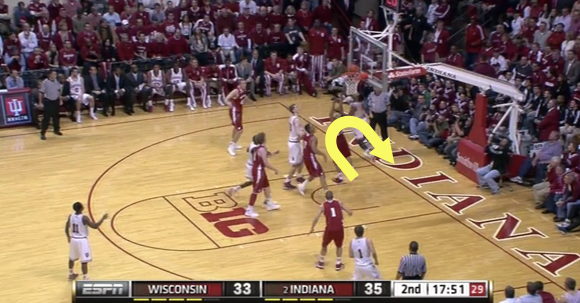 Video:
III. Indiana's defense now. On an inbounds play, Hulls switches from Brust onto Evans, which leaves Brust open for a 3-pointer. Watford sees the ball being inbounded to him and begins to close out: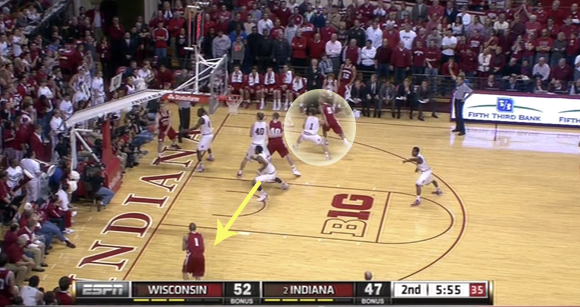 He does a great job of doing so and Wisconsin doesn't get an easy look here: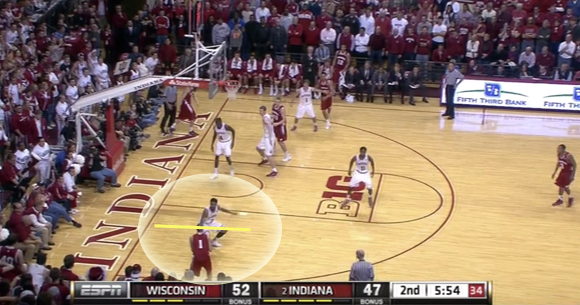 10 seconds later and Wisconsin has four player beyond the arc: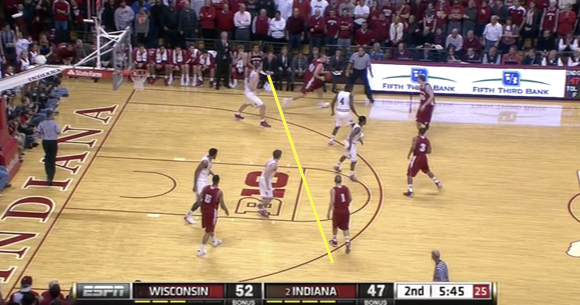 And at 12 seconds to go, Indiana continues to keep the Badgers away from the bucket: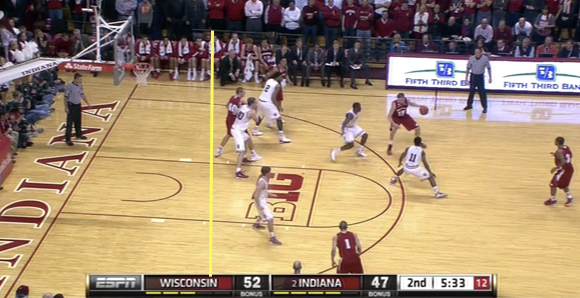 Evans makes a move to try and free himself with the shot clock winding down, but Watford — who did a good job of closing out earlier in this position and who now has switched back to his man — just doesn't allow him any room at all to get a shot off. And his only options are all beyond the arc: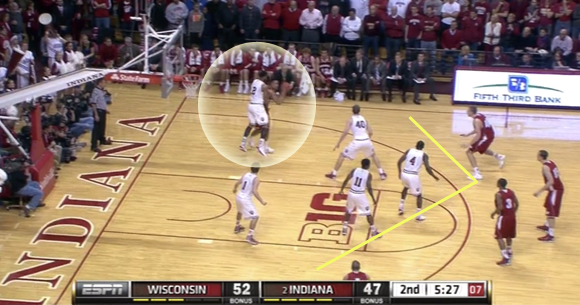 So he passes up top to Sam Dekker, who takes a deep, contested 3-pointer. This is a low-percentage shot. It misses: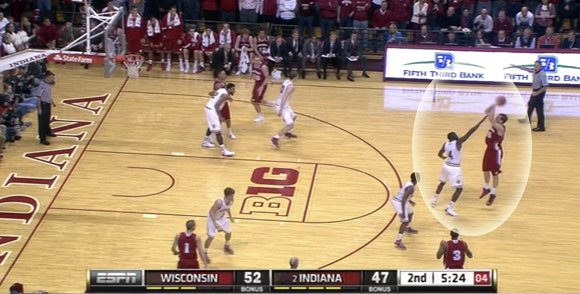 Dan Dakich on the call: "They can't beat their man individually, Mike. Look how far out their offense is. Offense way out on the floor. When you have that, when you have your man locked up, you know you have your man locked up — you're hot defensively right now Indiana is. They know they can guard individually."
Video:
IV. Here's another possession during that stretch in the second half where IU's man-to-man defense was fantastic. Here we see Zeller marking Jared Berrgren out past the arc: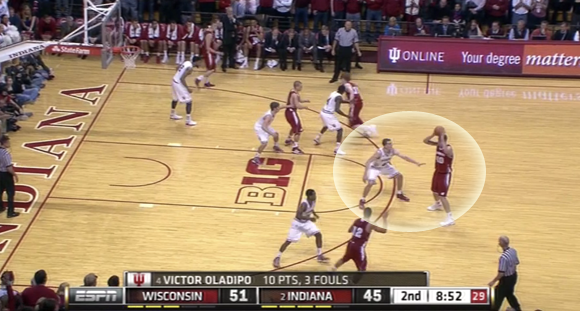 Watford and Hulls force the action on the right wing even further outside the arc: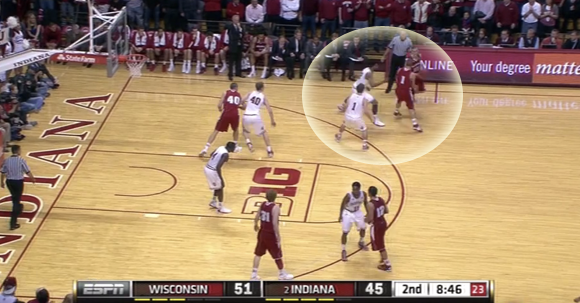 And as the ball comes the other way, Wisconsin is now out near halfcourt: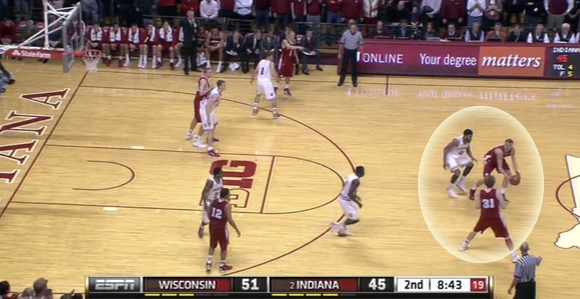 Hulls is left to pick up Berrgren, which leaves his man, Brust, open. He calls for the ball: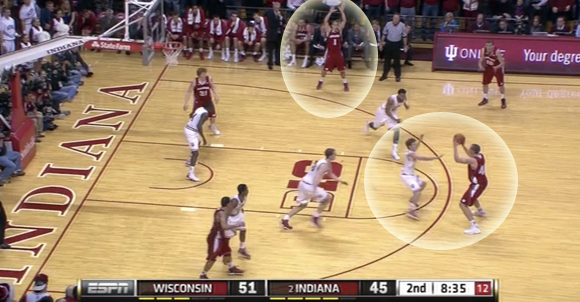 But Hulls hustles over and closes out: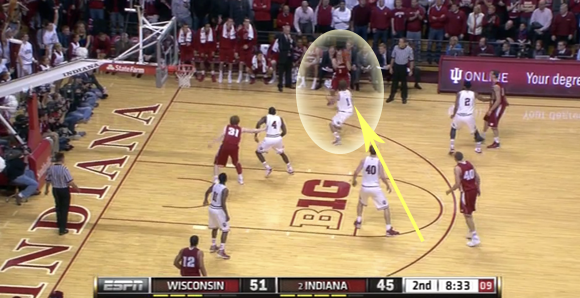 This gives Brust the opportunity to go right around him — something that happened on more than one occasion during this game. But Oladipo plays great team defense here, setting his body and drawing a charge. Turnover Bucky: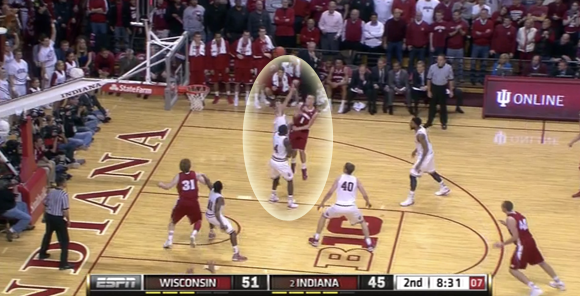 Video:
Filed to: Wisconsin Badgers