The Minute After: Wisconsin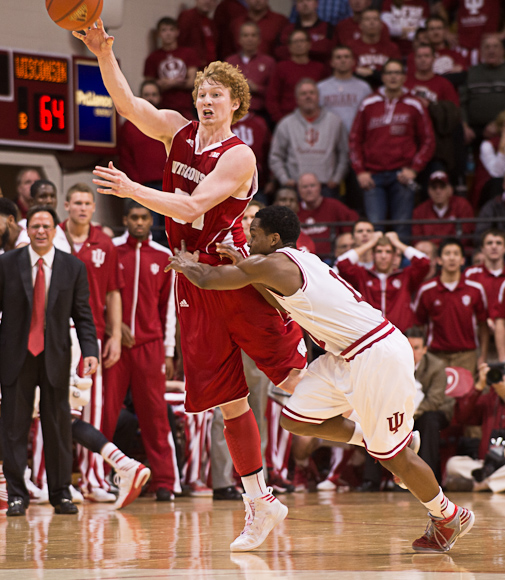 Thoughts on a 64-59 loss to the Badgers:
I. This comes as an unoriginal thought, as Dan Dakich made it known time and again in the waning moments of Wisconsin's impressive win, but it's still most certainly fact: The Badgers and Bo Ryan fear not the Assembly Hall faithful. On so many occasions this season, the Hoosiers have ridden the tidal wave of their home crowd to victory's warm shores, its opponent cowering under the weight of it all. Ask North Carolina. Ask Minnesota at halftime on Saturday. Ask the number of non-conference teams that stepped into Assembly Hall and got their clocks cleaned from the opening tip. But not Wisconsin, not this tough group no one thought would challenge for a conference title with Jordan Taylor gone, Josh Gasser out for the season and no preseason ranking.
Mike Bruesewitz, the guy with the loud hair the fans love to hate, welcomed it all tonight, snapping and chirping right back at the students as they chanted "AIRBALL" at him. He would hit 4-of-6 from the line in the last 1:11 of the game to seal the victory. Traevon Jackson, who is stepping up in all the right ways for Ryan of late in a season where he wasn't expected to do what he's doing, hit a huge shot after a Cody Zeller turnover. That shot punched Wisconsin's lead from three to five at the 2:25 mark in the second half. On paper, a five-point deficit with over two minutes isn't insurmountable. But on an evening like tonight, with Indiana playing from behind all second half, it felt like so much.
And then there was Sam Dekker — no stranger to big moments — rollicking off the court after the win, screaming "11 in a row, 11 in a row" at the students. Because his team had indeed just defeated these Hoosiers for its 11 straight time. The Badgers also came into Assembly Hall tonight and held the highest-scoring offense in the country to just 59 points on 37 percent shooting from the field (20-of-54), 25 percent (3-of-12) from 3-point distance and only three fast-break points. It came in, played its game its way, the prodding of the defense and the draining of the shot clock until it found what it liked,  the low turnovers as to not waste possessions and control the pace. And Indiana — despite holding the Badgers scoreless for over seven minutes when it turned up the D for a stretch in the second half — still couldn't get over the hump.
And then there's Bo. Now 17-3 against the Hoosiers. Winner of the most road games in the Big Ten since 2001-02. As the buzzer sounded, Tom Crean blew through his handshake with him, some saying he even accelerated through it.
He's sick and tired of the losing to this man and his never-changing system. But it continued tonight, and it'll continue to stew inside Crean until Indiana's next chance. Which, save for a meeting in the conference tourney, might not be until next season.
II. Indiana's depth was once a large talking point as to why it projected to be so successful this season, but returns of late haven't been pretty. After getting just three bench points against Minnesota, Indiana got just two tonight — a basket from Jeremy Hollowell. Will Sheehey, who's energy has been infectious off the bench at times, has been lifeless; he's not shooting well. Hanner Mosquera-Perea continues to be a freshman still learning the game. He was badly exposed on defense a few times tonight and his lone attempt at the basket was one to forget, a putback that badly missed. Remy Abell shot so well earlier in the year, and Crean praised him with good reason, but he did little in 14 minutes (0 points, three rebounds, one assist).
Someone's time will come again out of this group. But on a night where Indiana badly needed a scoring punch or spark, the bench didn't provide it. Of course, this could be extended to the starters as well. Jordan Hulls was sloppy (team-high three turnovers) and shot poorly (2-of-8). Outside of Zeller's 9-of-15 performance and Hulls' effort, the rest of the starting five (Christian Watford, Victor Oladipo and Yogi Ferrell) shot just 8-of-23.
III. Quickly: The sky is not falling. This team is still going to contend for a Big Ten title. But they certainly missed a chance to get some distance on the rest of the league tonight, and the road gets no easier from here.
Filed to: Wisconsin Badgers