Cody Zeller named to Wooden Award midseason top 25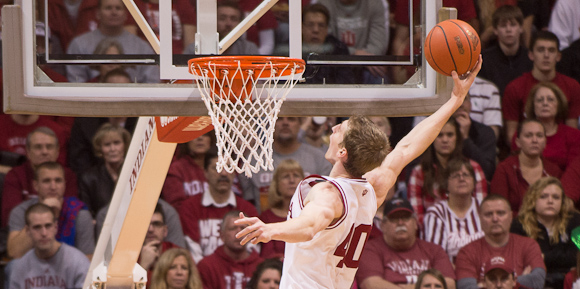 Indiana sophomore Cody Zeller is one of 25 midseason finalists for the John R. Wooden Award, the national advisory board for the award announced on Thursday evening.
Through 15 games, Zeller is averaging 16.4 points, 7.8 rebounds and 1.3 blocks per game.
He's one of four Big Ten players to be named a finalist, joining Illinois guard Brandon Paul, Michigan's Trey Burke and Ohio State's Deshaun Thomas.
Current Indiana Director of Basketball Operations Calbert Cheaney was the last Hoosier to win the Wooden Award in 1993. Zeller was one of three freshman finalists last season for the award, joining Kentucky's Anthony Davis and Michael Kidd-Gilchrist.
The complete list of finalists follows after the jump:
Anthony Bennett, 6-8, Fr., F, UNLV
Laurence Bowers, 6-8, Sr., F, Missouri
Trey Burke, 6-0, So., G, Michigan
Isaiah Canaan, 6-1, Sr., G, Murray State
Michael Carter-Williams, 6-6, So., G, Syracuse
Jack Cooley, 6-9, Sr., F, Notre Dame
Seth Curry, 6-2, Sr., G, Duke
Jamaal Franklin, 6-5, Jr., G, San Diego State
Erick Green, 6-3, Sr., G, Virginia Tech
Elias Harris, 6-8, Sr., F, Gonzaga
Pierre Jackson, 5-10, Sr., G, Baylor
Sean Kilpatrick, 6-4, Jr., G/F, Cincinnati
C.J. McCollum, 6-3, Sr., G, Lehigh
Doug McDermott, 6-8, Jr., F, Creighton
Ben McLemore, 6-5, Fr., G, Kansas
Brandon Paul, 6-4, Sr., G, Illinois
Mason Plumlee, 6-10, Sr., F, Duke
Otto Porter, Jr., 6-8, So., F, Georgetown
Phil Pressey, 5-11, Jr., G, Missouri
Marcus Smart, 6-4, Fr., G, Oklahoma State
Russ Smith, 6-0, Jr., G, Louisville
Deshaun Thomas, 6-7, Jr., F, Ohio State
Jeff Withey, 7-0, Sr., C, Kansas
Nate Wolters, 6-4, Sr., G, South Dakota State
Cody Zeller, 7-0, So., F, Indiana
Filed to: Cody Zeller, Wooden Award