What to Expect: Minnesota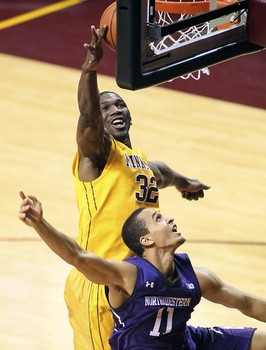 After back-to-back road wins to open conference play, No. 5 Indiana returns to Assembly Hall on Saturday afternoon for a meeting with No. 8 Minnesota. It's the first meeting between two top ten teams in Bloomington since February 19, 2000 when the No. 10 Hoosiers hosted No. 7 Ohio State. 
The game will be broadcast on the Big Ten Network with Gus Johnson and Jim Jackson on the call.
Finally, a game that may give us a true measuring stick of just how far Indiana has come since losing to Butler in Bankers Life Fieldhouse on Dec. 15. That's not to say the wins at Iowa and Penn State weren't impressive — they were — but those are games everyone expected Indiana to win, despite well-documented woes on the road in the Big Ten.
Minnesota, however, is a different level of challenge for these Hoosiers. The Gophers are a legitimate contender for the conference crown. They boast experience in the front court with Rodney Williams and Trevor Mbakwe, who looks healthier by the game after knee surgery ended his season prematurely last season. And in the backcourt, Andre and Austin Hollins can both fill it up while Joe Coleman can be tough to deal with physically, even by Big Ten standards.
Minnesota's three wins in the league have all been convincing: 76-63 over Michigan State, 69-51 over Northwestern and most recently, 84-67 at Illinois. The Gophers have won 11 straight games since falling to Duke in the Battle of Atlantis and were the only team to win last season in Bloomington. After five straight guarantee games following IU's triumph over North Carolina in late November, a major test awaits on Saturday on Branch McCracken Court.
PERSONNEL
Tubby Smith didn't build this team with five-star recruits, but he's assembled a group that can collectively play with any team in the country. Williams has continued the stellar play he exhibited as a junior and is the team's second leading scorer (12.9) and rebounder (5.9). The senior forward is shooting 58.7 percent on twos, but is shooting just 64.7 percent from the foul line despite a healthy number of attempts (68). Williams continues to be dangerous in the open court and has the potential to stop the opposition's momentum with any number of high-flying plays around the rim.
Mbakwe played more than 30 minutes for the first time in Wednesday's win at Illinois and logged his seventh double-digit rebound game of the season in the process. He's currently the best offensive and defensive rebounder in the Big Ten according to Ken Pomeroy's stats and keeping him, and Williams to a lesser extent, at bay on the glass will be pivotal for Indiana. Minnesota has used its bench far less frequently since the beginning of league play, which is a sign that Smith may not be as comfortable with guys like Maurice Walker, Eliott Eliason and Oto Osenieks as he was in non-conference play.
On the perimeter, sophomore Andre Hollins has emerged as the team's leading scorer. The sophomore from Memphis is shooting 43.3 percent on threes and 78.9 percent from the line. But just as importantly, Hollins is dishing out 3.7 assists per game and boasts an assist rate of 26.9 percent. Austin Hollins loves to hoist shots from the perimeter and he's knocked down 38 percent of his 71 attempts from distance. He's got a team-high 33 steals and is the least turnover prone (just 21 in 16 games) of Minnesota's five starters. And Coleman, who is coming off a career-high 29-point performance at Illinois, is playing with more confidence halfway through his sophomore season. Like Austin Hollins, Coleman can disrupt the game with ball pressure, but is far less likely to take the perimeter shot.
POMEROY PREVIEW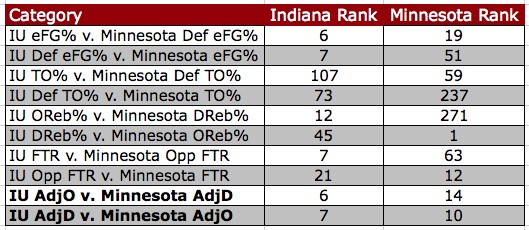 Yes, those numbers are correct. Minnesota is the best offensive rebounding team in the country and at the same time, they're well below average on the defensive boards. Looking back at the loss last year at Assembly Hall, IU allowed Minnesota to rebound 43.2 percent of its misses, which was the second worst performance on the defensive glass all season for the Hoosiers. Further proof of just how important rebounding is for IU lies in the fact that Butler rebounded 48.9 of its misses back on Dec. 15 and handed the Hoosiers their lone loss.
Both teams are getting to the foul line at a very healthy clip, but Indiana is doing a slightly better job at keeping its opponents off the line and the Hoosiers are shooting 74.7 percent on free throws compared to 70.2 percent for Minnesota. In a game that could be tight the whole way, this has a chance to be a difference maker.
Also of note is the Gophers' carelessness with the ball (at times) that has led to a turnover percentage of 21.8. That mark is even higher in Big Ten games thus far (23.9), but has been mostly negated because Minnesota is able to generate so many second chance opportunities through offensive rebounds.
WHAT IT COMES DOWN TO
This is shaping up to be a significant battle for Indiana. Minnesota is extremely physical and that's a style of play these Hoosiers haven't always responded well to. Georgetown tried to be the aggressor in a November meeting at the Barclays Center and it nearly worked as IU needed overtime to dispatch of the Hoyas. Butler was even more physical with IU, particularly on the glass, and it worked to the tune of an 88-86 upset. With a long week of preparation and a 17-point drubbing of Illinois to use as a fresh example, Indiana will be well aware of the physical prowess Minnesota is capable of bringing.
Holding serve at home is extremely important for any Big Ten team, but Indiana's hopes for a league title rest heavily on taking advantage of the atmosphere and energy provided by the crowd in Assembly Hall. For Minnesota, which is looking for a 4-0 start in conference play with a meeting at home with Michigan looming next, stealing a game in Bloomington is the first step to an early lead in the conference race.
Pomeroy likes Indiana to win 75-68 with a 74% win probability, which is tied with the Michigan game for the lowest figure of IU's remaining home dates. If the Hoosiers can slow down Minnesota on the offensive glass and avoid the poor shooting performance (47.3 eFG%) that plagued them in last year's home loss to the Gophers, they should avenge last year's lone home defeat.
All tempo-free stats from KenPom.com.
Filed to: Minnesota Golden Gophers, Trevor Mbakwe