The Inside the Hall Mailbag: January 9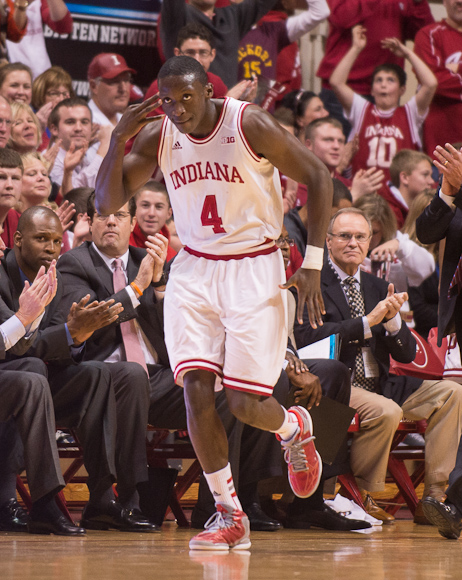 The Inside the Hall Mailbag is a collection of questions tweeted to us via Twitter (@insidethehall) and sent to us via our Facebook page. Submit your questions and we'll answer as many as we can. 
Joe Weis writes: Besides limiting turnovers and hitting more foul shots, what is the one focus area to match up with (and beat) a Michigan team that has looked so dominating thus far?
This goes without saying, but the obvious difference maker in the Feb. 2 game is likely going to be the crowd in Assembly Hall. The Wolverines never play well in Bloomington and it's fair to say the atmosphere could reach Kentucky levels.
There are a couple of other less obvious areas to hone in on. The first: How will Trey Burke respond to a bigger, more athletic defender like Victor Oladipo? Obviously putting Oladipo on Burke could put Indiana at some disadvantages in other matchups, but it's hard to see anyone else drawing the assignment on a guy who is playing as well as anyone in the country.
You mention Michigan's dominance, but defensively, I think Indiana will be able to score the ball. The Wolverines aren't particularly great in their defense of 2-point field goal attempts (allowing 46.1 percent) and IU is great at finishing plays around the rim. This game, if both teams continue on their current paths, has a chance to be the best to-date in college hoops this season. — Alex Bozich
@steiny0626 writes: how much will IU non-conference sched. hurt them for seeding in tourney? wins vs gtown and nc seem less proving than thought?
It's hard to imagine the non-conference schedule having a huge effect on IU's NCAA Tournament seeding because their Big Ten schedule is truly a grind. IU has single-plays with three teams in the bottom half of the league (Nebraska, Northwestern and Wisconsin) which means the Hoosiers are playing Michigan, Michigan State, Ohio State and Minnesota all twice. That's truly brutal. Right now the strength of schedule is a little lower than some Big Ten peers, but it'll stack up just fine nationally once the league schedule plays out. — Alex Bozich
Jeff Bundy writes: How soon do we expect to see Mo Creek return?
Creek is looking at a return date of a week to two weeks after suffering a right foot injury. Crean said on Monday that he's not expecting to play Creek on Saturday against Minnesota, but that it was a positive that he's been on the floor recently without his boot. — Alex Bozich
@eastwood88_20 writes: Is iu turnover issues going to cost iu vs top end of the bigten or is simply the level of talent they are facing?
I think the turnover "issues" you mention are somewhat a product of the pace Indiana is trying to deploy. Tom Crean has talked about trying to push tempo and produce more possessions (and shots), so turnovers are naturally going to occur as a byproduct. Overall, Indiana is turning it over on 19.2 of its possessions this season and the Hoosiers finished 2011-2012 with that figure at 19.1. I think pointing to turnovers as an issue at this point is splitting hairs when you look at the fact that IU has the fourth most efficient offense in the country and its record is 14-1. — Alex Bozich
@CheesyCheesy2 writes: With two road games down, how do you think Yogi is adapting to Big Ten play, and will he play a big role in bigger B1G games?
Very well, particularly defensively. Ferrell drew the D.J. Newbill assignment at Penn State and passed the test. Newbill finished 3-of-15 from the field. The offensive numbers are going to be mostly modest the rest of the way, in my view, but Ferrell showed incredible maturity with his play in Iowa City when he took over the game for a couple of possessions and the aforementioned lockdown of Newbill was pointed out quickly in Crean's postgame comments at Penn State. One area that's been a positive is the free throw shooting. Yogi is just 1-of-3 in Big Ten play from the line, but is 31-of-38 overall for 81.6. percent. — Alex Bozich
@callison32 writes: Oladipo is shooting nearly 48% from three point range. Do you feel confident that he has fixed this part of his game?
I think it's a large enough sample size now (15 games) to say that improvements have been made, but let's see what happens when the defense turns up in Big Ten play. What I like about Oladipo's approach is that he's not taking shots that aren't there. Most of his attempts have been of the wide open or lightly contested variety. At times last season he forced the perimeter game, which led to misses and he admitted that he wasn't as confident in that part of his game. He's never going to make his living from behind the 3-point line, but being able to connect from distance makes him an even tougher guard because defenders can't sag off him. — Alex Bozich
Jon Pheral writes: What is Derek Elston's status?
Elston tweaked his knee in shootaround prior to the Penn State win on Monday and Tom Crean held him out as a precaution. The injury isn't considered to be serious and it's likely that Elston will play on Saturday against Minnesota according to Crean's comments after the win in State College. — Alex Bozich
Steven Harris writes: Perea has been getting into foul trouble and sometimes mishandles the ball when receiving a pass in the post and when rebounding, but clearly has great athleticism. What do you think is his ceiling this season?
I'm beginning to fear that the abundance of Hanner Mosquera-Perea dunk highlights have led to some unrealistic expectations for this young man. He's played six games and a total of 51 minutes. I'm obviously not taking exception to this question as I think its fair and was the best of the bunch received in regards to Perea, but it's incredibly unfair to draw any conclusions from his play thus far for a couple of reasons.
First, he's been hurt off and on for a good part of the fall and early winter. Second, he served a ridiculous nine-game suspension for transgressions that were not of his doing that led to him missing valuable court time. And finally, he's a freshman who is learning to play in a system that's incredibly dependent on its players processing concepts and information quickly. If the game were as easy as pure athleticism and dunking ability, Perea would be a star. But it's not and he's got a long way to go. If his work ethic and desire to get better are in line with how Crean has presented them, he'll get there. — Alex Bozich
Filed to: Hanner Mosquera-Perea, Maurice Creek, Twitter Mailbag, Victor Oladipo