The Minute After: Penn State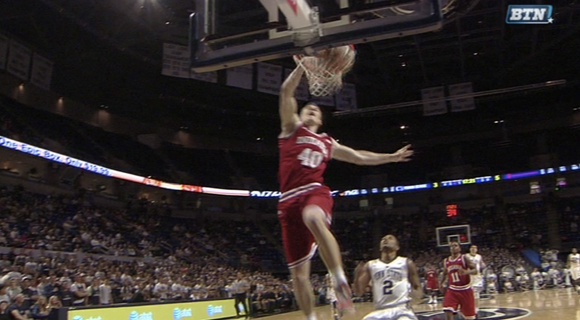 Thoughts on a 74-51 win against the Nittany Lions:
I. Slow starts have befallen the Hoosiers on occasion this season, but save for an early 3-2 deficit, they established themselves as the dominant team from the onset in this one. They were aggressive on both ends of the floor — their patented mix of turning defense into offense in transition and ball movement and making the extra pass in the halfcourt. And the sometimes-energy-deficient Christian Watford was anything but during Indiana's early stretch which pushed the lead out to double digits — where it remained for much of the night. Watford had eight of Indiana's first 10 points thanks to a 3-pointer and two scores at the bucket, the second of which he converted into a three-point play after getting fouled.
By half, Watford had 13 points and five boards. By the time he left the floor late in the second half, he had 16 points and eight rebounds on 5-of-8 shooting. When he's got it going — and specifically when he's finding the balance between his 3-point shot and looking for opportunities at the bucket — it's just another thing the opposition is going to have to worry about.
Indiana scored 44 points in the first 20 minutes, had 14 field goals on eight assists, scored 1.28 points per possession and shot 51.9 percent from the floor (6-of-11, 54.5 percent from 3-point range). They also got to the line and shot it well — 10-of-13 for 76.9 percent. Penn State shot just 34.4 percent, scored just .78 points per possession and were clearly giving up some in the talent department.
II. And there was the start of the second half — a sloppy, messy, gross affair. It put this game into quicksand. Indiana only had five turnovers at half; it had eight in just the first 6:47 in the second half. Penn State wasn't able to gain much of an advantage in this frame of time, however, because it had some issues with the ball of its own (six in that same 6:47 timeframe). (The full tale of the tape on this: Indiana's 17 turnovers were only converted into nine points on the evening by the Nittany Lions.) This stretch — one in which Indiana scored just six points — was a factor in the Hoosiers not pushing this one up into the 80s for their final tally. The other? the Hoosiers left a decent amount of points at the line, as they shot just 57.1 percent (12-of-21) after halftime. This all meant Indiana scored just .88 points per posession after half, and Penn State a paltry .69.
III. A random assortment of thoughts to follow: Not like anyone was thinking otherwise, but Jordan Hulls regained his shooting stroke this evening. (In fact, some of his shots were quite pretty — like nothing but the bottom of the net variety.) Hulls hit 2-of-3 from distance, 4-of-6 from the field (including a jumper after a sweet crossover in the second half), and converted on 4-of-5 from the line. He scored 14 points in total and added two boards and two assists.
Part of the reason Victor Oladipo was shooting a hyper-efficient 81 percent at the rim this season heading into tonight's contest was on display on a few opportunities for him tonight: He's smart.  There was the jumpstop in transition that allowed him an open look as the Penn State defender went by him; there was him curling up and around to the other side of the basket later in the second half to get a cleaner look. (The latter of which he's done time and again this season.) Oladipo also hit his one and only 3-point attempt tonight — where he entered the game shooting a cool 45 percent. He's not forcing things beyond the arc — just 20 percent of his looks are coming from distance — but he's shooting well enough that when it's there, he's taking and hitting at a high rate. Oladipo had 10 points on 4-of-6 shooting and added six boards and three assists.
Will Sheehey will continue to win the Motel 6 Sixth Man of the Game award more often than not as long as he keeps doing what he does … Cody Zeller got a lot of easy looks in transition from his teammates and added a dunk early thanks to a hedge and steal which he took down to Indiana's bucket for a dunk. He left a bit at the line (5-of-9), but left the game as the team's second-leading scorer (15) behind Watford and an efficient 5-of-7 from the floor.
Filed to: Penn State Nittany Lions