What to Expect: Penn State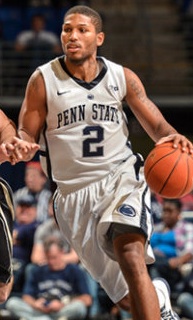 With a week off following a New Year's Eve win at Carver Hawkeye Arena, the No. 5 Hoosiers will hit the road for State College and a meeting with Penn State. The Nittany Lions (8-5) are coming off a 60-51 loss at Wisconsin on Jan. 3.
The game will be broadcast on the Big Ten Network with Tom Hamilton and Jim Jackson on the call. 
Penn State's hopes for improvement on last season's 12-20 campaign were dealt a significant blow when All-Big Ten guard Tim Frazier ruptured his left Achilles in an 85-60 loss to Akron on Nov. 20. Not only was Frazier one of the best backcourt players in the country, he was the essential piece that made Penn State a team that could compete with the league's best. As a junior, Frazier posted the second best assist rate in the country while averaging 18.8 points per game. Without him, Penn State's path to wins in the country's toughest conference appears to be daunting.
So how has Penn State fared without Frazier? 6-3 with losses to Boston College (home), La Salle (neutral) and Wisconsin (road). If there's a silver lining for Pat Chambers as he works relentlessly to build his program, it's the fact that his current group will gain a year of experience and will then get the chance to make a jump next season with Frazier back in the fold.
PERSONNEL
Frazier's absence has forced sophomore guard D.J. Newbill (pictured), a transfer from Southern Miss, and junior guard Jermaine Marshall into larger roles than anticipated. Newbill is the team's leading scorer at 15.5 points per game and Marshall is not far behind at 14.9 points per game, but neither player is particularly efficient.
Newbill has struggled from behind the 3-point line (7-of-29), but is drawing 6.2 fouls per 40 minutes and is fifth in the Big Ten with a free throw rate (FTA/FGA) of 54.1. The fruits of Newbill getting to the line have been diminished a bit by the fact that he's hitting just 65 percent of his attempts. He's also been effective on the glass as he's averaging 6.3 rebounds per game, good for second on the team.
Marshall has been slightly better percentage wise (32.4) from behind the 3-point line, but is taking nearly 5.5 attempts from distance per game. His steal percentage (3.7) ranks sixth among Big Ten players. Both players are getting little rest as Newbill averages 35.5 minutes and Marshall is at 34.1 per game.
Up front, Penn State is also using Ross Travis for major minutes — he's playing 31.4 per contest — and he's averaging a team-high 7.7 rebounds. Travis isn't much of an offensive threat and is shooting just 43.8 percent on his 2-point attempts. Freshman Brandon Taylor, a 6-foot-7 forward who lost 30 pounds after arriving on campus, is beginning to emerge as one of Penn State's most reliable scorers. Taylor has an effective field goal percentage of 56.5 and has been the Nittany Lions best 3-point shooter at 39.6 percent.
Nick Colella, who is strictly a 3-point specialist with 48 of his 53 field goal attempts coming from outside, and junior forward Sasa Borovnjak, who averages 5.5 points and 3.5 rebounds, round out the rotation players who could make an impact on Monday.
POMEROY PREVIEW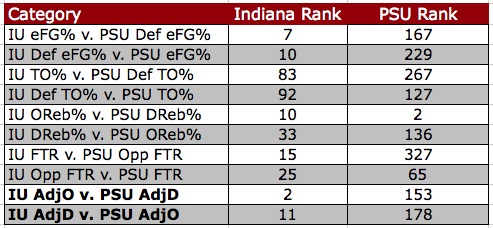 Two numbers from the chart above stand out for Penn State. First, the Nittany Lions are the nation's second best defensive rebounding team. Second, opponents are getting to the foul line at an alarmingly high rate against Penn State. The first statistic shouldn't be much of a factor for IU as the Hoosiers boast one of the country's most efficient offenses. Even if Penn State is able to limit IU's second chance opportunities, their defensive numbers (48.0 percent eFG defense) don't suggest being capable of holding down IU's dynamic offense.
The free throws are likely a major concern for Chambers going in and you can be sure that the IU staff is going to stress the importance of getting to the line against a team that can't stop fouling. Penn State also does a solid job of getting to the line, mainly thanks to Newbill, so you'll likely see Victor Oladipo trying to keep Newbill out of the lane and off of the foul line.
WHAT IT COMES DOWN TO 
Indiana is heavily favored in this game — Vegas likes the Hoosiers by 17 and Pomeroy likes them by 20 — and State College hasn't been too unkind for IU in the Tom Crean era. The Hoosiers have won two of three against the Nittany Lions at the Bryce Jordan Center under Crean, including last year's 88-82 triumph.
When Indiana has struggled on the road, the Hoosiers have typically gotten off to poor starts. That shouldn't be the case on Monday as the Hoosiers are clearly the superior team in this matchup. And while Penn State has a formidable backcourt duo, stopping Cody Zeller in the frontcourt could prove troublesome.
CREAN ON PENN STATE
"Marshall and Newbill are handling the ball. They are taking most of their shots. Their teammates feed off of them. They are really dangerous when they're in the same action, whether they are on the same side, which they seem to be a lot. They both have things that they really, really do well. They have strengths that you really have to go into and try to attack those. I think the fact that Brandon Taylor is there, that [Nick] Colella is there, and make shots. I mean, Colella's shots have almost been all 3's. Sasa [Borovnjak] is also really improving. He's really good. He's as good a pick and roll defender as there is in the league right now. I mean, he's good. They're doing a great job of playing off of him. He sets great screens and he's a tremendous help to them defensively.
"Watching the game the other night, if they had beat Wisconsin, it wouldn't have been a shock at all. They just keep going. We learned that last year. You have to play every second of those 40 minutes against that team because they never stop going. The thing that they are doing a great job right now with is their transition offense. They do well with the delayed break and their drag actions are really good. Those guys are a big part of that."
Filed to: Penn State Nittany Lions