Recruiting Notebook: Indiana watches Booth, Morgan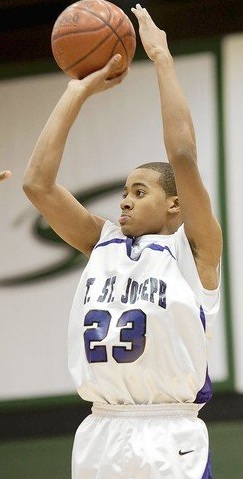 Tom Crean and Kenny Johnson made the trip to East Baltimore on Wednesday night to watch two of Indiana's 2014 targets, Phil Booth (pictured) and Dwayne Morgan, square off. Maryland coach Mark Turgeon was also in attendance.
Morgan and No. 1 St. Frances edged Booth and No. 2 Mount St. Joseph's 58-57 and afterward, both players gave updates on their respective recruitments in this Baltimore Sun story.
Morgan:
Morgan, meanwhile, said he has no timeline for his decision. The Terps are "in my top six," he said. "So if you're in my top six, that's good."
Booth:
Booth, who claims offers from Georgetown, Indiana, Maryland, SMU, Temple, Villanova, Virginia Tech and several others, is projected by many recruiting services as a shooting guard. But last night, Booth effectively ran the point and said working on his lead-guard skills has been a major priority.

Booth said he doesn't have a final list of schools yet. He appreciated Crean and Turgeon — the coach of "the big-time program in the area" — coming out to watch him play.
Morgan had 13 in the win while Booth had nine in a losing effort. Florida is also reportedly close to offering Booth a scholarship.
Fischer leads Germantown to 10-0 start
2013 Germantown (WI) forward and IU signee is off to a strong start to his senior season.
The 6-foot-11 center is averaging 20.5 points and told Inside the Hall on Thursday that his goal is another undefeated season.
"That's what we said at the end of last year," Fischer said when asked if Germantown's goal was going unbeaten again. "We have the talent to do the exact same thing."
Besides adding strength, Fischer said he's becoming more aggressive in seeking out the ball this season as Germantown's leader on the floor.
"Last year, I kind of let the ball come to me and this year, I kind of want the ball in my hands whenever I can get it and have everything go through me," he said. "That's what coach has told me to do. Instead of having someone else give me the ball, I try to go get it and it's been working."
Edwards says things with Indiana are "great"
In an interview with NY2LASports.com, 2015 East Chicago Central guard Hyron Edwards talked about the top schools on his list and mentioned Illinois, Indiana, Purdue, Michigan and Michigan State.
"Indiana is great," Edwards told Evan Flood of NY2LASports. "The coaching staff is good. They've been doing great. All the players are great. "
Indiana was the first school to offer Edwards last spring.
Lyle nowhere close to a decision
2014 Evansville Bosse guard JaQuan Lyle continues to add interest and doesn't appear close to making a decision on where he'll attend college.
According to Bosse coach Shane Burkhardt, Arizona, Duke, Florida and UCLA have recently made inquiries about the Bosse star, who is averaging over 27 points per game.
Lyle trimmed his list of schools to ten earlier this fall, but plans to make official visits before announcing his choice.
"I think it'll happen sometime around November, but it could stretch out to April of next year," Burkhart told Matt Daniels of IlliniHQ.com. "I don't think it's going to be anytime before (November). After the summer is over and at the first of the school year, we'll get it to five (schools) where he'll take five official visits in the fall and hopefully be able to come up with some type of decision by then."
Bluiett takes in Purdue's Big Ten opener
According to Brian Neubert of GoldandBlack.com, 2014 Park Tudor wing Trevon Bluiett was in attendance for Purdue's 68-61 win over Illinois.
Bluiett has more than ten offers, including five from Big Ten schools. 
Filed to: Dwayne Morgan, Hyron Edwards, Jaquan Lyle, Luke Fischer, Phil Booth