The Inside the Hall Mailbag: January 2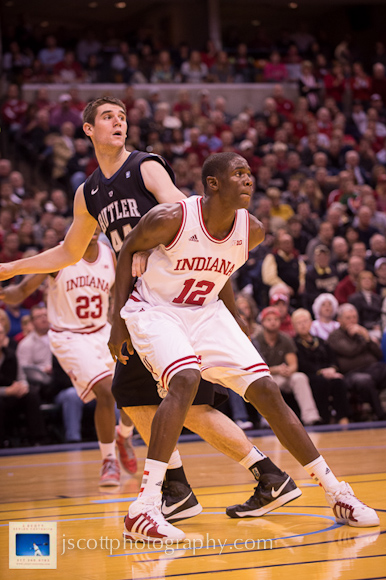 The Inside the Hall Mailbag is a collection of questions tweeted to us via Twitter (@insidethehall) and sent to us via our Facebook page. Submit your questions and we'll answer as many as we can. 
@bpollard writes: What are your thoughts on the development of Hanner Perea to date? Do you see him earning more minutes in January?
It's really hard to get an accurate gauge of just how far Mosquera-Perea has come from the beginning of the season because we've seen very little of him on the floor. He did play double-digit minutes in blowout wins over Mount St. Mary's, Florida Atlantic and Jacksonville, but played just a total of seven minutes against Butler and Iowa.
There's no denying the physical talent he possesses, but he's got six turnovers in a total of 43 minutes and besides the Florida Atlantic game (10 rebounds), he's combined for a total of three in his other four games. That said, it's only been five games, so this question is perhaps better addressed at the end of January. How his role progresses will be determined by his ability to finish plays around the basket, rebound more consistently and limit mistakes. — Alex Bozich
@RickFrazier writes: Do you ever see Elston having a more pivotal role than the one he is in now (5 or so minutes per game)?
Of course. He's only played in four games and is coming off of knee surgery. He's going to need time to get his conditioning back and become more comfortable on the floor. I'm not sure he's going to have many games where he's playing more than 12-15 minutes, but he's certainly a valuable piece of the bench because of his experience and his ability to knock down open shots. — Alex Bozich
@stevemarko23 writes: I know its early, but should there be concern 'the movement' was a tad overhyped? Yogi seems to be the only real impact guy
It's not just early, it's super early. Jeremy Hollowell just sat out three games and Hanner Mosquera-Perea and Peter Jurkin sat out nine games each to start the season. I'm not sure how anyone can make a reasonable judgement on any of those three players as we sit here on Jan. 2.
Hollowell did some positive things in the win at Iowa, including a late block that kept the lead at three when it could have been one. Anyone who was operating under the illusion that "the movement" was going to come in and take major minutes in a program that returned mostly everybody from a Sweet Sixteen team was misguided. Ferrell was the most college ready of the four players and as the season moves along, I would expect Hollowell and Mosquera-Perea to have their moments. Patience, people. Patience. — Alex Bozich
@renn3425 writes: when will the fans know more of what happened with hollowell?
Fred Glass said the details will be released sometime this week. — Alex Bozich
@mattyork1941 writes: is cody zeller in a soph slump or just victim to a lot of scoring options? Should the offense run through him
Sophomore slump? He's averaging more points and rebounds than he did last season. Here are the numbers: 15.6 and 6.5 rebounds in 2011-2012 versus 16.5 and 8.1 rebounds thus far in 2012-2013. His effective field goal percentage is also nearly identical to where he finished up last season.
To answer the second part of your question, the ball will continue to go into Zeller when it's there, but I think Indiana is doing a nice job of not trying to force things that aren't available. There's enough talent on the roster and enough other scoring options that if the opposition tries to take away Zeller, the Hoosiers have enough other pieces to win. — Alex Bozich
@gshamilton writes: Sure I'm not the first, but if Oladipo continues his impressive play, does he go pro after this year?
It certainly seems like a strong possibility. Oladipo is all the way up to No. 31 on Chad Ford's top 100 over on ESPN.com and our Justin Albers has been checking in regularly with a NBA scout for his thoughts on Oladipo over in the forum. For Oladipo, the main question coming into the season was his perimeter shooting and he's knocking down 45.5 percent of his 3-point attempts as a junior. He's also taken his defense to another level and there are few players in the country, if any, with a higher motor. This is also shaping up to be a down year for the NBA Draft, so that has to play into the decision, too. — Alex Bozich
@TaylStev writes: With the few minutes that Jurkin has played, is he eligible to redshirt?
Unless he suffers an injury that would allow him to apply for a medical redshirt, no. — Alex Bozich
@JHub336 writes: a lot of people are disappointed in our win at Iowa. Don't people need to realize this is how it will be all year in the B1G?
Perhaps there was the expectation from some that given IU's ranking, the Hoosiers would just waltz into Iowa City and win easily, but yes, I agree that for the most part, Monday is an accurate forecast of how life will be in the road in the Big Ten. This could very well be an eight-bid league when it comes to the NCAA Tournament and Iowa is one of the teams with a chance to be in that group. I think Monday's win should be encouraging for a couple of reasons: 1. IU didn't play nearly as well as it is capable of and still won. They won ugly away from Assembly Hall. That is progress. 2. This is a win that positions IU well for a strong road start in Big Ten play. The next three road games are Penn State, Northwestern and Purdue. After winning at Iowa, the Hoosiers should have even more confidence going into each of those games. — Alex Bozich
Filed to: Twitter Mailbag