What to Expect: Jacksonville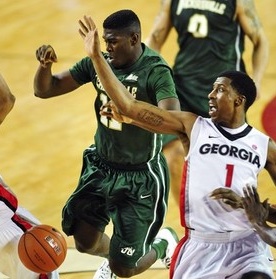 After a week off, the No. 5 Hoosiers return to action for their final non-conference game on Friday night with Jacksonville at Assembly Hall. The Dolphins (5-7) are coming off a 65-53 win over Furman on Dec. 22. Indiana will be looking for its 17th consecutive win at Assembly Hall.
The game will be televised on the Big Ten Network with Kevin Kugler and Jim Jackson on the call.
Unlike the last two seasons where Indiana jumped straight into Big Ten play following Christmas break, the Hoosiers will have one game to get back into the swing of things before heading on the road to Iowa City on New Year's Eve.
The final non-conference opponent, Jacksonville, also appears to be the weakest according to both the Pomeroy (308) and Sagarin (315) ratings. Two of their five wins have come over non-Division I opponents and their best win is over 2-10 Missouri State — the Missouri Valley Conference's worst team.
PERSONNEL
Just two players are scoring in double figures for Jacksonville — freshman guard Jarvis Haywood (11.2) and junior guard Keith McDougald (10.0). Neither player is particularly efficient as Haywood's eFG% is 45.4 and McDougald checks-in at 38.3.
Forward Glenn Powell is the primary front court contributor and the senior averages 8.3 points and 7.5 rebounds. Powell has been effective on both the offensive (14.0 OR%) and defensive (23.6 DR%) glass. But like most bigs at the lower levels of Division I, his 6-6 frame is a obstacle when trying to compete against high major talent.
One other player to watch is 6-6 forward Dylan Fritsch, who has taken 77 of his 107 field goal attempts from behind the 3-point line. Fritsch is shooting 50% on 2-point attempts, but just 32.5 percent on 3-pointers.
POMEROY PREVIEW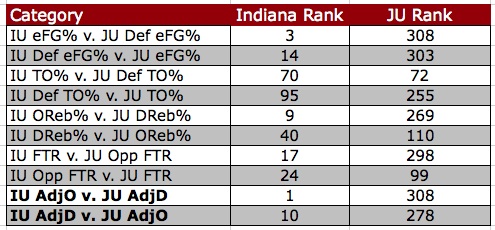 The Hoosiers opened as a 37.5 favorite in this game and for good reason. Jacksonville has one of the worst defenses in the country and their offense isn't far behind, either.
Two things Indiana fans can watch for in this game: No 1. Can the Hoosiers do a better job of limiting turnovers? Although it meant little in terms of the outcome, IU posted two of its three worst turnover percentages of the season in wins over Mount St. Mary's and Florida Atlantic. And No. 2: Can IU limit the offensive rebounds for Jacksonville? Obviously with the shooting woes the Dolphins possess, there will be plenty of balls up for grabs. The Hoosiers have been solid on the defensive glass for the most part, but it's still an area worth fine tuning as Big Ten play awaits on the horizon.
PREGAME QUOTES
· "They like to play inside-outside, create matchup problems. I think their freshman [Jarvis Haywood] is really having an outstanding year. He leads them in scoring. They are a team that plays with a great purpose and Cliff [Warren] has done a good job of building them back up and a lot of new faces, but you can tell they are getting used to each other and playing together." — Associate head coach Steve McClain
· "I think the freshmen are adapting to the schedule of college basketball very well. Our coaches have been preparing us, the older guys have been great in helping us get our mind right." — Yogi Ferrell
· "It was great to go home but it's even better to be back and we are looking forward to getting into the gym. We are going to get our focus back on what we need to do and what we are trying to accomplish. The practices have been very competitive and the team is working hard." — Remy Abell
QUICK FACTS ON JACKSONVILLE
Student Enrollment: 3,741
Established: 1934
Notable basketball alumni: Artis Gilmore, Otis Smith, Dee Brown
All tempo-free stats from KenPom.com.
Filed to: Jacksonville Dolphins