The Minute After: Mount St Mary's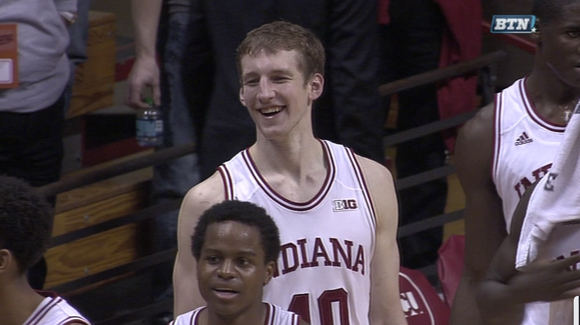 Thoughts on a 93-54 win over the Mountaineers:
I. The naton's most efficient offense was on full display tonight inside Assembly Hall. Mount St. Mary's — as previously detailed round these parts — offers little resistance in the halfcourt once you get past its trapping defense. Indiana connected on 72 percent of its shots in the first half, including 5-of-6 from distance (83 percent); it assisted on 14 of its 18 makes. And a good chunk of those points came off easy looks around the rim, as the Hoosiers tallied 22 points in the paint. Indiana kept it up in the second half and finished with these lines: 70.6 percent from the field, 9-of-12 from 3-point range (75 percent), 27 assists on 36 makes, 50 points in the paint. They scored 1.34 points per possession. And it was nearly a historic night. According to Ken Bikoff, Indiana's single-game record for field goal percentage is 71.2 percent vs. Michigan State in 1988.
About the only knocks on IU's offensive output tonight came at the line, as it only shot 12-of-19 (63.2%). The Hoosiers also had 19 turnovers. But remember: This comes against the Mountaineers, a team that entered tonight's contest fifth best in the nation at turning opponents over due to their defensive style.
Yogi Ferrell posted a career-high nine assists to aid in Indiana's balanced attack, which featured Will Sheehey (6-of-9, 16 points), Christian Watford (5-of-9, 15 points), Victor Oladipo (5-of-7, 14 points) and Cody Zeller (7-of-9, 16 points) having near identical scoring lines. Watford looked more aggressive this evening, especially around the basket with a couple strong takes. He also added eight boards to his tally. This is good to see.
II. Hanner Mosquera-Perea saw 10 minutes of action tonight and, well, he's continuing to learn and find his place on the floor. He had some good looks around the rim early, but failed to convert them, and also missed two free throws. He also fouled a Mountaineers 3-point shooter. The freshman did have one rebound. The more time he gets in these next couple non-conference games, the more experience he'll have — and perhaps more trust Tom Crean will have in him — come Big Ten season.
Derek Elston also returned to lineup this evening to make his senior year debut. He saw nine minutes of action and scored his first basket of the year late in the second half to go along with two boards and a steal. Elston now also gets the rest of Indiana's non-conference slate to work into game action before Big Ten season hits at the end of the month. And if Peter Jurkin ever sees the court — more on that below — the Hoosiers' frontcourt is just about back to full strength.
IV. Some rotation questions tonight: Where oh where was Jeremy Hollowell? Jeff Howard entered ahead of him the first half. Howard also got run in the regular rotation in the second. Hollowell never saw the floor. Maybe he's in the doghouse. Maybe he's got a small injury that was undisclosed. Maybe someone will ask Crean about it in his post-game presser.
Stay tuned.
This also seemed like a game Jurkin might find himself getting some decent minutes in, especially with Indiana's lead teetering around 40 for about the last 10 minutes of the game. But the now-eligible Jurkin never saw the floor. Again, maybe the reasoning behind this will be revealed during post-game comments.
Filed to: Mount St. Mary's Mountaineers