What to Expect: Mount St. Mary's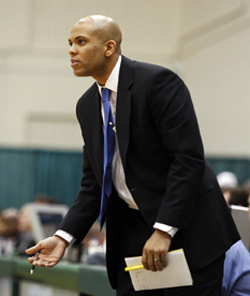 Following Saturday's 88-86 overtime loss to Butler in the Crossroads Classic at Bankers Life Fieldhouse, the No. 6 Hoosiers will get a chance to get back in the win column on Wednesday night as Mount St. Mary's visits Assembly Hall. The Mountaineers (4-4) are coming off a 79-57 loss at Loyola (MD).
The game will be televised by the Big Ten Network.
Comparisons in style of play between Virginia Commonwealth and Mount St. Mary's have been tossed around this week by Tom Crean on his weekly radio show and Kenny Johnson, who previewed the Mountaineers earlier today with the media.
Those comparisons likely stem from the fact that Mount St. Mary's is led by Jamion Christian, who spent last year as an assistant under Shaka Smart and landed the head job at his alma mater at age 29 last spring.
Christian inherited an 8-21 team that is experiencing some growing pains, including four losses by an average of 20.3 points.
PERSONNEL
The Mountaineers have three players averaging in double figures — guard Rashad Whack (11.5 ppg), guard Julian Norfleet (10.5) and guard Sam Prescott (10.2). Whack and Norfleet have started all eight games in the backcourt with Prescott coming off the bench.
The style of play Christian has deployed is heavily reliant on 3-point shooting and the Mountaineers have the highest point distribution from behind the arc in the country.
Prescott has been the most effective 3-point shooter on the roster (43.1 percent on 51 attempts) with Whack not far behind at 40 percent on 55 attempts. Norfleet is also putting up 3's at an alarming rate with 48 attempts thus far. His success, however, has been moderate at just 29.2 percent.
Given Mount St. Mary's relentless pursuit to force turnovers, both Norfleet and Whack rank highly in steal percentage by KenPom.com. Whack is 23rd nationally at 5.7 percent while Norfleet checks-in at 162nd nationally at 3.9 percent.
POMEROY PREVIEW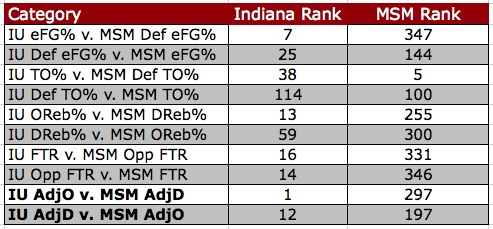 · About that turnover percentage: Yes, Mount St. Mary's ranks 5th nationally in creating turnovers. That's because they're essentially playing defense for steals and if they're unsuccessful, the result hasn't been pretty for the Mountaineers. Opponents are shooting a ridiculous 62 percent (!) on 2-point field goals, which ranks 347th nationally. Obviously Indiana is going to turn the ball over on occasion, but this strategy against a team that takes care of the ball like the Hoosiers seems counterproductive and self destructive.

· A free throw parade: The other downside of playing defense almost exclusively for steals is the fouling. Mount St. Mary's opponents are taking nearly 22 free throw attempts per game compared to 11.8 attempts for the Mountaineers.

· 3-point barrage: As mentioned above, Mount St. Mary's is living and (mostly) dying by the 3-point shot. They're chucking nearly 26 attempts from distance each game and connecting on a little less than 35 percent of those attempts. Combine that with no size inside and it's a recipe to generate very few offensive rebounds and second-chance points.

WHAT IT COMES DOWN TO

It may be tough to glean much from tomorrow's game as Mount St. Mary's offers little in terms of defensive resistance if you beat their pressure, but it does afford the Hoosiers an opportunity to play against a unique defense.

Nonetheless, it's an opportunity for Indiana to get back on the winning side of things and begin to finish up a non-conference slate that will likely have just one blemish.

THE HOOSIERS ON MOUNT ST. MARY'S

"He's a first year head coach, was an assistant at VCU last year, actually a friend of mine. They've done a lot of things, from watching them on film, very similar to what VCU tries to get accomplished, not only from their set plays but from their style of play. They're built on pressure defense, both in the full court and the half court. They're going to play fast, they're going to shoot 3s in transition, be in a diamond trap the majority of the game. They present a number of different challenges." — Kenny Johnson.

"There's a lot of similarities [with VCU]. They do the run and jump press and the trap press as well. We kind of struggled a little bit with VCU in the tournament, but I feel like we're a little mature now and since we've been through it we know what to expect." — Victor Oladipo.

QUICK FACTS ON MOUNT ST. MARY'S

Student Enrollment: 2,100
Established: 1808
Notable basketball alumni: Fred Carter, who popularized the "fist bump."

All tempo-free stats from KenPom.com.

Filed to: Mount St. Mary's Mountaineers