Hoosiers playing well, but the best is yet to come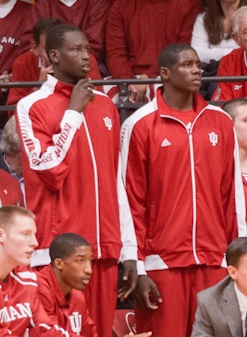 Through its first nine games, Indiana has lived up to the preseason narrative that placed the Hoosiers at the top of the national polls.
They've done it by grinding out a pair of wins at the Barclays Center to win the Legends Classic, burying North Carolina in the Big Ten-ACC Challenge and pounding the six other opponents that have entered Assembly Hall.
And it's not just the human polls who have anointed the Hoosiers the best team in the land. The computers bear it out, too, thus far.
As expected, Indiana's offense is first in the country in efficiency according to KenPom.com. But that was to be expected given how the Hoosiers performed a season ago.
What was less certain is how this team would fare on the other side of the ball. So far, so good as it pertains to that question. Indiana ranks seventh in defensive efficiency and looks like a group who understands that defense is just as important if the goal is to play deep into the NCAA Tournament.
When combing through the roster, Indiana appears to have the most complete mix of talent and pieces in the land.
"They've got versatility, they've got shooters, they've got size," CBS Sports analyst Clark Kellogg told me last month. "They've got perhaps the player of the year in Cody Zeller."
Zeller is the country's most versatile big man and is coming off his best game statistically of the season after a battle with asthmatic bronchitis. In the back court, Jordan Hulls is third in the country in effective field goal percentage (75.0). His running mate, Yogi Ferrell, boasts an assist rate of 28.4, good for fifth in the Big Ten.
On the wings, Victor Oladipo and Will Sheehey have a legitimate case for being called the two most improved players on the roster. Oladipo is shooting close to 76 percent on his 2-point field goal attempts and has arguably been the Big Ten's best defender. Sheehey, meanwhile, has perfected his old school midrange game and has morphed into an even bigger pest defensively.
And don't forget Christian Watford, who already has a pair of 20-point games. Remy Abell has also showcased an improved offensive game and is a gritty defender.
But as Indiana rides the momentum of a 9-0 start and a No. 1 national ranking into Bankers Life Fieldhouse to face Butler on Saturday, there's a sense that these Hoosiers could become much more dangerous in the weeks leading up to Big Ten play. That's because freshmen Hanner Mosquera-Perea and Peter Jurkin have completed their NCAA-mandated nine-game suspensions and are eligible to play beginning this weekend.
It's a challenging proposition for any team to blend in new pieces, but for a team that's been steamrolling opponents like Indiana has, it's an even bigger challenge to integrate Mosquera-Perea and Jurkin while avoiding interruption of what's been working well.
"It's not a wholesale, 'well we'll do this now because this guy's back or that guy's back.' It doesn't work that way," Tom Crean said Monday evening on his radio show. "You've gotta blend it in. You don't want to put your players in situations that they're not ready for.
"They haven't had a chance to develop confidence through adversity in games. And they haven't had a chance to play through mistakes in games. They haven't had a chance to get that experience in games. Practice is one thing, games are another thing. And we'll be behind in that."
As Crean noted, there will surely be hiccups and growing pains along the way, but IU's frontline should benefit tremendously long term because of both additions.
Mosquera-Perea, who has battled a foot injury this fall, could figure heavily into the rotation if healthy because of his length, ability to rebound and finish on the break.
Jurkin is unlikely to play as many minutes, but from a length and shotblocking perspective, he can carve out spot duty.
Both players will give the Hoosiers a chance to have a legitimate rim protector, which the team hasn't had through its first nine games.
"It'll help a lot [having them back]," Zeller said after Saturday's win over Central Connecticut State. "Both of them bring a lot to the table. They can do a lot of things I can't. [Have you] seen their arms? I have to practice against that."
"It's gonna be fun to have them come back," Oladipo added. "They've been through a lot. They don't deserve what happened to them, but they've done a great job of staying focused and still being with us. I can't wait to see them get out on that floor. I know they're just as excited."
The struggles Indiana may experience in the short term with mixing in both players may not show up in the loss column, but facing adversity will be ultimately be a positive for a team that hopes to be No. 1 in April, not December.
"It's tough all the way around," Crean said. "But we'll work it in. We've dealt with all of this to this point. We're certainly excited to have them back."
Filed to: Hanner Mosquera-Perea, Peter Jurkin