Film Session: Watford's big night
In his last four outings before Saturday night's 21-point, 8-of-12 outburst against Central Connecticut State, senior Christian Watford was just 11 of his last 36, including a 1-of-9 performance against North Carolina and a 3-of-10 outing against Georgetown in Brooklyn.
Watford was helped along against the Blue Devils by getting three wide-open 3-pointers, all of which he hit. But he also showed some aggression in the halfcourt by flashing to open spots and getting some buckets in pick-and-roll action.
A look at four such plays in the latest edition of Film Session.
I. Watford misses his only contested 3-pointer of the evening: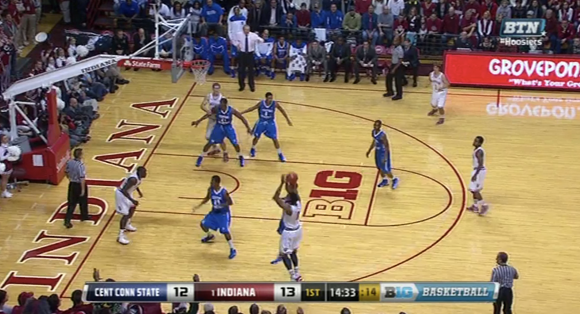 Cody Zeller gets the rebound and sees Jordan Hulls on the right wing: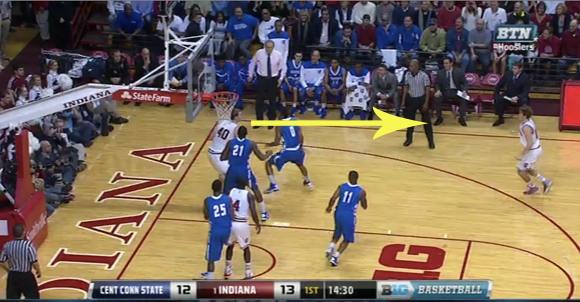 Hulls has the option to kick it back up top to Yogi Ferrell or hit Watford in the lane, who fills the gap there and calls for the ball. Hulls opts for Yogi: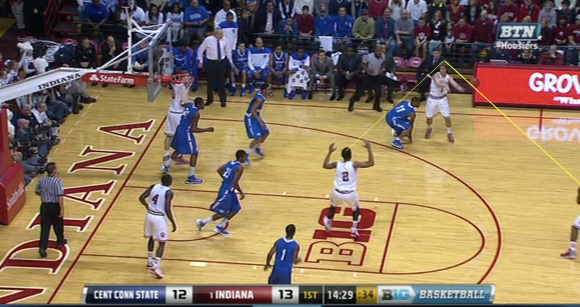 The Blue Devils are able to recover out and get a body on Ferrell, but he quickly comes right and starts to turn the corner. Watford is still lurking in the paint. Victor Oladipo, on the left block, is also another open option here: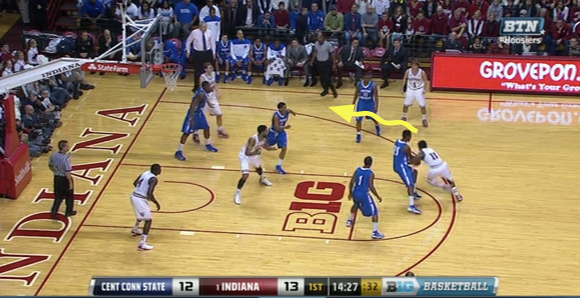 From there, it's one of Yogi's patented jump-and-look-one-way-while-throwing-a-dart-the-other-way passes: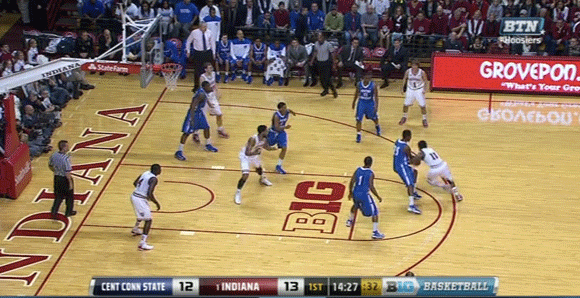 Watford finishes with a flush: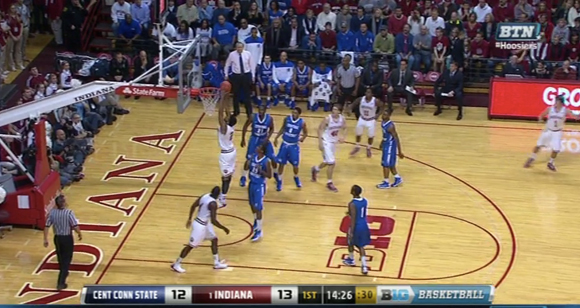 Video:
II. This play begins with Watford calling Yogi to come left: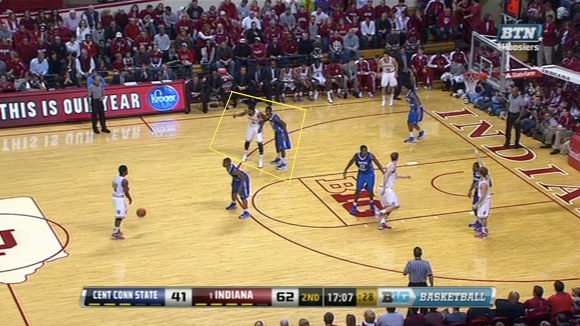 Malcolm McMillan chooses to go under Watford's screen. Watford starts to flash up top: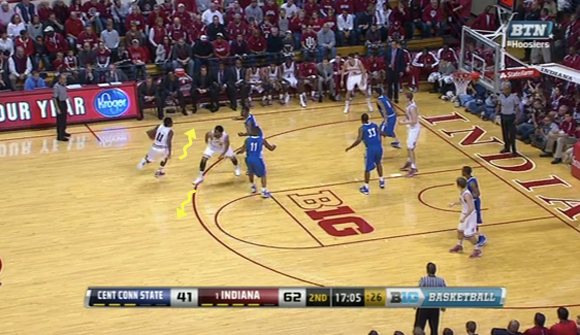 Yogi gets the ball up top to Watford. Matt Hunter doesn't square up completely on him, so he's get an advantage right: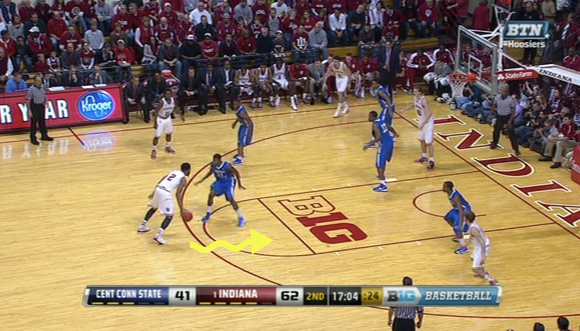 Terrell Allen does slide over and meet Watford just outside the restricted area, but he draws contact and a foul: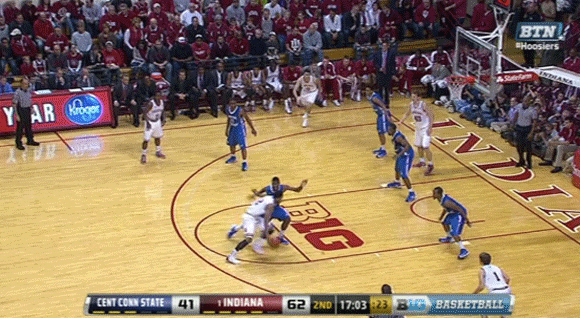 Watford hits both of his free throws.
Video:
III. Watford sets a ball screen for Remy Abell at the top of the key this time around: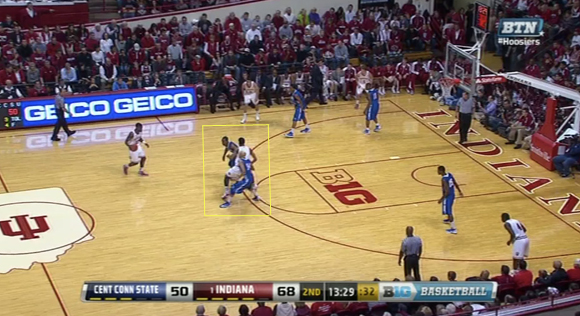 Watford has room behind him to roll while Brandon Peel hedges out on Abell: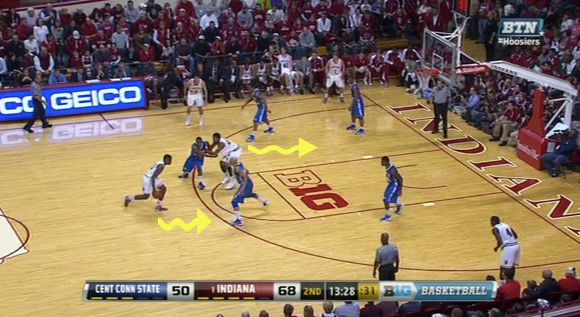 Abell gets down into the paint and has options with no Blue Devil fully committing to stopping the ball. Oladipo is behind the 3-point line. Watford is ready for the pass on a roll. Abell could also keep attacking: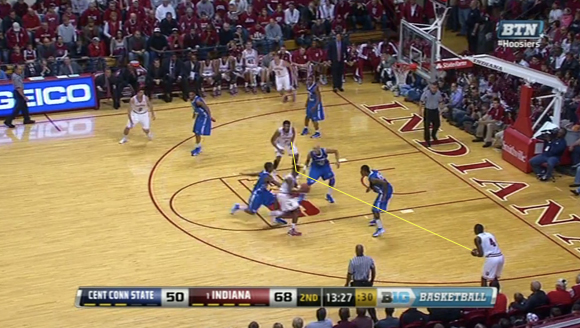 Abell goes up for a lay-up, which draws both Blue Devil players to the rim. But he quickly fakes the lay-in and dishes to Watford: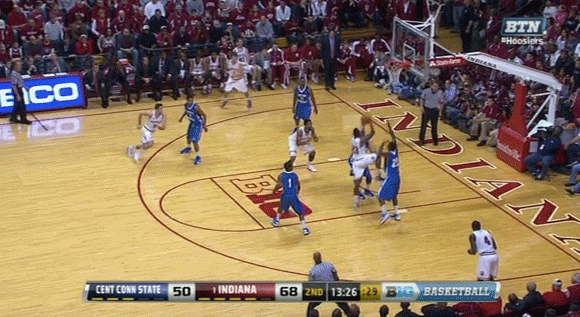 Who jams it home: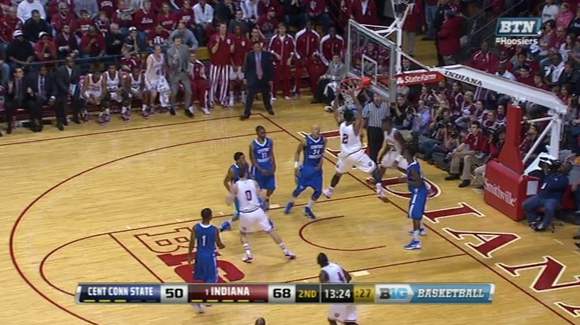 Nice little pick-and-roll action from Abell and Watford here.
Video:
IV. Zeller sets a ball screen for Hulls. Hulls curls left as Zeller rolls towards open space: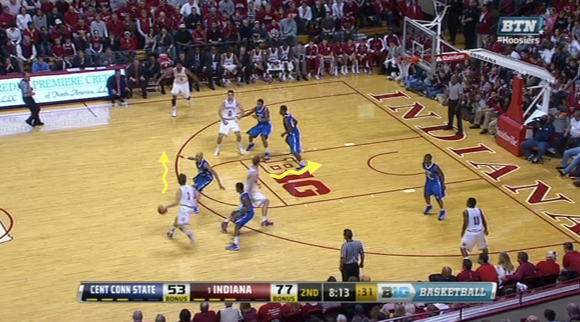 Zeller calls for the ball, but Hulls continues left and spies Watford: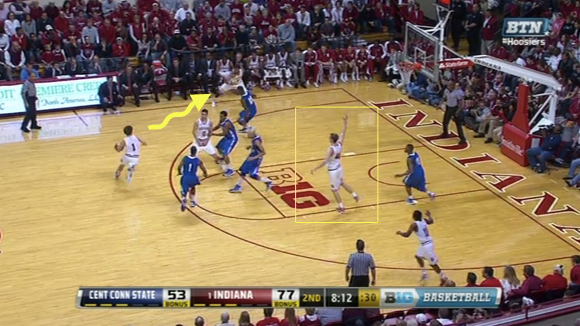 Perhaps because of his hot night from distance, Hunter overplays Watford out on the perimeter. Which allows him to cut behind him toward the rim. Hulls knifes a pass through: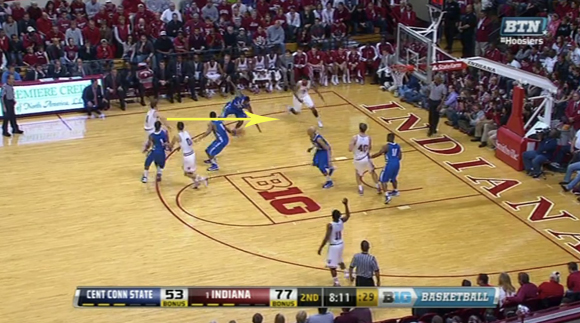 Watford — who's shooting a rotation-player worst 50.0 percent at the rim this year — gets his first attempt blocked. But he's able to recover and put it in for two: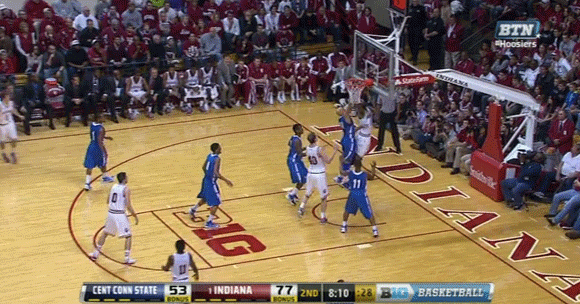 Video:
Filed to: Central Connecticut State Blue Devils, Christian Watford