Notebook: Indiana preparing to blend in Mosquera-Perea, Jurkin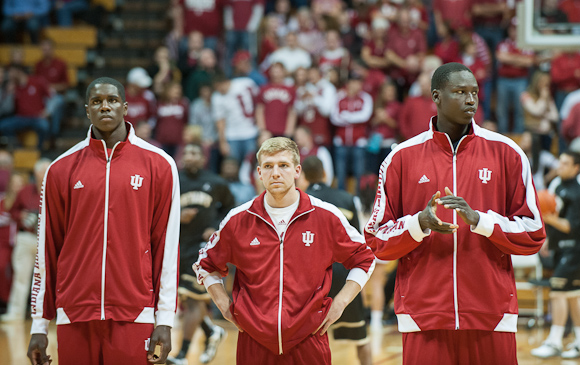 Indiana's front line could receive a significant boost in Saturday's game with Butler when freshmen Hanner Mosquera-Perea and Peter Jurkin will be eligible to play for the first time after serving a nine-game suspension from the NCAA.
With the Hoosiers sitting at 9-0 and No. 1 in the country while playing at a high level, it sounds as if both guys could be worked slowly into the rotation.
"We've been very cautious with them coming back because there's been no pressing need for them to have to play in the games," Crean said Monday on the Big Ten coaches teleconference. "So you want to make sure you're doing a good job of letting guys get adjusted, be in the mix, not rush them and try to help build their confidence. The bottom line is you don't want to put anybody in a situation they're not ready for, especially in a situation like this where we're already nine games in, going into game ten."
Mosquera-Perea, who has battled a left foot injury for most of the fall that's forced him to wear a walking boot at times, was healthy enough to play in recent weeks, but Indiana has remained cautious as he works his way back.
Crean wouldn't say whether or not Mosquera-Perea is back to full strength.
"Full strength is a relative term. I don't know if I would call it full strength, but he's in a situation where he's getting better all of the time," he said. "He certainly would have been able to play, but as to what level and how long remains to be seen because we didn't bring him back that way in the sense when this became the situation that it was with them having to sit out."
The Hoosiers have yet to win a game by fewer than ten points despite having a relatively thin front court which has forced Will Sheehey and Jeremy Hollowell to log minutes at the four.
Getting Mosquera-Perea and Jurkin integrated should provide a major boost to IU's athleticism and depth in the front court.
"I think the length that they bring is tremendous," Crean said. "I think the fact that there's a toughness around the rim, defensively, without question. Rebounding, without question. I think the scoring will come through the course of the offense, through the course of the game and then they'll get integrated more and more into what we're trying to do as far as plays and concepts and things of that nature. I think just the overall attack and aggressiveness on the defensive end and the rebounding is what will start it."
Strength of schedule not much of a concern
Through nine games, Indiana's strength of schedule sits at 269th in the country, but Crean said Monday that when putting together a non-conference slate, projecting strength of schedule isn't top of mind.
"We don't spend a lot of time on the strength of schedule part of it as much as projecting where we think somebody is going to be inside of that year," he said. "You try to look at the statistics, you try to look at the past, who they have coming back."
Continuing to play in-state opponents will be a priority for Indiana as next year's schedule includes a neutral court game with Notre Dame and Evansville will return to Assembly Hall to complete a 3-game series.
IU is also expected to play on the road in next year's Big Ten/Challenge, which will be a major consideration when completing the rest of the non-conference schedule.
"We want to make sure we're trying to counter-balance the Big Ten/ACC Challenge with playing a home game when we're going to be on the road and vice versa," Crean said. "And then trying to find the best situation for us that year when it comes to the exempt tournament."
Etc.
· Crean on Illinois: The Illini are the league's surprise team at 10-0 and are coming off a win at Gonzaga on Saturday night. Crean was very complimentary of the start for Illinois under new coach John Groce.
"I don't think there's any doubt that they have great energy," Crean said. "They're really moving the ball. They're playing extremely fast and I think that Illinois is a little bit more like how Michigan has been in the sense that the break is ongoing."
· Big Ten player, freshman of the week: Illinois guard Brandon Paul was named the Big Ten's player of the week on Monday morning and Michigan State guard Gary Harris was the league's freshman of the week. It's the second freshman of the week honor for Harris this season.
Filed to: Hanner Mosquera-Perea, Peter Jurkin