The Minute After: Central Connecticut State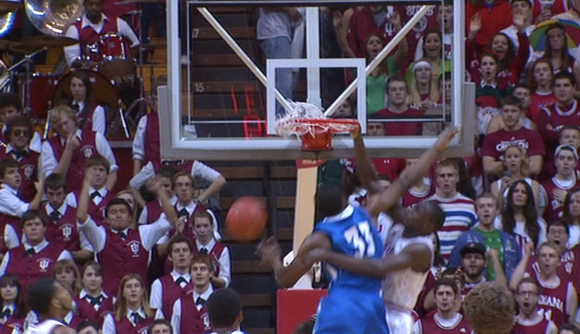 Thoughts on a 100-69 win over the Blue Devils:
I.  Christian Watford has had his struggles finding shots in the flow of Indiana's transition-heavy offense of late. At times, it's as if he's been on his own island hunting for shots to no avail. But Watford was engaged from the onset and actively scoring early in this one. (Tom Crean said after the game he was coming off his best practice of the year.) By game's end, he'd have a hyper-efficient offensive output  —  21 points on 8-of-12 shooting in just 20 minutes. Watford did have three turnovers, but the speed of this game — Central Connecticut State, a team that can put the ball in the basket, had no issue going at a quick tempo with the Hoosiers  — dictated that mistakes were going to happen. Each team shot the ball on 72 occasions. So the 16 turnovers the Hoosiers amassed? It worked to turnovers on 18.3 percent of the team's possessions. Not great, but not glaringly worse than the team's season average of 17.2 percent — a mark that was 33rd best in the nation coming into the night.
II. Because of the fast pace of this one and Indiana's 100 points, we had some gaudy stat lines. Beyond Watford's offensive output, Victor Oladipo carried over his strong defensive stand last weekend with another top-notch performance in that department tonight. The junior wing had a career-high five steals and was part of the three-headed monster along with Yogi Ferrell and Will Sheehey that shut down the nation's top scorer, Kyle Vinales (3-of-15, seven points). (The weird part about it, though? The Blue Devils still had someone go off. Matt Hunter had a ridiculous 40 points on 13-of-25 shooting.) Oladipo also had a number of highlight reel dunks — including this one — on his way to 15 points, nine boards and two assists. It was a dominant performance and one where the potential his game has to translate to the next level was on display.
Cody Zeller pumped in a 19-point, 19-rebound performance. Those 19 boards were a career-high. Indiana was also strong on the offensive boards tonight, rebounding 59.4 percent of them for 22 second-chance points. The Hoosiers also scored 1.31 points per possession. They held the Blue Devils to just .83 points per possessions and an effective field goal percentage of only 38.9 percent.
III. Indiana was rolling in the first half, and Assembly Hall was rocking. But as Austin Etherington lay on the court under the basket writhing in pain near the end of the first 20 minutes of play, the air went out of the building and a somber silence set in. As the severity of the injury became more apparent — a stretcher eventually made its way out to the court — the entire Hoosier team encircled their fallen teammate. Jordan Hulls put his arm around Maurice Creek. Cody Zeller followed by putting his around both Creek and Ferrell. And as Etherington began to be wheeled off — and Will Sheehey said a final something into his ear — he flashed a No. 1 sign with his right index finger to the crowd.
Assembly Hall roared once more.
A though break for Etherington, as his injury was deemed  "significant" Crean in his post-game press conference.
Filed to: Central Connecticut State Blue Devils