Around the Hall: Zeller firmly in POY race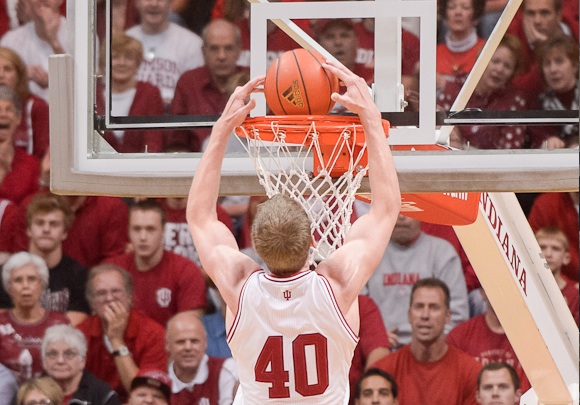 Around the Hall is recommended reading from the Inside the Hall staff:
· Jason King of ESPN.com reveals his ballot for the Wooden Award to-date and CBSSports.com updates its top ten candidates thus far for player of the year.
· The Hoosiers are the No. 1 team in the Big Ten power rankings written by Eamonn Brennan of ESPN.com.
· A home in Ft. Wayne has a Christmas lights display prominently featuring Indiana basketball.
· 2013 IU signee Troy Williams returned home to the peninsula and scored 24 points and grabbed 15 rebounds as Oak Hill cruised to an 82-45 win on Thursday evening.
· 2013 IU signee Stanford Robinson has found a home at Findlay Prep in Las Vegas.
· Kyle Neddenriep of The Indianapolis Star looks at some of the top high school games in the state this weekend.
· Former IU standout A.J. Moye has overcome the stroke he suffered two years ago and is making a difference as a high school coach in California.
· Louisville coach Rick Pitino wants to play Indiana on a neutral court in Indianapolis next season and follow it up with a home-and-home.
· Yogi Ferrell checks in as the 18th best freshman in the country so far, according to John Gasaway of ESPN Insider ($).
· Malachi Richardson talks about receiving a scholarship offer from Indiana.
· The latest rankings from Draft Express have Cody Zeller at No. 3 and Victor Oladipo at No. 42.
Filed to: A.J. Moye, Cody Zeller, Troy Williams, Victor Oladipo, Yogi Ferrell