The Inside the Hall Mailbag: December 6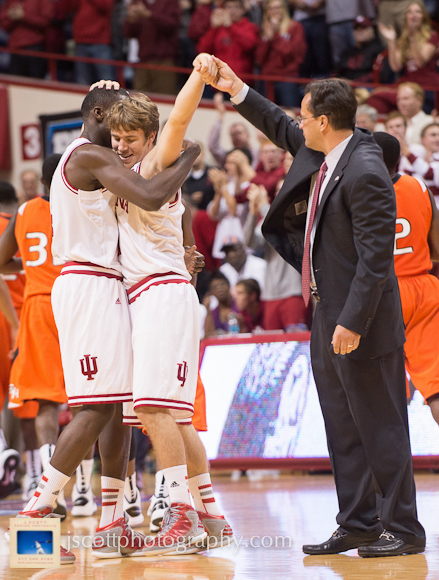 The Inside the Hall Mailbag is a collection of questions tweeted to us via Twitter (@insidethehall) and sent to us via our Facebook page. Submit your questions and we'll answer as many as we can.
@Tbrown1820 writes: from last week. Jordy Hulls got a shot at NBA if he continues playing at this level?
I would like to think he has a shot. Hulls is a leader and, in my opinion, the best shooter in college basketball this season. And as we've seen with certain players in the past, if you can shoot it, there's always a spot for you. Now, Hulls has his drawbacks which everyone is aware of. He's not great defensively, he's not as quick as NBA guards, and he's only 6-foot. I don't see him getting drafted, but I think he's a guy that will get picked up on someone's Summer League team and have a chance to make an NBA roster.
I think he's a better player than Travis Diener, who Tom Crean got to the NBA during his time at Marquette. He's also a better player than Ben Hansbrough, who is currently on the Pacers roster. Just imagine him as a member of the Miami Heat. He would get open shots all the time without having to do much to get open. I'd like to see him get a chance. — Justin Albers
@NMalone23 writes: Will Derek Elston serve much of a purpose when he returns? Team could be in a groove by then.
I don't think there's any doubt that Elston is going to have a role on this team. It may not mean playing as many minutes or scoring as much as in the past, but as a senior, he's emerged as one of the leaders on this team. Crean has talked about Elston being vocal in practice and Elston's personality is such that he is well liked and respected by his teammates.
I think his role may transition a bit from potential scorer off the bench to being expected to do more rebounding and defensive work down on the block. While he's certainly capable of coming in and knocking down shots from the perimeter, Indiana's personnel has evolved to a point where Elston is probably a third or fourth option at best, even if he's in the game with other bench players. — Alex Bozich
@Perpetualcoffee writes: should hulls shoot more?
If you asked me this question before the season, I'd say "yes" without question. Hulls was always kind of hesitant to shoot at times last season when maybe he should have let it go. But early on this season, Hulls has been shooting more than he has in the past, and that's good to see. When he sees any sort of an opening, he has been letting it go. Plus, on this team, with plenty of people able and willing to take the shots, I don't think there are many more shots available for him. As long as he's taking 6-8 shots a game, the Hoosiers should be in good shape. — Justin Albers
@ryanmkost writes: do you agree in the process of oversigning IU has done and in general for all programs across the country?
I don't have an issue with it and as much as some don't like this explanation, the numbers have always worked out. My opinion is that it's better to be well prepared for potential departures (like the NBA or transfers) and be able to fill the roster to the scholarship limit of 13 each year.
Opponents of the practice like to say that a player could potentially be left out in the cold, but if you look at the players who have left the program over the past few years, that's never been the case. When speaking at Huber Farms last summer about the topic, Crean said that "roster management is here to stay," so it shouldn't be surprising if Indiana continues to oversign in the coming years. — Alex Bozich
Adam writes via email: Great site guys…a question I have concerns Remy Abell. What limitations keep him from playing more minutes? I have long said starting him (with Jordy) shores up the perimeter D from the jump. Since we play the game of attrition early (some would say start slow) we could then bring in Will and Yogi to provide a huge change-of-pace spark. Thoughts???
Abell has provided a nice, efficient scoring spark off the bench for the Hoosiers, but Yogi simply brings too much else to the floor to warrant any change to the starting rotation. No Hoosier sees the floor like the Park Tudor grad; he's a true point guard with vision and quickness. These skills are important for a team with so many offensive weapons.
And I'd argue Ferrell — despite playing primarily in a 2-3 zone defense in high school — has displayed an ability to play strong, pesky on-ball defense. As long as Ferrell's on the team, it's unlikely Abell ever climbs ahead of him in the rotation. — Ryan Corazza
@lybarger602 writes: who do you feel has been the surprise player and team in both the big ten and country thus far?
For surprise team in both the Big Ten and the country, I'll go with Illinois. Not much was expected out of the Illini in year one of the John Groce era, but they won Maui and are up to No. 13 in the country. We'll see how legit Illinois is this weekend as they travel to Spokane for a meeting with Gonzaga.
My surprise player in the Big Ten thus far would be Michigan freshman Nik Stauskas. He's been on an absolute tear from the perimeter (21-of-33 from 3) and is averaging 13.9 points on the No. 3 team in the country. Who could have predicted that? In the country, I'll go with Duke's Mason Plumlee. He's always been a very good prospect, but he's putting it all together right now. A case can certainly be made for Plumlee as the national player of the year at this point of the season as he's averaging 19.7 points, 10 boards and close to two blocks per game. — Alex Bozich
Jenni Colson Gaines writes: Where I can get one of the posters with all the team on it? I would like to give one as a gift to one of the residents at the nursing home I work for.
Here's the link: Indiana Hoosiers Basketball Men's Large Calendar — Alex Bozich
Filed to: Twitter Mailbag