Examining the Big Ten's best at the quarter turn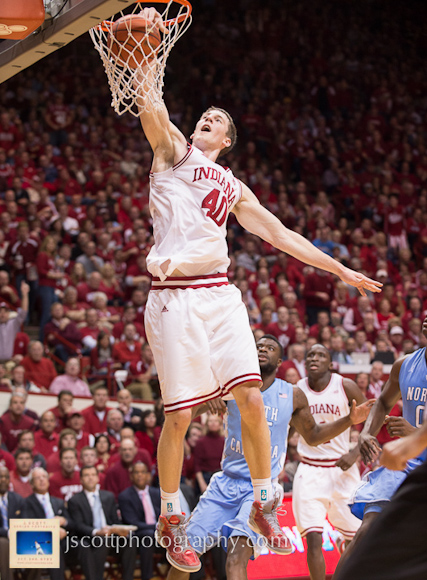 With nearly a quarter of the season in the books, it's time to examine the Big Ten's best thus far in 2012-2013:
Best player – Cody Zeller, Indiana
Truth be told, Zeller's numbers have fallen in line fairly closely with how he finished up last season. He's currently averaging 15.0 points, 7.6 rebounds, 1.4 blocks and is shooting over 64 percent from the field. There's certainly a case to be made for Deshaun Thomas as the Big Ten's best player to-date, but Zeller gets the edge because his play has led the Hoosiers to an 8-0 start and a no. 1 national ranking with wins over North Carolina and Georgetown.
Also considered: Thomas, Ohio State; Trey Burke, Michigan
Best freshman – Nik Stauskas, Michigan
If you had the Canada native as your freshman of the year coming into the season, we'd like to see your preseason ballot. Overshadowed by Glenn Robinson III and Mitch McGary in the Wolverines' 2012 recruiting haul, Stauskas is averaging 14.2 points per game, is hitting close to 96 percent of his free throws and is shooting a ridiculous 63% on 3-point attempts. As a result, he's captured two straight Big Ten freshman of the week awards and his efficiency is a big reason for Michigan's 7-0 start and rise to No. 3 in both polls.
Also considered: Robinson III, Michigan; Sam Dekker, Wisconsin
Best distributor – Trey Burke, Michigan
This one isn't really close when you look at the numbers. Burke is averaging seven assists per game and is second in the league in assist rate at 37.6. Much like the balance currently being displayed in Bloomington, Michigan has a plethora of offensive options like Tim Hardaway Jr., Stauskas, Robinson III that Burke is finding with regularity. Also of note: His turnover rate is down slightly from a season ago.
Also considered: Yogi Ferrell, Indiana; Keith Appling, Michigan State; Shannon Scott, Ohio State; Jordan Hulls, Indiana
Best defender – Aaron Craft, Ohio State and Victor Oladipo, Indiana
Craft entered the season as the Big Ten's reigning pest on defense and has done nothing to warrant losing that badge of honor. He continues to change games with his on ball defense and if you surveyed guards around the country, he'd be at the top of the list of the guys that nobody wants to face. But Oladipo also deserves recognition here. His 2.2 steals per game is second in the Big Ten and his steals percentage (5.07) is third in the league. Oladipo's prowess on defense is no longer just potential: It's reality.
Also considered: Branden Dawson, Michigan State; Austin Hollins, Minnesota
Best rebounder – Trevor Mbawke, Minnesota
A lot of the explosiveness that made Mbawke great in the past has yet to resurface, but his work on the glass early on for the Gophers has been pivotal. He's pacing the league in offensive rebounding percentage (16.9) and is fifth in defensive rebounding percentage (22.3). As he continues to become more comfortable and gains confidence as the season rolls along, his potential to change games on the glass could be realized.
Also considered: Adreian Payne, Michigan State
Best shooter – Jordan Hulls, Indiana and Stauskas, Michigan
Looking at the numbers, this is nearly a dead heat between IU's senior leader and Michigan's freshman sharpshooter, Stauskas. Hulls has an effective field goal percentage of 75.4, while Stauskas checks in at 75.0. Hulls is shooting better from inside the 3-point line, while Staukas holds the edge from distance. Separating the two over such a small discrepancy in percentages just doesn't feel right.
Also considered: Reggie Hearn, Northwestern
Best team – Indiana
The Big Ten has five teams in the top 14 of the latest Associated Press poll, so there's no shortage of teams to pick from. While some might knock Indiana's strength of schedule through eight games, they've been the most dominant team and have won every game by 10 or more points. As Ryan outlined this morning, the Hoosiers are also pacing the conference in both offensive and defensive efficiency.
Also considered: Michigan; Ohio State; Illinois
Filed to: Cody Zeller, Jordan Hulls, Yogi Ferrell