News and notes from Tom Crean's weekly radio show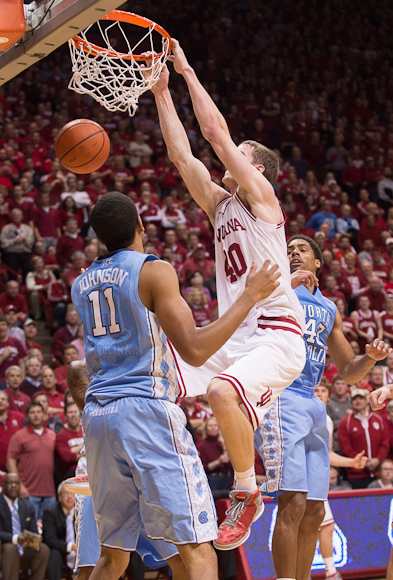 Tom Crean was out recruiting on Monday night, so assistant coach Tim Buckley along with Cody Zeller and Yogi Ferrell filled in for him on his weekly radio show with Don Fischer.
Here were some of the more interesting topics and tidbits discussed:
· Jordan Hulls led culture change: Buckley said he regularly receives phone calls from people who say they have a player he needs to see. When Buckley asks them to describe the player, they often say: "Well, he's like Jordan Hulls."
Buckley said he usually chuckles at such assertions.
"They might look like Jordan Hulls," he said. "But that kid's in the gym two to three times a day in addition to what is required.
He's really set the tone here. When we wanted to get the culture right, he really led the charge with that."
· The impact of Sheeladipo: Buckley also talked about how important both Victor Oladipo and Will Sheehey have been through the first eight games of the season.
Oladipo has been in double figures in each of the Hoosiers' last six games, averaging 14.5 points and shooting 67 percent from the field during that span.
"Victor played with great energy, he's deflecting a lot of balls, he's making plays happen out there," Buckley said. "And I think he's going to get better and better as he goes along with his shooting so you're gonna have to play him straight up."
Sheehey has been even more productive of late for the Hoosiers. The junior forward has scored 52 points on 21-of-30 (70 percent) shooting over his last three games.
"I would be hard pressed to believe that there's a better sixth man in the country right now," Buckley said. "What he's doing a great job of right now is he's talking better than anyone on our team, whether he's on the floor or on the bench."
· Creek better post-injuries?: Despite his three major surgeries, Buckley suggested redshirt junior guard Maurice Creek is actually a better player now than he was before. Buckley did admit, though, that Creek probably lost some of his athleticism.
"I think he's a better basketball player all around because he's not able to do some of the things he's been able to do before," Buckley said.
· Recruiting philosophy: Buckley was asked by a caller what the program's philosophy is on recruiting players. He said the No. 1 thing they look for is character, and they try to offer things other programs can't.
"We try to put pieces together," Buckley said. "We try not only to recruit the best players but the best teams."
Buckley also said the team's current players are always important in trying to convince potential recruits Indiana is the place for them. He said the players keep score in regards to who got who to commit.
"Those guys are the key to the whole thing," Buckley said. "We utilize them the best way we can. But we don't have a script, we don't tell them what to say."
· Hoosier diet: Basically, it's to eat anything and everything, according to Zeller.
"I ate a lot of everything," Zeller said of his offseason.
"I put on too much weight," Ferrell said, laughing.
· Zeller 1-on-1 battles: Zeller was asked who usually wins 1-on-1 games between him and his two older brothers. The youngest Zeller tried to play nice on the radio.
"It goes back and forth," he said.
But Ferrell was a little more definitive.
"My money's on Cody," he said.
· Elston making progress: Buckley was asked about the progress of injured forward Derek Elston, who has not played this season after having surgery for a torn meniscus. Buckley said Elston is doing well and has been able to get some shots up recently.
Filed to: Cody Zeller, Tim Buckley, Yogi Ferrell