Oladipo's deflection record guides Hoosiers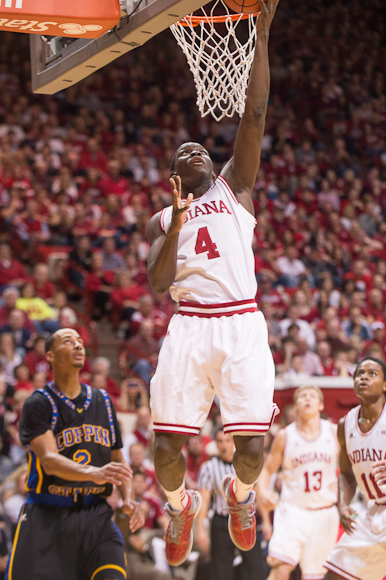 Indiana couldn't buy a basket. The No. 1 Hoosiers didn't look anything like the team that carefully demolished North Carolina on Tuesday night.
It wasn't necessarily that the energy or effort was lacking, but the Hoosiers struggled to get anything going in what turned into a sloppy first half.
As soon as the second 20 minutes began, Victor Oladipo changed all that. The junior forward stole a Coppin State pass on the first play of the second half and finished a dunk that awoke the Assembly Hall crowd. Oladipo continued to create havoc on the defensive end for the rest of the night and was a major reason why Indiana (8-0) cruised to an 87-51 victory on Saturday night.
"We had to find a way to get the pace going our way," said Indiana coach Tom Crean. "They came in with a mindset and a gameplan, and that gameplan was to be deliberate at times. We wanted to take care of the ball, but we wanted to get the pace our way. And they made that hard for awhile."
In an effort to change the pace and make the game more uptempo, Crean decided to go with a full-court trapping press in the second half. He took his team into the hallway outside the locker room at halftime and had them walk through their individual roles.
"They were very alert and attentive, it was quick," Crean said. "We just wanted to make sure we knew what our shifts were going to be, and they went in and played hard. It was more of a reminder, more of a focus-centered thing."
Crean put Oladipo at the top of the press, and the athletic forward gave the Eagles fits in the backcourt. Crean said Oladipo had 20 deflections in the game, a record for a player during Crean's tenure at Indiana. The only player with more single-game deflections during Crean's coaching career was Dwyane Wade, who once recorded 23 in a game for Marquette.
Oladipo also had 14 points, six rebounds, six assists and three steals in 26 minutes.
"When you're at the top of that zone, you've got to make them think you're guarding him but you're not guarding him," Oladipo said. "I've been doing that for so long. We ran that press in high school as well. I'm glad he put me up there. It's fun getting steals.
"We score in transition and we score in multiple ways but, essentially, we score off our defense. We got to continue playing defense at a high level so we can win big."
Oladipo said there was no rhyme or reason for the Hoosiers' slow start. It was just one of those nights where they couldn't find an offensive rhythm for stretches at a time. Indiana missed its first nine shots from the field and trailed 9-2 at one point early in the first half.
"We were just missing shots, to be honest with you," Oladipo said. "I don't feel like we were unprepared to play the game or we came in second-guessing ourselves or playing down to the competition or thinking about the last game. We just didn't make shots. We're basketball players – everything we shoot is not going to go in the basket. But we did a pretty good job of bouncing back from that."
Zeller, Hulls have quiet nights
Cody Zeller and Jordan Hulls entered Saturday night's game as Indiana's two leading scorers on the season. Neither player, though, finished in double figures against Coppin State.
The Eagles played a compact zone throughout the game in an effort to keep the ball out of Zeller's hands in the post. It worked, in large part, because the Hoosiers didn't always work hard enough to make sure he got touches on every possession.
Zeller, who also dealt with some foul trouble in the game, finished with nine points on 3-of-5 shooting and seven rebounds in 26 minutes.
"We will see more zone, but we can still get the ball to Cody," Oladipo said. "If we move the ball and get them in rotation, we'll still find a way to post Cody up. We just have to keep working on that and working in practice to perfect it."
Hulls, a senior guard, had his first real off-night of the young season. After entering the game with an unbelievable 31-to-5 assist-to-turnover ratio, Hulls committed three turnovers and had only one assist on Saturday night. He also struggled a bit from the field, hitting only 2-of-6 shots for six points. It was the first game this season in which Hulls did not make at least three 3-pointers.
Notes
· Crean reacts to Majerus' passing: Legendary basketball coach Rick Majerus died at the age of 64 on Saturday afternoon. Majerus was an assistant and later the head coach at Marquette, so Crean got to know him a little bit during his term as the coach of the Golden Eagles.
"He never wanted anyone to know that he was giving me some tips and advice, but he was," Crean said. "He was a guy I could call and he would give me a couple ideas. It was good. He was a brilliant, brilliant coach."
· Abell stays hot: Sophomore guard Remy Abell continued his impressive offensive start to the season, posting 10 points on 4-of-4 shooting against Coppin State. Abell made both of his 3-point attempts, improving him to 10-of-12 (83 percent) from beyond the arc on the season.
"He's growing up," Crean said. "He's worked very hard. He's becoming a 365-day-a-year guy. He's not quite there like Will [Sheehey], Victor and Jordan. But Remy's getting really close to that and I think that'll continue to go. He's a confident player with a lot of room to grow."
· Etc…Sheehey finished with 14 points and six rebounds, his third consecutive game in double figures. The junior forward has scored 52 points on 21-of-30 shooting (70 percent) during that stretch.
Quote to note: "It won't be the last time someone tries to play a deliberate style, it won't be the last time that someone wants to get it down in the shot clock."
— Crean on Coppin State's methodical style at times
Filed to: Cody Zeller, Remy Abell, Tom Crean, Victor Oladipo, Will Sheehey