The Minute After: Coppin State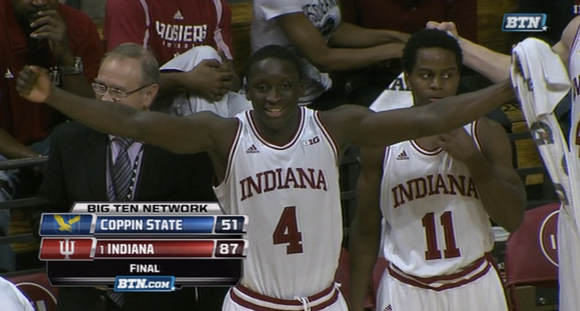 Thoughts on an 87-51 win over Coppin State:
I. The Georgia game had its share of ugliness, but this one — the first ten minutes, at least — wasn't pretty. Indiana missed shots (a Will Sheehey airball, an 0-9 start) and turned the ball over (eight turnovers in the first 10:35). Coppin State's 2-3 zone had the Hoosiers out of sorts in the halfcourt and the Eagles didn't surrender easy buckets in transition.
As such, Indiana trailed until a Christian Watford 3-pointer at the 9:26 mark put Indiana up 14-11. By halftime, the Hoosiers were able to amass a 14-point lead (33-19), but shot just 10-of-26 from the floor (38%) and 2-of-11 (18%) from beyond the arc. The 33 points were the second lowest amount of points the Hoosiers have scored heading into the break all season. (They had just 29 in the first half of the Georgia game.)
So if this one was going to ratchet up a notch, if it was going to turn from merely a comfortable lead to blowout territory against a team that was rated as Indiana's weakest opponent to date, a spark in the second half was needed.
And that came in the form of Victor Oladipo. Indiana played almost exclusively a 1-2-2 three-quarters court press against Coppin State after halftime, and Victor Oladipo was all over the dang place — steals, deflections, tie-ups, forcing guys out of bounds. Indiana starting turning his terrific defense into offense — as this team is so good at doing — and by the time Oladipo was finally able to get a breather at the 12:16 mark, the Hoosiers had punched the lead out to 28 points (59-31). Any thoughts of close one in the second half had been put to rest. He reportedly had 20 deflections tonight, a record in the Tom Crean era.
Indiana also returned to form shooting the ball. After that rough first half, Indiana finished with respectable numbers: 31-60 from the field (51.7%), 8-of-24 from 3-point range (33%), 17-of-20 from the line (85.0%), an eFG% of 58.3 and 1.26 points per possession.
II. In the first half with Indiana struggling to find success offensively, Cody Zeller only had one — one! — shot attempt. The Hoosiers simply didn't work the ball to him much, and with them not scoring a ton on the beak, Zeller wasn't getting any sprint-ahead easy buckets, either. It took until the 9:30 mark of the second half for him to get his second shot attempt — a made lay-up. Zeller did find his way into the offense more after that — which included two strong dunks — to finish with nine points and seven boards.
This really isn't indicative of much — especially on a night where things were a little off for Indiana. But it was a little reminiscent of Zeller's first batch of games as a Hoosier last year where he wasn't getting the touches he should have.
III. Christian Watford looked a bit better this evening to the tune of 10 points (3-of-8), seven rebounds and two steals. Jeff Howard scored four points. He could have had eight had he made both his free throw attempts and made another lay-up he missed.
That is all.
Filed to: Coppin State Eagles