What to Expect: Ball State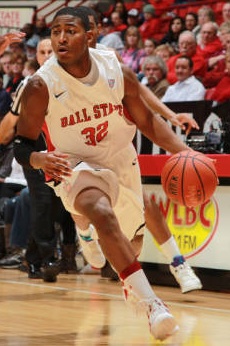 Following a successful trip to Brooklyn that included wins over Georgia and Georgetown to capture the 2012 Legends Classic, the No. 1 Hoosiers return to Assembly Hall on Sunday night for a meeting with Ball State. The Cardinals (2-1) will be playing their first true road game and are coming off a 78-58 loss to Indiana State.
The game will be televised by the Big Ten Network.
After a disappointing 15-15 season that included nine straight losses in Mid-American Conference games, Ball State athletics director Tom Collins decided to stick with coach Billy Taylor, who has a contract through the 2013-2014 season. It's fair to say that this is the make or break year for Taylor, who appears to be fighting an uphill battle from a personnel perspective.
PERSONNEL
Ball State graduated their leading scorer and rebounder — Jarrod Jones — and while two starters do return, the Cardinals are attempting to integrate six newcomers with six new pieces.
One name Indiana fans may be familiar with is junior guard Jesse Berry (pictured), who starred at Lafayette Jefferson and was once on the Big Ten recruiting radar. After originally signing with Dayton, Berry was released from his Letter of Intent after a couple of arrests and ultimately landed at Ball State. He was second in scoring a season ago and through three games, he's again second in scoring (12.0 ppg), but has a team-high 12 turnovers and could benefit from being more selective offensively.
The key newcomer on the roster is 6-foot-8 forward Majok Majok, a junior college transfer who is leading the Cardinals in scoring at 14.3 ppg and rebounding with 10.3 rpg early on. Majok has already attempted 28 free throws, but is shooting just a shade over 41 percent.
Senior guard Jawaun Scaife is the third Ball State player averaging in double figures, but is just 3-of-14 from the 3-point line. Zach Fields, a 6-foot-10 senior center, has been inserted into the starting lineup after playing sparingly his first three seasons. Chris Bond, a 6-foot-4 wing who won a state championship at Bowman Academy, started all 28 games he appeared in a season ago and is Ball State's best defender.
A TEMPO-FREE GLANCE
If there's a bright spot offensively for Ball State through three games, it's been their ability to get to the line. The sample size is certainly too small to draw any conclusion, but the Cardinals have taken 92 free throws thus far, which is good for a free throw rate of 61.7. It's hard to imagine that trend continuing Sunday night as the Hoosiers have limited opponent trips to the line through their first five wins to a total of 62.
Ball State's pace is very similar to Georgetown in that they wish to play at a below-Division I average possession count. Through three games, the Cardinals are averaging a 64.1 possessions per game pace, which falls close to where they were a season ago (63.2).
One area the Hoosiers will likely exploit is Ball State's porous perimeter defense, which allowed opponents to hit close to 36 percent of their 3-point attempts a season ago and is hovering at close to 40 percent early this season.
WHAT IT COMES DOWN TO
Ken Pomeroy's ratings like the Hoosiers by 30 and with a quick turnaround game with North Carolina looming on Tuesday evening, it'll be important for Indiana to establish control early.
Given the talent gap between the two teams, the homecourt advantage of Assembly Hall and Ball State's deficiencies with guarding the perimeter, this should be a comfortable win for Indiana with a chance for Tom Crean to go deeper into his bench.
QUICK FACTS ON BALL STATE
Student Enrollment: 22,083
Established: 1918
Notable basketball alumni: Bonzi Wells
All tempo-free stats from KenPom.com.
Filed to: Ball State Cardinals