NCAA upholds suspensions for Jurkin, Mosquera-Perea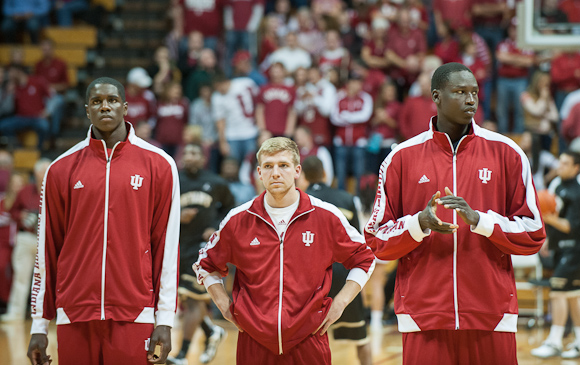 Indiana freshman forward Hanner Mosquera-Perea and freshman center Peter Jurkin must sit for all nine games of their suspensions, the NCAA announced today. That means both players will be out until the Butler game on Saturday, Dec. 15 at Bankers Life Fieldhouse.
Here's the full text of the release:
Indiana University freshmen student-athletes Peter Jurkin and Hanner Perea must miss nine games, according to an appeal decision announced today by the NCAA Committee on Student-Athlete Reinstatement. Jurkin and Perea have already sat out five games and must miss four more games before being eligible to compete again.

According to the facts of the case regarding the violations, which were agreed upon by the university, Jurkin and Perea accepted approximately $6,000 and $8,000, respectively, in impermissible benefits from an Indiana University booster. The recruiting inducements were provided on multiple occasions during the student-athletes' recruitment, and included plane tickets, meals, housing, a laptop, cell phone and clothing.

While a $185 donation to the university may have triggered the booster's status, recent interactions reinforce his unique access and continuous involvement with the men's basketball program.

Specifically, he signed financial aid documents required for two former Indiana University basketball student-athletes in 2008 and 2010. Further, Jurkin and Perea lived with the booster in Bloomington, Ind., during multiple summers. Indiana University also provided the booster, who is a nonscholastic coach, with permissible, complimentary men's basketball tickets. The university has suspended the relationship with the booster until July 1, 2013.
On a number of occasions during the regular review of its rules, NCAA members have continually stressed that the unfair recruiting advantages that come from booster involvement should not be acceptable in college athletics. Further, the 2011 NCAA Presidential Retreat participants emphasized the need for increased accountability and integrity in several aspects of college sports, including the involvement of boosters with prospective student-athletes.

Reinstatement decisions are made based on withholding guidelines developed by the reinstatement committee of NCAA members, as well as any mitigating factors presented by the university. The staff and committee consider a number of factors, including the total amount of benefits received, the nature and type of violations, and whether a booster provided the benefits, among others. The staff provided a significant reduction in the amount of repayment due to the mitigation presented. Perea and Jurkin will be required to pay $250 and approximately $1,590, respectively, to charities of their choice. Indiana did not appeal the repayment requirement.

The reinstatement committee is the final appeal opportunity. The independent committee is composed of representatives from NCAA member colleges, universities and athletic conferences. It can reduce or remove the conditions, but cannot increase the conditions imposed by the staff.
IU athletics director Fred Glass also released this statement:
"Earlier today, we received notice that our appeal for a reduction in the withholding penalties for Hanner Perea and Peter Jurkin was denied. While we are disappointed with the denial, we are even more disappointed in the case summary as communicated by the NCAA public relations staff. This case continues to be about $185 in Varsity Club contributions over 20 years ago, notwithstanding the NCAA National Office's troubling references to activities that are permissible or would have been permissible but for the minor donations. Having said that, we accept this as the NCAA's final word on the case, and we will have no further comment on the matter."
Filed to: Hanner Mosquera-Perea, Peter Jurkin