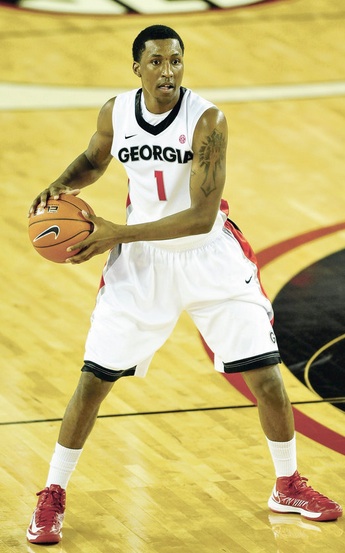 After their impressive 99-45 win against Sam Houston State on Thursday night, the No. 1 Hoosiers will be back in action Monday night at 5:30 p.m. against Georgia at the Barclays Center in New York. The game is the first of a doubleheader in the Legends Classic. The Bulldogs are 1-2, having lost back-to-back games against Youngstown State and Southern Miss. 
The game will be televised on ESPNU and, as always, it will be broadcast on the IU Radio Network.
Indiana's trip to New York for the Legends Classic will undoubtedly offer some new challenges the Hoosiers have not yet seen during the young non-conference season. First, it will give them their first test away from the friendly confines of Assembly Hall. While it's not a true road game, the Hoosier freshmen should benefit from having to play in an unfamiliar setting.
As for the actual on-court challenges, the Hoosiers likely won't face much resistance until Tuesday's game against either UCLA or Georgetown. Georgia is from a power conference and that should not be discounted, but the Bulldogs have struggled mightily early this season and don't really have the firepower to stay with a team like Indiana.
Georgia's offensive production has been especially troubling through three games. The Bulldogs are shooting just 37 percent from the field as a team, and only two different players have scored in double figures in any game. In their 68-56 loss to Youngstown State, the Bulldogs shot 32 percent (17-of-53) from the field.
"We've gotten off to a little slower start than we anticipated, but we still have a relatively young team with nine freshmen and sophomores," Georgia coach Mark Fox said on Friday. "We've not been as complete as we want to be. We've had some bright moments in lots of places and certainly have some mistakes that need corrected."
Most of the offensive production the Bulldogs have gotten has come from sophomore guard Kentavious Caldwell-Pope. The 6-foot-5 former McDonalds All-American is averaging 20.3 points and 6.0 rebounds through three games, including a 27-point performance against Youngstown State. Caldwell-Pope scored 20 or more points on four occasions last season.
"He can score the ball in a variety of ways," said Indiana associate head coach Tim Buckley. "He's an explosive athlete, but he's also a basketball player. If you're not there on the catch when he's coming off screens or off the pick and roll, he can rise up and hit that shot. And then he also gets out in transition and does a really good job of attacking the rim."
Fox admitted Caldwell-Pope has been his team's most consistent player thus far, but he lamented the fact that his young guard hasn't been very efficient. Caldwell-Pope is just 18-of-51 (35 percent) from the field through three games and has already attempted 30 3-pointers (9-of-30).
What it comes down to
It may take a few minutes for Indiana to get comfortable in the new environment, but they should roll against the Bulldogs. With an offense that thrives off rebounding missed shots and running in transition, the Hoosiers should excel against a Georgia team that misses in bunches.
Quote to note
"This team is so complete offensively. They just have so many different guys who can score the ball. [Cody] Zeller is a great player in the middle, but [Christian] Watford is a great post partner for him who can stretch the defense with the 3-point shot. They've got a boatload of perimeter players that are playing extremely well. I think what stands out is they have so many different places where they can score and they're not just an offense. Their defense is very effective as well. So this is as complete of a team as there might be in the country right now." — Fox on Indiana
Filed to: Georgia Bulldogs