Report: Mosquera-Perea, Jurkin appeal to be heard this week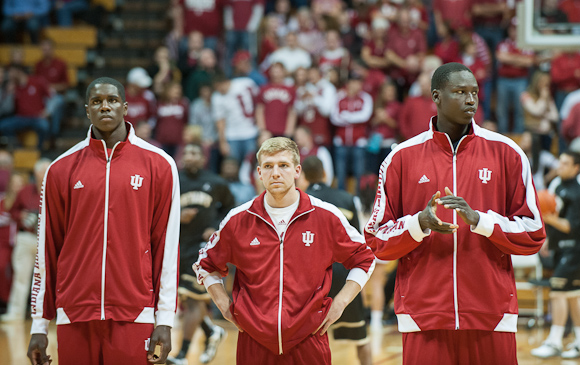 ESPN.com's Andy Katz is reporting that IU freshmen Hanner Mosquera-Perea and Peter Jurkin won an appeal that will allow them to travel to Brooklyn for Indiana's games on Monday and Tuesday in the Barclays Center, but neither player will be in uniform on Monday.
In a radio interview on 1070 The Fan on Monday afternoon, IU play-by-play voice Don Fischer said that the appeal for Mosquera-Perea and Jurkin will take place on Tuesday.
Earlier in the day, Katz reported that Tom Crean said the appeal for a reduction in the nine-game suspension for Mosquera-Perea and Jurkin will be held on Friday. The appeal will be with the Student Athlete Reinstatement Committee.
UCLA's Shabazz Muhammad won his appeal with the NCAA this past Friday, which made him eligible to compete immediately.
Muhammad will play for the Bruins tonight against Georgetown and potentially against Indiana on Tuesday if both teams win on Monday.
Based on the original suspension levied by the NCAA, Indiana was not expecting Mosquera-Perea and Jurkin back until a game with Butler at Bankers Life Fieldhouse on Saturday, Dec. 15.
If an appeal is successful to reduce the length of the suspension, Indiana has four upcoming home games following the Legends Classic in which it could use both players to help shore up a thin front line: Ball State, North Carolina, Coppin State and Central Connecticut State.
The NCAA announced on Nov. 6 that Mosquera-Perea and Jurkin would be forced to sit out nine regular season games as a result of receiving impermissible benefits from Mark Adams, who is considered a booster by the NCAA's definition. According to the NCAA's release, Jurkin accepted approximately $6,000 in benefits and Mosquera-Perea accepted approximately $8,000. Jurkin must repay $250 of those benefits to "a charity of his choice and Mosquera-Perea must repay around $1,590 to charity.
Filed to: Hanner Mosquera-Perea, Peter Jurkin