The Minute After: Sam Houston State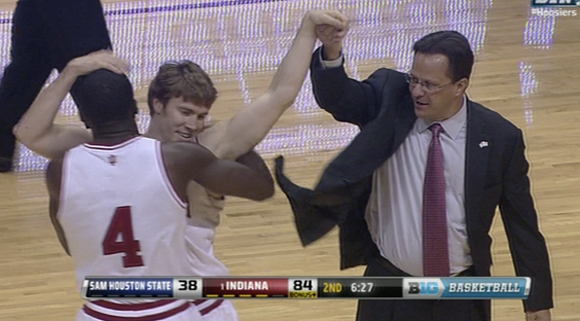 Thoughts on a 99-45 win over the Bearkats:
I. Indiana breezed through their first two regular season contests, but tonight was just another level. Unlike the first two wins that started a little slow, Indiana was all gas, no brakes from the start here and this thing reached blowout territory before the halftime buzzer even sounded. It was, to quote the great offensive cliché, a clinic. The ball movement was hot — 24 assists on 30 field goals — and there were highlights galore. Jordan Hulls throwing no-look passes all over the place. (More on him in a bit.) Cody Zeller doing Cody Zeller things. Christian Watford finding a cutting Victor Oladipo on a give-and-go for a dunk. And Austin Etherington capping the night off in style with an alley-oop courtesy of Maurice Creek.
It was a laugher all evening, and the Hoosiers had fun clowning.
II. This was Jordan Hulls' night. Beyond reaching 1,000 points — a special milestone Tom Crean made sure to highlight — there was just something about his attitude and demeanor that oozed confidence all over the court this evening inside Assembly Hall. He was knocking down threes and throwing impressive passes — Yogi who? — and having a grand old time with it all, seemingly saying this: "Yes, this is it, this is everything I dreamed of."
He deserves your cheer. He deserves your praise.
III. I'm sure Alex and Justin will have imminent details about Tom Crean's decision to bring Christian Watford off the bench for just the second time in his Hoosier career, but allow me some speculation while I have the chance before it's either confirmed or refuted: Watford needs a kick in the butt every now and again. When he's bringing energy and boarding and looking for putbacks and generally just seeming like he's in it to win it, well, he's an excellent college basketball player.
But consistency has always been an issue at times — something he noted he was looking to work on at Big Ten media day — and after grabbing a career-high 15 rebounds and scoring 15 points in Indiana's opener over Bryant, Watford kinda disappeared against North Dakota State to the tune of just six points and four boards.
Will Sheehey, from all accounts, has worked his tail off all summer. Perhaps this was Crean's way of showing he's not beholden to a set starting lineup all season — whoever's bringing it will play, no matter past history.
IV. Indiana was incredibly dominant on both ends of the floor tonight. The Hoosiers scored a remarkable 1.55 points per possession in this one and held the Bearkats to just .674 points per possession. That's impressive.
Here's some other eye-poppers for ya: Indiana rebounded over half its misses (55.2%), got to the line like crazy (83.0 free throw rate), shot 65.6% on 2s and 42.9% on 3s for an eFG% of 65.1.
V. Indiana's free-throwing shooting hasn't been so hot to start the season. Cody Zeller is just 11-20 on the year. There were a few empty trips at the line tonight and the Hoosiers were just 30-of-44 for 68.1%. We're only three games in, so time will tell if this becomes a trend or not.
Good teams get to the line. But it's about getting to the line and converting at a high rate that's going to separate the Hoosiers on nights when they're not playing the Sam Houston State's of the college basketball world.
Filed to: Sam Houston State Bearkats