The Minute After: Indiana Wesleyan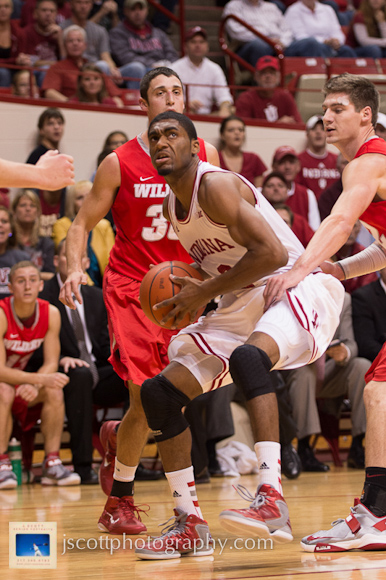 Thoughts on a 86-57 win over the Wildcats:
I. It was enough that Maurice Creek, for all his body's endured (broken knee caps and a torn Achilles), even stepped out onto the Assembly Hall court this evening. But after the warm reception from the IU faithful which included a quick chant of his name upon checking in, Creek scored to tie the game. He hit a three to give Indiana its first lead. He nailed a runner. Seven points in eight minutes of first half action. It didn't stop there. Creek knocked down another 3-pointer in the second half and connected on two free throws. He even registered a block. Creek led all Indiana scorers — this vaunted, much buzzed about offense — with 12 points.
Raise your hand if you called this one before the game.
It's too early to say if this ends up as an anomaly or a sign of things to come. But damn if it wasn't heartwarming to see.
II. This much was known before Yogi Ferrell's debut: The young man is a blur with the ball, has excellent vision and passing instincts, can get to the rim or hit a J — either mid-range or beyond the 3-point arc. And he's strong to boot. Still, seeing him in the cream and crimson tonight was almost jarring. In the Crean era, there's simply never been a player anywhere near like him at the point of attack. Yes, there were some freshman errors. He finished the night with four turnovers, as there were a few passes — pretty as they looked — he might have been wise to hold back on.
Still, Ferrell was energetic on both sides of the ball this evening and had some really nice moves in the mid-range for buckets. And with so many players with the ability to pump in points, it'll serve Indiana well to have a legitimate orchestrator to its offense.
III. Speaking of offense, Indiana had an interesting night with the ball in its hands. They were poor beyond the arc (5-of-19, 26.3%) and from the line (17-of-29, 58.6%). But the Hoosiers also got a healthy dose of looks in and around the basket, which helped offset their deficiencies in the aforementioned departments. Some of these came on the break (16 fast break points). Some came because they rebounded on the offensive end well (48.6 OR%, 19 second chance points). As such, they finished the night with a 57.5 eFG% and scored 1.29 points per possession.
That's a recipe for offensive success most nights.
Some weirdness, though: Jordan Hulls didn't score. He only attempted one shot in 22 minutes — a 3-point attempt which missed.
IV. This was not a 40-minute game for the Hoosiers tonight. Their poor start — their first sustained lead didn't come until 6:03 onwards in the first half — was partly a product of its defense. There were IU defenders out of position, which allowed the Wildcats to get some open looks from beyond the arc early, and they converted on those opportunities. Indiana was able to shore up things in this department after halftime; there seemed to be more energy and effort on the defensive end to start the second half. The Wildcats only managed 10 points through the first 10:22 of the back frame of this game, and it allowed Indiana to built a 20-point lead which led to their evental 29-point win.
V. Couple other items of note before I'm out: Christian Watford had two impressive blocks. This is encouraging to see early on. Tom Crean also busted out a ton of different lineups and combination of players in this one. Will be interested to see if this continues early on in the non-conference slate or if it was just a product of an exhibition game.
Filed to: Indiana Wesleyan, Maurice Creek