Notebook: Media Day buzz firmly affixed to Hoosiers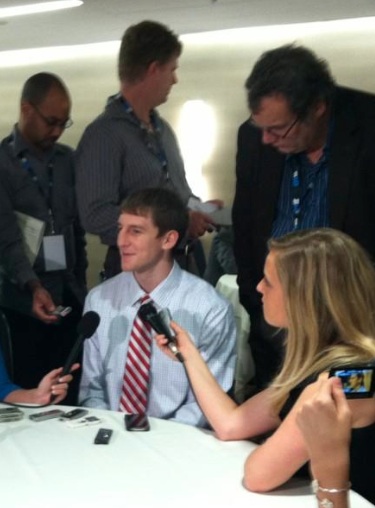 ROSEMONT, Ill. — The preseason accolades continue to pile up for the cream and crimson.
As Big Ten Media Day kicked off Thursday morning, it was announced the media selected the Hoosiers as the favorites to win the conference. Cody Zeller was named the Preseason Player of the Year and was a unanimous selection for first team All-Big Ten. It was hard to find a seat at Tom Crean's table during the media breakout session. And once Zeller made himself available, his table was equally sacked. As the day wrapped, one national media observer joked Zeller looked like LeBron James with all the attention.
This much is true: Eyes, lots of them, are on the Hoosiers.
But the theme remained the same since Crean and his team started stepping in front of the cameras and microphones again this fall: They simply are't letting it get to them. The questions about preseason hype and pressure continued to trickle out of the media's collective mouth on Thursday, and the same answers were given once more. Christian Watford said the team isn't really paying attention to all of it.
And Crean continues to contend it's not affecting the squad's habits or work ethic. In fact, they're working even harder.
"What matters is, are they challenging each other? Are they competing? Are they absorbing the competition and are they hungry to get better? I don't see any sign of that not being the case," Crean said.
Michigan State coach Tom Izzo is hearing similar.
"Those same players that had failure for two years had success last year," Izzo said. "What are they going to do with it? What did they do in the offseason? Everything I've heard from Tom and everybody else is that everybody's worked even harder."
The Zeller-Andrew Luck comparison
Cody Zeller was a likely lottery pick after last season, but decided to come back for a sophomore campaign in Bloomington. Zeller enters the 2012-13 season at No. 2 on ESPN's Chad Ford's Top 100 List for NBA prospects, but there's chatter a junior season isn't out of the question for the 7-footer.
And it's why Crean made the Andrew Luck comparison Thursday. Luck, thought of by many analysts as the top quarterback prospect in the nation after his sophomore season at Stanford in 2010, decided against the draft to come back for a junior year in 2011 before being drafted by the Indianapolis Colts, where he's now a rookie.
"My greatest example, and I've stuck with it and I see no reason to change it because it's close to my heart because my brother-in-law Jim Harbaugh coached him, is he's got an Andrew Luck type of future ahead of him — especially when it comes to decision making," Crean said. "When that decision is right for him, then it'll be right for him. And I don't think anybody on the outside, I don't think anybody could ever dictate that. He's going to get better; he enjoys college; he's doing a great job academically; he loves his teammates; you can see all those things. We're fortunate to have him. When that day comes it will come. And I think he'll be the one that will make those decisions based on that."
Speaking of the NBA, Zeller also talked about his brother Tyler's adjustment to the league. He's a rookie for the Cleveland Cavaliers this season.
"He's doing well," said Zeller. "There's a lot of adjustments you have to make from going from college to the NBA. Different lifestyle, different game on the court. I think he's just trying to figure all that out right now. But he's definitely enjoying Cleveland."
Elston's injury
Despite the disappointing news of his torn left meniscus, senior Derek Elston remained his jovial self Thursday, as he cracked a joke about bringing Watford to the Pork Festival in his native Tipton just before the throng of media entered the Hyatt Regency O'Hare's International Ballroom.
"I knew something was up probably four or five days ago," Elston said. "I had treatment on my knee. I couldn't bend or move my knee very much."
Unlike when he suffered a similar injury in high school and was pretty much unable to walk, Elston said he was actually able to continue to practice for a bit, but once he hit the scrimmage at Hoosier Hysteria, he had to pull himself out of the game. For now, and likely until he has Friday surgery, he's unsure of a recovery timetable.
"Everybody's just telling me right know to keep my head up, have faith in the doctors and live every day with what's going on," Elston said.
(Photo credit: Big Ten Men's Hoops on Twitter)
Filed to: Big Ten Media Day, Cody Zeller, Derek Elston, Tom Crean