Anya on IU visit: "I thought it went great"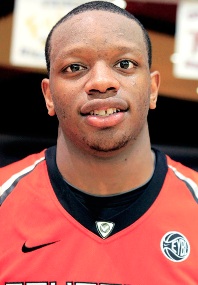 DeMatha big man BeeJay Anya had never been to Bloomington prior to this weekend.
But as Assembly Hall filled up to capacity 90 minutes before the scheduled start time of Hoosier Hysteria on Saturday, Anya knew something special was about to happen on Branch McCracken Court.
Intro videos played. Fireworks sounded off. The players, led by Anya's friend and former classmate at DeMatha, Victor Oladipo, danced for close to five minutes. And nearly 17,500 fans screamed at a fever pitch as the nation's preseason No. 1 team took the floor for the first time this fall.
It was an atmosphere that didn't go unnoticed by one of the nation's top centers in the class of 2013.
"That was great. It was great support of the basketball team," Anya told Inside the Hall on Tuesday night. "The Indiana fan base is really great and they showed how much they love their basketball."
The fans also showed how familiar they already are with Anya, who has been a recruiting target for the Hoosiers for more than a year and a half now.
Just prior to the start of Hysteria, Anya walked across the floor with assistant coach Kenny Johnson and Assembly Hall erupted with chants of "Bee-Jay An-ya," which drew a smile from the 6-foot-8 center.
It was just one of many times he was recognized around campus over the weekend.
"Everywhere I went, people knew who I was. That was a good feeling," he said. "It was surprising to see how packed it was. That was so new to me being from the city and what not. I wasn't expecting anything like that."
Accompanying Anya on the trip was his mother, Oby, who like her son, came away impressed with what Indiana has to offer.
"She loved it," Anya said. "It was our first visit so we still have to sit down and talk about it, but she loved it."
The Indiana visit was the first official trip for Anya, who has also visited Pittsburgh and North Carolina State unofficially this fall. Syracuse could also get a visit later this fall.
He'll make a return trip to Raleigh for an official visit this weekend, but said right now it's too early to say whether or not his stop in Bloomington moved the Hoosiers to the top of his list.
"I thought it went great," he said. "It was only my first (official) visit so it's hard to compare, but it was really fun to be there for Hoosier Hysteria and seeing all the fans out."
Filed to: BeeJay Anya