Notebook: Hoosier Hysteria exceeds Crean's expectations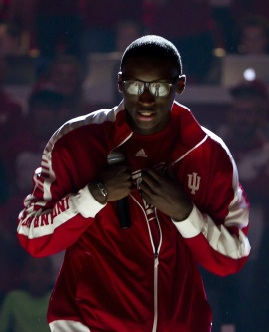 In the weeks leading up to Saturday night, there was a growing sense that this year's Hoosier Hysteria was going to be different than many that came before it.
When the event finally arrived, it certainly didn't disappoint.
Students and fans lined up outside Assembly Hall beginning of Friday morning, several spent the night outside, and building doors were closed nearly 90 minutes before Hysteria's 7 p.m. start time. All of this for a preseason practice.
"Yesterday morning exceeded them when there were people lined up," Indiana coach Tom Crean said when asked if the event exceeded his expectations. "There was no downside to anything after yesterday morning."
Added redshirt junior guard Maurice Creek: "That was very special. I went over to talk to them just to say 'hello' because you don't get that from fans these days. That's very special for them to come out and stay out until the wee hours of the night."
With the stands full and numerous potential basketball recruits looking on, the Hoosiers put on a three-hour show on the floor. There was dancing, dunking, shooting and plenty of laughing, with junior guard Victor Oladipo and ESPN Sportscenter anchor Sage Steele (an IU graduate) narrating it all.
All of it combined made for quite the electric atmosphere.
"When visitors get inside this building, it is an incredible spectacle for them," Crean said. "It's not just what you see, it's not just what you hear, but I have no doubt it's what you feel."
The night concluded with an intense scrimmage that allowed fans one of their first opportunities to see this year's team in a competitive setting. The scrimmage was fast-paced as the rebounder nearly always pushed the ball ahead himself without outletting to a guard. The red team featuring Cody Zeller, Yogi Ferrell and Oladipo won 40-39, defeating a white team that included Jordan Hulls, Christian Watford and Remy Abell.
Zeller led all scorers in the scrimmage with 14 points for the red team, including several impressive post moves. Oladipo added 10 points for the red squad and freshman Jeremy Hollowell, who was one of the more impressive performers in the scrimmage, added seven points.
Hulls led the white squad with 13 points, including three 3-pointers, and Abell added nine points.
Sheehey, Mosquera-Perea don't participate
Both junior Will Sheehey and freshman Hanner Mosquera-Perea did not participate in any of the basketball activities on Saturday due to injuries. Sheehey injured his ankle in practice this week and was limited in the team's practice earlier Saturday.
"He practiced a little bit today and he shot, but it was better to hold him off because we don't want anything to linger with him," Crean said.
Mosquera-Perea, who missed most of the summer with a foot injury, was back in his walking boot on Saturday. Crean said last week that Mosquera-Perea had been impressive in practice, but he re-injured the foot later in the week.
"We're going to hold him out for a little while too," Crean said. "He's been practicing so well, but had a little flare up. We really don't want to have any issues with that, so we're gonna take a little time with him."
Zeller from downtown?
Zeller surprised many when he took home the long-range shooting competition on Saturday. Zeller showed off a smooth stroke from the 3-point line, edging walk-on Johnny Marlin in the final round.
Could we see Zeller attempting 3-pointers in games this season?
"Well, maybe," Crean said. "Cody has a really nice stroke. I think he'll continue to do more this year. We're excited about his improvement because it's all over the court."
Zeller, who played guard when he was younger and attempted some outside shots in high school, said he plans to add the 3-point shot to his arsenal this season.
"I worked on it a lot this summer," he said. "I shot 3s in high school a little bit. I know I've got to shoot outside a little bit more this year to make it tougher on teams to double team me. It's definitely something I'm going to do more."
(Photo credit: IUHoosiers.com)
Filed to: Cody Zeller, Hanner Mosquera-Perea, Tom Crean, Will Sheehey