Crean talks Mosquera-Perea, depth and Hoosier Hysteria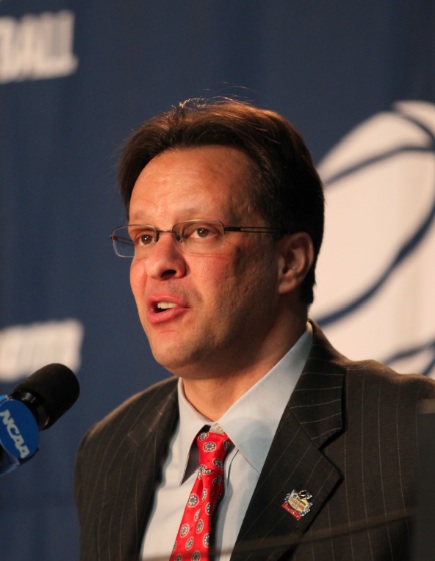 Indiana coach Tom Crean met with the media following Monday's practice. Here are a few of the highlights:
1. Mosquera-Perea making progress
Freshman point guard Yogi Ferrell has gotten most of the talk and publicity during the offseason, and rightly so. Ferrell is expected to start, and he gives the Hoosiers an element they didn't previously have.
But Ferrell isn't the only freshman raising some eyebrows in the first few days of practice. Hanner Mosquera-Perea, who missed a good portion of the summer with a foot injury, has impressed Crean thus far. Mosquera-Perea was restricted to limited participation just two weeks ago, but he is quickly getting back into shape.
"It's really amazing what he's doing, and it's made a big difference," Crean said. "Two weeks ago today, he could do 30 minutes. He couldn't even do the full 40 minutes. So to see where he's at is just fantastic. He just brings another level of edge. It's fun watching him get better day after day."
2. Deeper or just more depth?
Crean was asked about the importance of the added depth provided by the four freshmen. With all five starters back from last year's NCAA Tournament team, the Hoosiers' depth has been a popular topic during the offseason.
"We've got the depth, but will we be deep?," Crean asked. "They sound the same, but they're really two different things. Depth a lot of times becomes bodies and athleticism. Deep is when there's not a lot of drop off when you substitute. That's what we have to work towards. I think we have the potential to be deep and create some havoc, but that remains to be seen. That's an ongoing thing."
Only time will tell if the Hoosiers can be a deep team. But their additional depth has already been felt in the first four days of practice. Crean knows IU will have to make significant strides on the defensive end if they are to accomplish their goal of winning a national title, but he said there's already been improvement.
"We're already better because there's more length and more athleticism," Crean said. "Over the last four days, just looking at how hard it is for people to score at the basket is a big thing. I think we can put a lot of pressure on the ball. The biggest thing for me is going to be like it was last year: can our transition defense keep taking steps? Can our shot clock defense keep taking steps? Because in-between, I think we're going to be able to create a little havoc. But it's when the breakdowns come."
3. Hoosier Hysteria expectations
IU fans will get their first opportunity to see this year's team in person at Hoosier Hysteria on Saturday night. Numerous key recruits are expected to be in attendance, and record crowds are expected. Crean is certainly ready to have a good time.
"I'm excited for it for a lot of reasons," he said. "There's so much build-up for it. It's always been exciting, going back to year one, but I've never heard it talked about like it is right now. I think it will be huge for recruiting, I don't think there's any question about that.
"I'm looking forward to seeing the timeline tonight and seeing what we need to tweak and what we need to add. I think our crew has done a great job of putting it together. We've had more crowd control conversations than we have ever had, but at the same time, there is going to be room for everybody. I think by the way they're opening the doors there won't be that mad dash and I hope we just absolutely pack it. And I hope that everybody that runs the fire department took a trip to the Bahamas this week so we can have standing room only in there and not have anything to think about in there. Just let them all come in and have a great time. It will be a fun night. It will be very unscripted for the players."
Filed to: Hanner Mosquera-Perea, Hoosier Hysteria, Tom Crean