Off and running: Observations from IU's first practice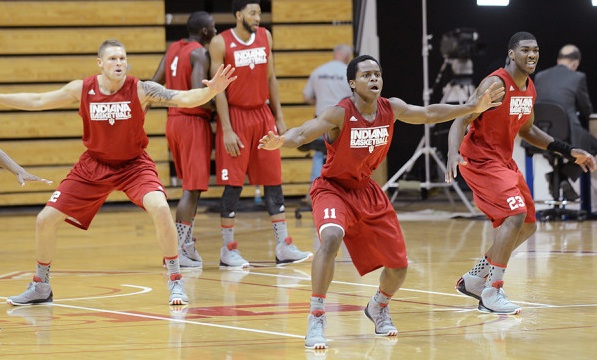 Photo credit: IndianaMBB on Twitter
The college basketball season officially got underway earlier this evening with ESPNU's broadcast of "Midnight Madness: Indiana practice," which was hosted by Bram Weinstein, Jay Williams and Dan Dakich. (If you have access to ESPN3, you can watch a replay here.)
Here are some notes, observations and also some quotes from Tom Crean from the broadcast:
· A couple of injury-related observations: Sophomore guard Remy Abell's left wrist was heavily taped (the photo above shows a black brace, but there was heavy white tape on the broadcast), but he participated in all of the drills. Freshman big man Peter Jurkin, meanwhile, was mostly a spectator with white tape over his nose in the contact drills. Jurkin's injury occurred earlier this week in a workout. Neither injury was mentioned specifically on the broadcast. Cody Zeller also had a black left eye.
9:41 a.m. update: Freshman center Peter Jurkin stood off to the side for the majority of IU's opening practice that was aired on ESPNU with a white bandage on his nose. Inside the Hall has learned via sources that Jurkin suffered a broken nose, which explains the bandage and why he was inactive for most of the broadcast. He is not expected to miss a significant amount of time due to the injury.
· One of the first drills showed Victor Oladipo putting ball pressure on Austin Etherington and Jeremy Hollowell and knocking the ball loose. Crean, wearing a mic, said this: "Good, Victor, good, Victor. Guys, yesterday should have taught you that. He's going for steals. Good, good, Vic, dominate the drill, Vic. All day long."
· Redshirt junior guard Maurice Creek participated for the entire broadcast and wore white pads on both knees. Creek looked to be moving better than he did when he returned in the fall of 2010. Crean said Creek doesn't have all of his athleticism back, but "the confidence is back."
· Yogi Ferrell had a strong upper body in high school, but looked noticeably bigger than he did over the summer in the Indiana-Kentucky All-Star game. That's key for Ferrell as the Big Ten is arguably the most physical league in the country. Hanner Mosquera-Perea also looked to have made significant offseason gains in the weight room.
· Here's a look at the new shoes and socks that were worn by the team. The shoes were the new adidas D Rose 3.
· Crean was asked by Dakich about how he'll manage the off-court attention the players will receive as a result of being a highly ranked team. "I think the one thing that's never changed, even when we weren't playing well, is they were getting a lot of attention," Crean said. "It was the wrong kind of attention in the sense of the negativity, but the school has always held the basketball players with such high esteem. I think they've had to learn to handle that since they've been here. And I think now the biggest thing is we've got really good kids, there's a maturity about them. It's not like we're not going to make mistakes. It's not like we're not going to have issues. But the bottom line is, they're pretty driven to do what they want to do. And I think it shows in a lot of areas. It definitely shows in their academics."
· Crean was also asked about finding minutes with such a talented and deep roster. "I think that takes care of itself. It's like starting lineups. I mean the bottom line is we want to play fast for the right reasons. We want to play faster to create more defensively. We want to play faster to get more guys to be able to play. We want to create havoc defensively and bring fatigue to the game. You can't do that with just six, seven or eight guys. You've gotta be able to do that with a team full of guys that can go. And the one thing that every coach goes through and we've gone through it a significant amount here is you've got to deal with injuries. When those injuries come, you've got to get the point where you don't have a drop off and you can keep moving."
· Crean specifically mentioned building up the defense, rebounding, points per game and shots attempted per game as key areas for this group. "As long as they buy into the hustle stats, I think this team will get better all year long."
· Crean told Williams that Sheehey is a 365 day a year player. "Some people think they are, and a lot of people brag that people are, he actually is. There's not time that this kid takes away from the game."
· When Dwyane Wade of the Miami Heat was in last May, Crean said he hit the guys with some different things and he hit Sheehey and Oladipo with the fact that their ball handling wasn't close to NBA standards. Crean said both guys took that to heart and the advice was invaluable coming from someone as respected as Wade.
· Crean was asked about improving IU's defense and he said that in the preseason, he's gone to more defensive work than he ever has as a head coach.
· During a shell drill, Crean made it a point to Austin Etherington to get down and be ready to catch the ball. "Look how you're standing. You've gotta shoot the ball for us, right? If a pass comes and you're standing like this, you gonna knock that down? How about getting down every time. Come on, do not practice bad habits."
· Starting lineups are often a popular topic of discussion and while Crean said in an interview earlier this week he'd like to have eight starters, Dakich speculated a lineup of Jordan Hulls, Ferrell, Oladipo, Christian Watford and Zeller with Sheehey coming off the bench.
· On a drill near the conclusion of the broadcast, Crean was directing the group on the importance of stopping dribble penetration. As the drill moved on, Crean, impressed with Ferrell's off the ball defense, stopped everybody and said, "Good, Yogi. You learn to do that, we're rolling. We're rolling. Stay with it. Good job, Yogi. Do it again."
Filed to: Maurice Creek, Midnight Madness on ESPNU, Tom Crean, Yogi Ferrell