2015 guard Michael Benkert recaps trip to Bloomington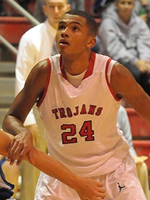 2015 Center Grove guard Michael Benkert was in Bloomington for an unofficial visit on Saturday and the talented shooter had a chance to experience the speed of the college game for the first time.
The 6-foot-4 Benkert, who played with the Eric Gordon All-Stars over the spring and summer and averaged 8.1 points, 3.1 rebounds and 2.4 assists per game as a freshman, said getting a chance to play with the preseason No. 1 team was a positive experience.
"The pace was definitely was faster than what I was used to, playing in high school," Benkert told Inside the Hall. "How quick they were on their first steps and guarding them was a lot harder. It was really fun just being on the court with them."
Cook Hall housed the pickup games on Saturday prior to IU football's game with Michigan State and the state of the art practice facility impressed Benkert.
"I thought that place was really nice. Coach Tim (Buckley) said that the place is open 24/7 for all the players," he said. "I thought that was really neat how that anytime they can come in and shoot. I also got to see the weight room and see them lift for five minutes before open gym and all the stuff they have in there and the accessibility was really neat."
The trip to Indiana was the third unofficial visit Benkert has taken. This trip didn't include a full tour of the campus, but he said he hopes to do that on his next visit.
His first visit was to Purdue in June, followed by Michigan in September. Evansville and Butler have also expressed interest. While he's still relatively early in the process, Benkert said there is one important factor he'll seek out in a program.
"I'm just looking for a team that likes to win," Benkert said. "And all those teams do."
Filed to: Michael Benkert