Notebook: 2012 Hall of Fame class, Hysteria visitors, more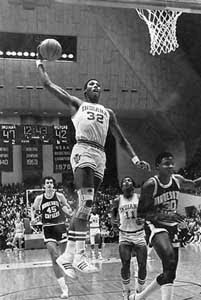 IU Athletics announced seven inductees for the 2012 Hall of Fame class on Monday, highlighted by former basketball standout Landon Turner and football star Antwaan Randle El.
Turner, who played three seasons at IU from 1979-1981 and was a starter on the 1981 championship team, averaged 7.5 points and 3.8 rebounds while shooting 53.3% for his career.
Joining Turner and Randle El on Nov. 2 as inductees will be Michelle Venturella (Softball, 1991-95), Dave Martin (Varsity Club Director, football 1959-61), Leanne Grotke (Coordinator of Women's Athletics, 1972-79), Bobby Robertson (football, 1949-52, baseball, 1954) and Lary Schulhof (swimming, 1962-64).
"These individuals embody the spirit for which administrators, coaches and student-athletes are best known at Indiana University.  IU Athletics has long been a benchmark of excellence — both in the classroom and in competition—and these Hoosier greats certainly are responsible for helping establish that," IU Athletics Director Fred Glass said in a release. "We have great strengths and traditions because of their efforts, and it is with much gratitude that we recognize them for their service to IU."
Hysteria visitor list beginning to take shape
The decision to shift Hoosier Hysteria to Saturday, Oct. 20 should only benefit IU in terms of recruits in attendance and thus far, the early list of visitors is impressive.
Each of the 2013 commitments are expected to attend, as is 2013 DeMatha, Maryland big man BeeJay Anya. 2014 Park Tudor wing Trevon Bluiett and 2015 Ft. Wayne Carroll guard Chandler White are also expected to be in attendance.
Staff active in fall recruiting period
The fall recruiting period which began on Sept. 9 has led to a flurry of activity from the IU staff, including an in-home visit and also several visits to open gyms and workouts across the country.
Here's a list (although surely not a complete one) of some of the prospects Indiana has visited or watched in the nine days since the period began:
· 2013: Collin Hartman, Luke Fischer, Troy Williams
· 2014: Ahmed Hill, Dwayne Morgan, James Blackmon Jr., Noah Vonleh, Phil Booth
· 2015: Hyron Edwards, Jalen Coleman
· 2016: Eron Gordon
Indiana is expected to see Trevon Bluiett on Wednesday. In-home visits with Kennedy Meeks and BeeJay Anya are also scheduled to take place soon.
Creek showing progress?
Tom Crean tweeted two pictures of guard Maurice Creek on Monday which showed the redshirt junior shooing around in Cook Hall.
One of Crean's tweets said "It is GREAT to have this guy back."
At his speech at the IU Auditorium earlier this month, Crean said he's been bringing Creek along slowly because he doesn't want to see him go through another major injury.
"I've been so excited watching him the last couple weeks because he's getting better. He's not where he was and his body may never get to that," Crean told the crowd at the IU Auditorium. "He's gotta get a lot stronger. His legs are not where they need to be. He's gonna have some moments that aren't going to be so good, and I'm going to have to live with it."
BTN no longer available on DISH Network
After failing to reach an agreement on Friday, DISH Network decided to drop BTN as of Saturday, Sept. 15. Here's a statement from the Big Ten Network that was released over the weekend:
Despite Big Ten Network's efforts to finalize an agreement, we are disappointed to tell you that Dish Network has decided to drop the Big Ten Network. As you know, BTN has been working around the clock for weeks to try and reach a deal with Dish. They are now unwilling to sign a contract.

Dish customers will miss the rest of the football season on BTN and over 400 Big Ten sporting events. Not only are you missing eight Big Ten games today, but several dozen more this season and over a hundred men's basketball games. It is unfortunate that Dish does not value BTN in the same way that so many of their customers do, including Big Ten students, parents, alumni and fans across the country. Furthermore, DISH customers will continue to pay Dish for a channel they no longer receive.

If Dish won't give you the games you want, others will. To find another BTN provider, go to IWantBTN.com or call 1-855-WANT-B10 (1-855-926-8210) for more information. Stay up to date on the latest developments on BTN's Facebook page and on Twitter. Thank you for your support.
Filed to: Big Ten Network, Fred Glass, Landon Turner