Hoosiers host Mercer and Smart for unofficial visits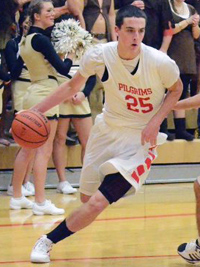 During IU's rise back from the depths it found itself in a couple of years ago, Tom Crean found under-recruited players, and turned them into major contributors through strong player development. Victor Oladipo and Will Sheehey are just two examples.
Crean seems to be continuing to look for such players, as the Hoosiers got an unofficial visit from Mack Mercer, who is still relatively early in the recruiting process.
Mercer, a class of 2014 forward from Plymouth, Ind., has only three mid-major offers, but a few bigger schools have started to show interest in him.
During his time in Bloomington, the 6-foot-9 Mercer got to watch two workouts, play against the IU players in open gym, take a tour of the facilities, and attend Saturday night's football game against Indiana State.
"I was really impressed with everything, especially coach Crean," Mercer said. "He's just so intense and such a great motivator. I really love that."
Mercer did not receive a scholarship offer from IU during his visit, but he said Crean told him he was "beyond intrigued." Mercer said Crean plans to travel to Plymouth to watch him workout and play a few times in the next few months. Mercer currently has offers from Indiana State, Kent State and Ball State, and Notre Dame and Butler have also shown interest.
But if Crean and the Hoosiers were to offer him, Mercer said his decision would be pretty easy to make.
"You can't get much better than IU in basketball," he said.
Roosevelt Smart, a guard in the class of 2015 from Palatine, Ill. and a member of the Illinois Wolves AAU program, was also on campus this weekend in Bloomington.
The 6-foot-3 guard does not yet have a scholarship offer, though Illinois and Marquette have shown some interest in the rising sophomore. He could not immediately be reached for comment following his visit.
Filed to: Mack Mercer, Roosevelt Smart