Glass excited by student-ticket sales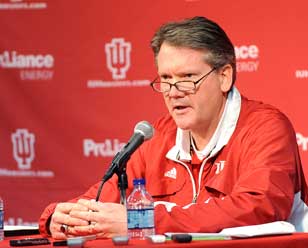 There's no denying the fact it's going to be a different season inside Assembly Hall this year. With the Hoosiers likely to be the preseason No. 1 team in the country, anticipation is already building for the season opener on Nov. 9.
There was such a demand for student season tickets that IU athletic director Fred Glass had to change the structure of the plans. Students will only get to attend 10 of the 16 home games this year, quite a far cry from where the program was only a couple of years ago.
"It's ridiculous, man," Glass told Inside The Hall on Friday. "We felt like the Little Dutch Boy just trying to keep up the interest, and we had a lot of promotions. But we dipped down to 4,200 season tickets, which would be the envy of any other school in the country, but not at Indiana where we always have 7,800.
"But we got ourselves back up last year with 7,600, the students were crazy, and the numbers are back up to where we were when I was a student. We're at 12,400, we probably could have been at 16,400. It's really, really exciting, and I can't wait for the season to get going."
As reported by the Indiana Daily Student earlier this week, Glass has also decided to institute a priority seating plan to reward loyal upperclassmen. Students will receive five points for each set of season tickets they have purchased for football or men's basketball, with a maximum of 10 points per year. The students with the most points will get to sit in the lower level for the most anticipated games of the year — the first one coming against North Carolina in the Big Ten/ACC Challenge.
"There had always been some talk that that would make sense to do, but as long as we were not selling out the student section, it just didn't seem like that big of a deal," Glass said. "But once we got in a situation where the student section was oversold, it brought into sharper focus the value of that. The upperclassmen who had suffered through some seasons that weren't our best, shouldn't there be some reward for longevity and loyalty?"
As far as the schedule itself, which was released in full on Thursday morning, Glass felt good about the teams that will be coming to Assembly Hall. In addition to North Carolina and a number of smaller schools in the non-conference season, the Hoosiers will play host to Minnesota, Wisconsin, Penn State, Michigan State, Michigan, Nebraska, Purdue, Iowa and Ohio State during the Big Ten season. ESPN's College Gameday will be in Bloomington for the matchup with the Wolverines on Feb. 2.
One of the obvious things that jumps out when looking at the Hoosiers' schedule is the lack of a true non-conference road game. Last year, IU traveled to both Evansville and North Carolina State. Glass pointed to the inability to get a long-term deal done with Kentucky as a main reason for the slight void in the schedule. If the deal had gotten done, the Hoosiers would have been playing in Lexington this year.
"We're going to have some challenges given Kentucky's — I was gonna say reluctance, but I guess it's more like refusal to come into Assembly Hall," Glass said, "but we'll have a non-conference team that our kids and our fans really want to see. It's going to be a raucous year, and I think it'll be a lot of fun for the students."
Photo courtesy of Indiana University.
Filed to: Fred Glass