White happy with direction of IU program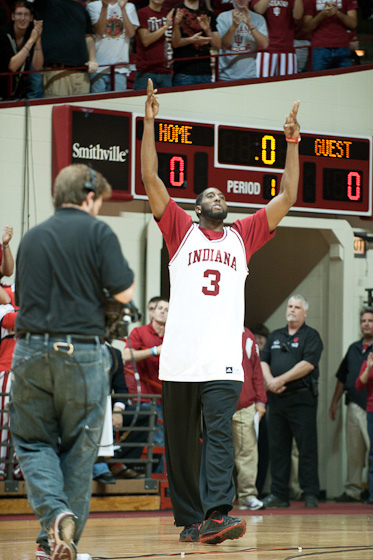 D.J. White played at IU during a trying time for the program. He played for three different coaches during his career, and was in Bloomington for the beginning — and the end — of the Kelvin Sampson era.
Still, though, White will always have a place in his heart for IU. He said the program has been good to him, and he knows it's on its way back.
"I'm happy," said White, who is part of the Tom Crean ProCamp this weekend at Assembly Hall. "When I left, a lot of different things happened, but coach Crean and the coaching staff did a good job of recruiting. Christian [Watford] and those guys were put in a tough situation, but they stuck it out."
After the Hoosiers advanced to the Sweet 16 last season, expectations are as high as ever for 2012. IU added a highly-touted class of freshman, including point guard Yogi Ferrell and forwards Jeremy Hollowell and Hanner Perea. All three are expected to have some kind of impact next season.
Calbert Cheaney, IU's director of basketball operations, said Saturday the freshmen have had a good offseason.
"It's always gonna be an adjustment when you come from high school to college," Cheaney said. "It's been a challenge for them, but what's great about our freshmen is they never quit. I think the sky's the limit for them. If they continue going at  it like they are, they'll end up catching up with our guys."
Cheaney: 'It wasn't the right time'
When former IU assistant coach Bennie Seltzer left for the head-coaching job at Samford in April, rumors swirled that the job was Cheaney's if he wanted it. The former IU legend returned to the program last year as the team's director of basketball operations.
At Crean's ProCamp, Cheaney explained why he chose to remain in his current position.
"It just wasn't the right time right now from the family perspective," Cheaney said. "Director of basketball operations, it's a great job. I've learned a lot from coach Crean and the administration — I've learned from both sides. I'm content where I'm at right now."
After Cheaney turned the job down, Crean eventually hired former Towson assistant Kenny Johnson to fill the spot.
White remains an NBA free agent
Speaking strictly from a statistical standpoint, White had two of his best professional years with the Bobcats the last two seasons. He got more minutes than he had in the past, and he stayed out of the Developmental League.
But White quickly learned it's not all about playing time. The Bobcats suffered through a 7-59 season, one of the worst winning percentages in NBA history.
"We didn't have the best year," White said, laughing. "I don't wish that upon anybody, but it's a learning experience. What can you do? Just continue to do the best you can every day."
White is no longer with the Bobcats, and he remains a free agent. He said he plans to visit a couple teams next week before making a decision about his future.
"I have a couple options," he said. "I just want to be in a position to succeed. Hopefully I know my future in a couple weeks."
ETC…Perea still had a walking boot on his left foot at Crean's camp on Saturday. The details of the injury are unclear.
Filed to: Calbert Cheaney, D.J. White, Hanner Perea