Trey Lyles talks recruitment process, future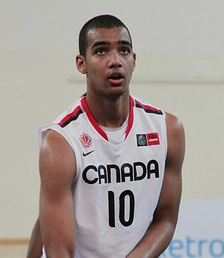 Former Indiana 2014 verbal commitment Trey Lyles met with a small pool of media on Friday at Indianapolis Tech to discuss his decision to reopen his recruitment.
Below are quotes from the junior-to-be on a variety of topics surrounding his recruitment, future and what he's looking for in a program.
On why he chose to open his recruitment: 
I committed at a young age and I just really wanted to get out and be able to see other schools, re-think everything and go through the process of being recruited (because) I really didn't get a chance when I was younger.
On how he arrived at the decision: 
Me and my dad talked about it a lot and really just being able to go through the process for me was a big part of it. I wanted to be able to have the experience, it's a once-in-a-lifetime experience. Me and my dad and my mom talked about it, Coach Delaney, and we just came to the conclusion on Monday.
On the interest of other schools:
I'm really not focused on that, just getting ready for the season. But once the season starts, maybe (I'll) start looking into some schools, really start accepting calls and texts from other coaches. But right now I'm just really staying in contact with Indiana still.
On the number of schools contacting him now:
I really don't know. I've been hearing a lot, reading a lot on Twitter, but really I don't know the exact number. I haven't really spoke to them directly, my dad's probably spoke to some of them, but to me directly it's not happened yet.
On what's important to him as he opens up to other schools:
Going to a school that's going to get me prepared to play in the NBA because I want to play in the NBA, of course, everybody does. Not only just play, but be able to dominate in the NBA and really just get me life lessons and push me to be a better person, a better basketball player.
Where Indiana stands and what he still likes about the program:
They're still No. 1. Great fan base, great history. Good coaches and of course great players that have passed through there. They have a good system and they really look out for their athletes.
On a potential new timeline:
I have no idea. This is just like the third day, so I really haven't been able to give it that much thought. So it's probably not going to be for a while.
On how tough it's been:
It's tough when you see things that people send to you on Twitter, mention you, call you out and all that stuff, that's kinda tough. But it's just people talking and you just have to let it go in one ear and out the other. It's not really been that hard.
On whether it's a possibility he could end up at the same school as James Blackmon Jr. and JaQuan Lyle: 
It might be. You know, if we continue playing together on the same AAU team, we could end up maybe going to the same school. We haven't really talked about it like that, JaQuan's kind of in his own wonderland, but if it were to happen it'd be good.
On his decision to take visits potentially during this upcoming high school season:
I'll probably take unofficial visits, of course. Probably not take my official visits until senior year.
On whether the social media reaction surprised him:
My dad talked to me about it, he knew there was going to be an outlash. It really hasn't affected me in a negative way. I knew people were going to be angry, upset about it, but I was 14 years old — I'm not going to say I didn't know what I was doing — but I was young.
On whether he understands not every IU fan is like that:
Some IU fans were wishing me good luck wherever I go. There's some that hate me because I de-committed. I just have to take it as it goes.
On whether he looks at how other schools are developing big men:
I look at how they develop all their players. How many people they have going into the draft. How many people that came out are actually doing stuff in the league.
On researching the NBA component of schools:
Just really how they preform during college games, if they are playing above the level of competition or if they're just going out there and blending in.  And of course when they get in the NBA, if they're making an instant impact. And then second and third year really taking off as a player.
On his decision to re-open instead of staying committed and looking around:
Definitely being up front. I didn't want to go behind any backs. Even if the coaches knew, I didn't think it'd be a good setting for it. Opening it up, it really didn't give me any stop signs on what I can't do like I would if I was committed. Being uncommitted I can go out and see any schools I want.
On his summer and adidas Nations:
The summer was really packed with stuff; I really didn't get that much off time. Of course adidas Nations was good like it always is. Competed against high-level talent, guys from other countries and (I) really just enjoyed it.
On the difference between this summer and last summer:
Adidas Nations I definitely feel like I performed better this year than last year. Last year I was really young with the older guys. Spiece, I really didn't get a lot of opportunity to play with the 17s. This year, I was one of the core guys on the team. If I didn't play well, we might not win the game. So I really had to step up as a leader and as a player and just go out there and try to dominiate every game. On the Canadian team, being the new guy, they didn't know what I was about. Really just going in there and showing that I'm a player just like they are and they really opened up to me.
Filed to: Trey Lyles