Hoosiers in contact with four-star forward Troy Williams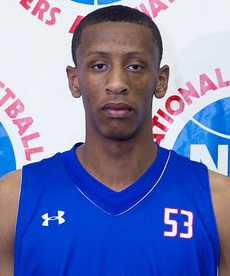 NORTH AUGUSTA, S.C. – Troy Williams had planned to make his announcement on where he will attend college in the spring.
Williams, who plays at Oak Hill Academy, tweeted on April 30 that he would choose between Kentucky and North Carolina.
But he delayed making a decision and is now looking at other schools, including Indiana.
The Hoosiers just started to get in touch with Williams and are watching him this week at the EYBL Finals at the Nike Peach Jam.
"There's been not a lot (of contact) so far. I haven't talked with them much," Williams said. "We talk about my game mostly, about how I could fit in with their game."
He said the Hoosiers contacted him after last weekend's Nike Global Challenge in Washington D.C.
Williams said his conversations with Indiana have been with coach Tom Crean.
The 6-foot-6 rising senior from Virginia said he hasn't talked with Indiana since the Peach Jam started. But he said that's been the case for everybody – he said he's been keeping his phone off during the Peach Jam.
"I'm talking to nobody right now," Williams said.
Through Friday's first session, Williams' Boo Williams team has struggled to an 0-3 record. In Friday's first game, Williams scored 17 points and came down with eight rebounds, but his team lost to Team Final, 66-60.
Williams, who said he's heard from Arkansas, Alabama, Georgetown and Louisville the most, hasn't set a deadline for himself to make a decision. He also added it's possible he could go to the same college as Boo Williams teammate Anthony "Cat" Barber.
But Williams isn't in a rush. He said there is no favorite right now.
"I just want to take my time," he said. "Whenever I'll feel ready, I'll do it."
Wayne Staats is a sports reporter at The Augusta Chronicle, where he's covered high school sports since August of 2010. He's reporting this week from the Peach Jam for Inside the Hall.
(Photo credit: NBPA Top 100 Camp)
Filed to: Troy Williams