Pinson's second half leads CP3 to Peach Jam win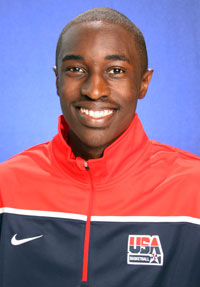 NORTH AUGUSTA, S.C. – Once five-star recruit Theo Pinson caught fire in the second half, the rout was on.
The class of 2014 player hit three 3-pointers in the second half and finished with a team-high 15 points as CP3 beat the Arkansas Wings, 76-54, Thursday morning at the EYBL Finals at the Nike Peach Jam.
"I trust my teammates," Pinson said. "They can make plays also. I just knew, second half, I had to come back aggressive so we could keep the lead up. I didn't want to come in and be the factor of them coming back."
Pinson, who plays for Wesleyan Christian in Charlotte, North Carolina, said his June trip to the Indiana campus has positively changed his stance on the program.
In fact, he initially didn't think about taking a trip there.
But plans came together as Pinson visited Bloomington before heading to Chicago for adidas Nations in early June.
"It went real well," he said. "I liked it a lot. The coach is real cool and the campus is really nice. It's on my list.
"They just took me around campus, showed me all the training facilities, all that kind of stuff. They took me to the football stadium, and to see some dorms."
Pinson said, out of those on the Hoosiers staff, assistant Kenny Johnson is the one who's most in touch with him. He said they talk about "all kinds of stuff."
When asked if IU commits Trey Lyles and James Blackmon, Jr. have any impact on his recruitment process, he said they didn't because they took a different rout; they committed very early.
Unlike those two, Pinson isn't in a rush to make a decision or to even name a favorite.
"I'm not really focused on anybody," he said. "I'm open to everybody right now."
Wayne Staats is a sports reporter at The Augusta Chronicle, where he's covered high school sports since August of 2010. He'll be reporting this week from the Peach Jam for Inside the Hall.
(Photo credit: USA Basketball)
Filed to: Theo Pinson