Peach Jam Notebook: Top 30 guard Ahmed Hill likes IU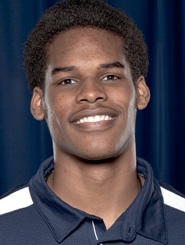 NORTH AUGUSTA, S.C. – Indiana sees Ahmed Hill as a shooter, and the soon-to-be junior had to smile about that.
While the Augusta, Ga., guard said he has no leader right now, he is impressed with the Hoosiers, who offered him a scholarship in the spring.
"I like Indiana," Hill said Wednesday. "They got a lot of star players. They're recruiting me as a shooter."
Hill, who's playing for the Southern Stampede at the EYBL Finals at the Nike Peach Jam, scored 13 points in his team's 67-51 win against E1T1 Elite.
Though his shot wasn't falling early, Hill did score 11 of the 13 points after halftime. He got going early in the second half, when a spin on a fast break forced a defender to foul him.
He later got his shot working when he made a pull-up jumper to increase his team's lead to 54-36.
The Stampede's game was one of four to start the only session of the first day of this year's Peach Jam.
Coaches started sprinkling in around the start of the game, as Indiana coach Tom Crean, along with Alabama's Anthony Grant and Georgia's Mark Fox, were among those watching.
The Aquinas High School star, who led the Fighting Irish to the Class A state quarterfinals this past season, is ranked No. 26 in his class by Scout.com.
He also has scholarship offers from Connecticut, Kansas, Marquette and Tennessee.
Hill, who wants to work on his ball-handling and defense for the rest of the summer, said Crean has been involved with his recruitment.
The 6-foot-4 guard didn't say if he would make a list of his favorites in the near future.
Instead, he just hopes his collegiate future can be decided by right around next year's Peach Jam.
"I want to commit this time next year," he said.
Other day one notes
· Team Takeover 16U narrowly escaped their opening game by edging All-Ohio Red 64-63. Guard Dion Wiley, who has interest from Indiana, finished with 16 points while Phil Booth finished with 15 points.
Crean watched part of this game in addition to the Southern Stampede-E1T1 Elite matchup.
Booth already has offers from Indiana, Georgetown, Maryland, Villanova and several others.
· Chris McCullough and Team Scan also won their opener, 54-52, over Boo Williams. McCullough, the No. 13 player in the class of 2014 according to Scout.com, recently picked up an offer from Indiana.
McCullough attends the Salisbury School in Connecticut.
Wayne Staats is a sports reporter at The Augusta Chronicle, where he's covered high school sports since August of 2010. He'll be reporting this week from the Peach Jam for Inside the Hall.
(Photo credit: Nike)
Filed to: Ahmed Hill, Phil Booth, Tom Crean