Lyle describes interest in IU as "real high"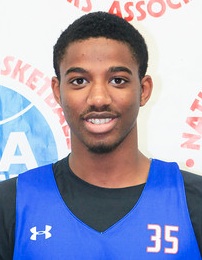 ALEXANDRIA, Va. – JaQuan Lyle was a late addition to the USA East squad at last weekend's Nike Global Challenge, but his teammates appeared happy with the roster change.
The 6-foot-4 guard, despite averaging only 6 points and 1.5 assists, was solid throughout the tournament.
His size allowed him to pass with ease over smaller defenders and consistently get to the hoop.
"Everybody's been good to play with," Lyle said after his team's initial game, a blowout victory against China. "Everybody shares the ball. Troy (Williams) had a good night tonight, so everybody looked for him a lot. He made a lot of big shots. Get the ball to the hot hand."
The Evansville, Ind. native, ESPN.com's No. 8 overall player in the class of 2014, told Inside the Hall he speaks most often with coaching staffs from Ohio State, Michigan State and Louisville.
Indiana, however, is still very much on his radar.
"My interest level is real high on them," Lyle said. "Home state school, good coaching. They are really turning the program around.
"I talk to Coach Crean every now and then. He texts me, asking how it's it going. That's cool."
Lyle added that he most recently spoke with Crean last Wednesday when he returned from the LeBron James Skills Academy.
He said he hopes to take a trip to Bloomington "sometime after the evaluation period with James (Blackmon Jr.) and Trey (Lyles)."
Related:
· HD Video: Jaquan Lyle talks IU, recruiting at NBPA Top 100 Camp
· 2012 Run-N-Slam: Jaquan Lyle video, Q & A
Filed to: Jaquan Lyle