Vonleh, Russell highlight day one of adidas Invitational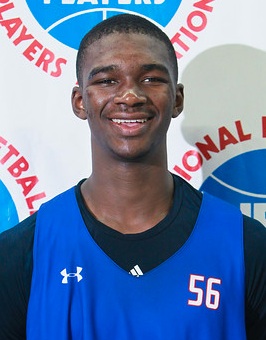 Inside the Hall spent the opening day of the July evaluation period at the adidas Invitational in Indianapolis. Our recap and notebook from day one follows:
· 2014 Haverhill, Massachusetts forward Noah Vonleh (pictured) finished with 12 points as his Mass Rivals team fell to the Atlanta Celtics 71-63 in front of a strong contingent of coaches. IU associate head coach Steve McClain watched Vonleh as did Thad Matta, Ben Howland, Jim Calhoun and Kentucky assistant John Robic.
We'll have an in-depth feature in the coming days on Vonleh, but it's interesting to note that he's only visited four schools to this point and all are within a car ride for him: Boston College, Connecticut, Massachusetts and Providence. The 6-9 forward, ESPN's No. 4 player nationally, mentioned Indiana, Louisville, Kentucky and Ohio State as the four schools that are contacting him via phone and text most frequently.
He said he'd planned to take an unofficial visit to Bloomington when he was in Chicago from adidas Nations in June, but that didn't work out.
· 2014 Louisville native D'Angelo Russell poured in 21 points in front of McClain as the Louisville Magic crushed the Compton Magic in a super pool game. Russell, a consensus five-star prospect, recently took an unofficial visit to Kentucky, but holds offers from Indiana, N.C. State, Louisville, Missouri, Ohio State and Xavier.
· Joining Russell on the Magic this month is 2014 Paintsville (KY) forward Shane Hall, who is an athletic big man with a lot of upside. Hall has already taken two unofficial visits to Bloomington and has an offer from UAB. Listed at 6-8 and just under 200 pounds, Hall needs to add upper body strength, but his ability to score around the basket in a variety of ways makes him an intriguing prospect. Hall mentioned improving his perimeter shot as one area of his game he's looking to improve on this summer.
· It was a disappointing start of the evaluation period for IU commits Collin Hartman and Devin Davis Jr. as the Eric Gordon Central Stars dropped a super pool game to the Memphis Magic 66-63. Davis finished with nine points and Hartman had six.
· 2014 Park Tudor wing Trevon Bluiett is playing this week with Spiece Blue and finished with 16 points in a loss to Team Shockaz. According to a couple of reports on Twitter, Michigan had three coaches to watch Bluiett and Notre Dame, Purdue and Illinois also checked in on him.
Elsewhere: Luke Fischer and the Wisconsin Swing are playing in the NY2LA Next Level Invitational in Milwaukee and won their opening game easily over Inland Empire. The Nike Skills U Academy continues Thursday in Washington D.C. and Jaquan Lyle, Stanford Robinson and Semi Ojeleye are all listed on the roster. We'll have coverage from that event as well as the Nike Global Challenge which BeeJay Anya, Marcus Lee, Theo Pinson, Kuran Iverson and Trey Lyles are all participating in.
Filed to: Collin Hartman, D'Angelo Russell, Devin Davis, Noah Vonleh, Shane Hall