Lyles dominating FIBA Americas U18 Championship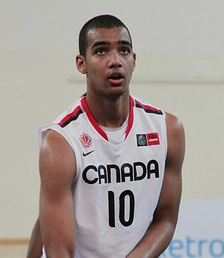 The decision to play for the Canadian Junior Men's National Team rather than the USA Basketball Men's U17 World Championship Team didn't come easily for Trey Lyles.
The 6-foot-8 forward, who was born in Saskatoon, SK, would have been included on the USA team that was cut to 14 finalists on Sunday.
Instead, he opted to play for his native country and through two games in the FIBA Americas U18 Championship in São Sebastião, Brazil, he's been dominant.
The IU commit is averaging 17 points and 17.5 rebounds in wins over Puerto Rico and Colombia.
Canada has already clinched a berth in 2013 FIBA U19 World Championships.
"It's great because the world gets to see what a fabulous player Trey is and all of his different skill sets and how he can lead a team," Indianapolis Tech coach Jason Delaney told Inside the Hall. "For the people of Canada, it's exciting because you have him and Andrew Wiggins, two young superstars who are leading the team.
"Trey's had experience being the centerpiece, he does it with his high school team all the time and his AAU team even. It's really neat to see him go out there and compete with older guys and really show the world how great he really is."
In the days before announcing his choice to play for Canada, Lyles tweeted that the decision was the biggest of his life.
From a basketball development standpoint, the opportunity for the rising junior to showcase more of his all-around game with the Canadian team was important.
"We all sat down and talked about it and with the Canadian team, he's allowed to play on the perimeter more," Delaney said. "With the U.S., he would have been block to block. Trey loves challenges. Competing against the best in the world rather than playing with the best in the world was really appealing as well. It seems to be a great decision right now. He's really happy with it and he's growing as a person and as a player."
Lyles and his teammates will compete again this afternoon in Brazil against unbeaten Argentina and will play again Tuesday and Wednesday in the semifinal and final rounds.
Delaney, who took over at Tech before the 2010-2011 season, says Lyles has been focused on one thing since the high school season ended: improvement.
"Since we lost that sectional game on February 28, he's been a different kind of player," Delaney said. "He's constantly working out in the gym, constantly working in the weight room and training. He's just really focused and determined to get better."
Filed to: Trey Lyles