Q & A: 2015 point guard Jordan Ash talks Indiana visit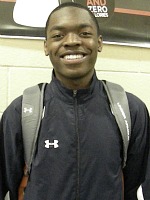 Class of 2015 Westchester St. Joseph's (IL) point guard Jordan Ash visited Bloomington on Friday with his Illinois Wolves AAU teammate Malek Harris and had the opportunity to tour the campus, meet with the coaching staff and play in open gym with several members of the current IU team.
Inside the Hall caught up with Ash on Monday to get his thoughts on his first trip to Indiana, Assembly Hall and Cook Hall, Tom Crean and more:
On his time in Bloomington and his impressions of the campus:
"When we first got there, we took a look at the academic centers and the buildings around there and talked with one of the tutors. We went around and looked at the different tutoring rooms and study halls. We went around the basketball facilities, Cook Hall and Assembly Hall. Got to look at those two and then we went around in a golf cart and got to look at the rest of the campus.
"And after that, we got to first watch the team work out and then we got up and down with the team. I think overall it was a really fun visit. I got to see all of the aspects of the school and the environment around the school. It's a great team. They're going to be great this year coming up. I know some of the guys coming in. It was just great getting to meet the coaching staff and the players."
On the importance of getting to see what Indiana has to offer academically:
"It was very important because academics come first. I'm a student first and athlete second. It's important because eventually the ball is going to stop bouncing and I'm not going to be able to play anymore, so it's important for me to have that education. Indiana offers that. I learned that most of their guys graduate in three years so it was great to know that as well. Academics are very important."
On Cook Hall and Assembly Hall:
"It was fun looking at Cook Hall because my coach, Daryl Thomas, played for the '87 championship team. So I got to look at the trophy and all the different things in their hall of fame. The practice facility was fun to look at because they explained to me that it's just like Assembly Hall, the dimensions and all that type of stuff. Assembly Hall is amazing. That was my first time being in there so I got to look at how it's set up. I can only imagine what it's like when it's sold out."
On playing against the current team in open gym and how he fared:
"It's a huge jump from high school to college. The speed, the intensity and strength is different. Luckily for me I had Jordan Hulls and Cody Zeller on my team so I had a pretty decent team. I did pretty well. I ran on the wing a lot and I brought it up a few times. It was just fun. The different speed and playing with a shot clock, that was different as well. It definitely shows what I have to work on because those guys are three, four, five levels ahead of me so it was just fun just learning from them and taking that back into my game."
On getting the chance to talk to Tom Crean:
"That was my first time talking to him. He's very uptempo and was very intense during the workouts. When I got a chance to talk to him, he's a very energetic guy, very positive. He's a coach that a lot of guys would want to play for because of not only the way he teaches, but the way he cares for his players and how he wants them to succeed."
On early scholarship offers and the schools expressing interest in him:
"DePaul offered me and Purdue offered me a couple weeks back. I've talked to Northwestern in the past. Illinois, obviously Indiana, Michigan and Marquette has also been calling."
On potential visits the rest of the summer:
"Indiana was the first one this summer, but I'm probably going to get out to Marquette and back to Purdue and to Illinois as well."
On the Indiana ties to St. Joseph's, which also produced Isiah Thomas:
"Every now and then, I talk to Coach (Daryl) Thomas (head sophomore coach and assistant varsity coach) about his stories and how his time was there. We always talk about the championship game because he made the pass (to Keith Smart). So I'm always talking to him about that. That's fun to listen to."
Filed to: Jordan Ash