2014 forward Malek Harris impressed by visit to Indiana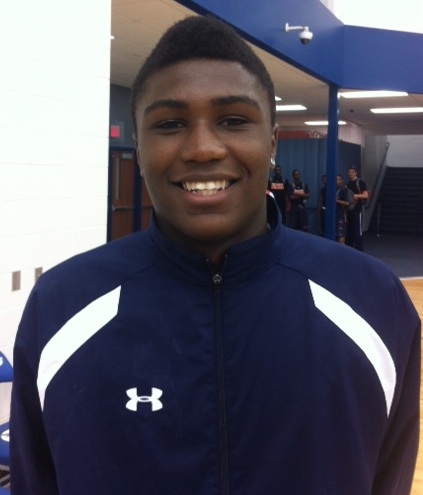 Malek Harris, one of the top rising juniors in Illinois, was on campus Friday and the 6-foot-7 forward called the trip to Bloomington a "great experience."
"Coach (Tim) Buckley took us around the campus on a golf cart," Harris told Inside the Hall over the weekend. "We got to see the dorms and basically the whole school. We got to actually play with the team, too. IU is a historical college from what I saw."
Indiana has been recruiting Harris, who averaged 10 points and eight rebounds last season at Sandburg High School, since April.
His AAU teammate with the Illinois Wolves, 2015 point guard Jordan Ash, joined him on the trip.
Harris has missed some time recently with an ankle injury, but said he couldn't pass up the opportunity to get on the floor with college basketball's preseason No. 1 in an open gym setting.
"Playing with the team was crazy," he said. "Playing with older, bigger, strong guys and I actually got to play in my position I'll be playing in college. It was a good learning experience. I need to work on my strength, my ability to handle the ball and shooting the ball off the dribble and screens. I had some good looks that I missed. Hopefully one day I'll be playing at that level.
His ankle injury, which he called a sprain last month at the Bill Hensley Memorial Run-N-Slam, was a little more serious than he originally thought.
"My understanding is that it was a bad ankle sprain, but it actually became a torn ligament. That happened months ago, so it's healed now a little bit," he said. "But I'm going through therapy now. I would say the ankle is about 80 percent right now. By July it should be 100 percent."
The trip to Indiana followed an unofficial visit to Louisville on June 1.
Harris also hopes to visit Iowa and Marquette this summer. The Hawkeyes, along with DePaul and Miami (OH), have already offered Harris. He's also hearing from Illinois, Michigan, Nebraska, Oregon State and Purdue.
While he stopped short of calling Indiana his top school at this early stage of his recruitment, it's clear the unofficial visit left a favorable impression.
"It is early, but in making a decision, I would never leave Indiana out when I get to the point where I make my decison," he said. "But right now, I'm not going to say they're a certain number on my list, but they will be considered."
Filed to: Malek Harris